Purdue Veterinary Medicine Receives 2020 Health Professions Higher Education Excellence in Diversity (HEED) Award
Friday, October 2, 2020
The Purdue University College of Veterinary Medicine is being honored today as a recipient of the 2020 Health Professions Higher Education Excellence in Diversity (HEED) Award from INSIGHT Into Diversity magazine, the oldest and largest diversity-focused publication in higher education. Presented annually, the national Health Professions HEED Award recognizes U.S. colleges and universities that demonstrate an outstanding commitment to diversity and inclusion. Insight Into Diversity magazine made the announcement today (Friday, October 2). As an award recipient, the college will be featured, along with 45 other recipients, in the December 2020 issue of the magazine.
Dean Willie Reed said the award is a great reflection of the college's deep and abiding commitment to diversity, equity, and inclusion. "This award makes an important statement about the way in which our college doesn't just talk about diversity and inclusion, but lives it," Dean Reed said. "The Purdue University College of Veterinary Medicine is playing a leadership role nationally with model initiatives that advance diversity and inclusion in veterinary medicine. We are working diligently to make measurable progress as a college and as a profession in being truly welcoming and supportive of everyone and this award documents that fact."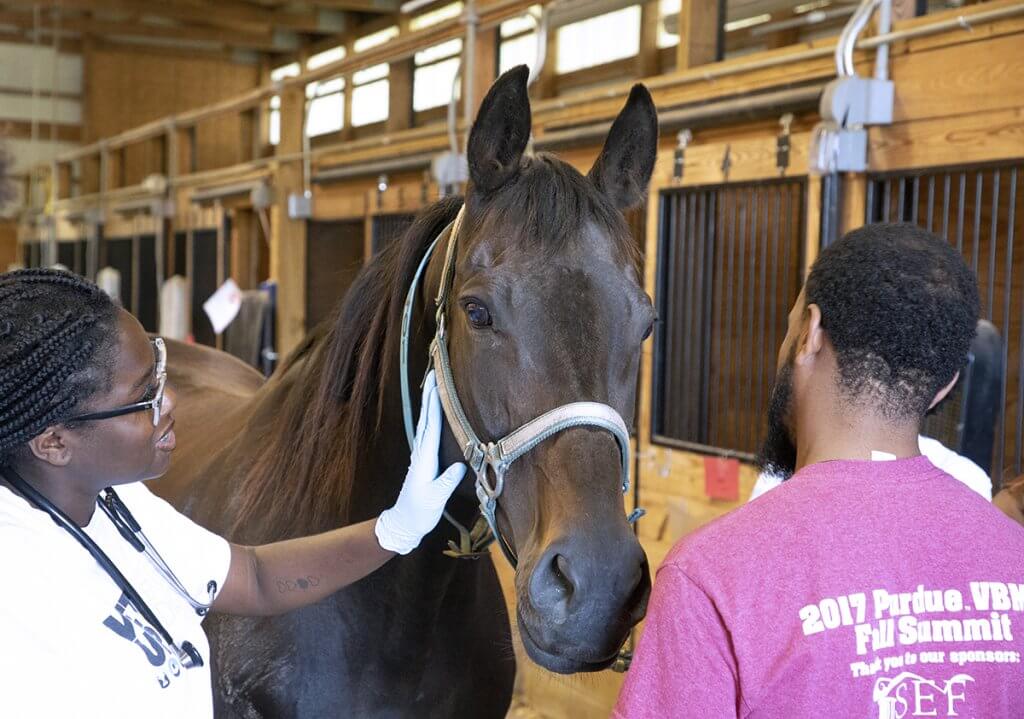 This is the second year Purdue Veterinary Medicine has been named as a Health Professions HEED Award recipient. "PVM continues to raise the bar in diversity, equity, and inclusion through its innovative programming and leadership," said Dr. Latonia Craig, the college's assistant dean for inclusive excellence. "We are so thrilled for PVM to receive this award. Diversity, Equity, and Inclusion lie at the heart of PVM's mission. We have a supportive college community that makes every effort to ensure we bring our core values to life daily. This work is not easy, but we do it because that's just who we are," Dr. Craig explained. "You can have diversity without inclusion, but at PVM, we strive to create an environment that welcomes and includes each student, faculty, and staff member. We hope that our efforts will inspire others to engage in this work in the best way they know how."
INSIGHT Into Diversity magazine selected Purdue Veterinary Medicine for the award because of its multiple diversity and inclusion initiatives. In February, the college launched its five-year diversity strategic plan, which continues to receive praise for its thoroughness and commitment to inclusive excellence. PVM's role in advancing diversity, equity, and inclusion in veterinary medicine is long-standing. Award-winning programs such as Vet Up!, led by Dr. Craig, and This is How We "Role", led by Dr. Sandra San Miguel, associate dean for engagement, each received INSIGHT Into Diversity magazine's Inspiring Programs in STEM Award in 2019 and 2020, respectively. Other programs include PVM's new and popular virtual Learning Cafés, a monthly series of 50-minute critical conversations surrounding diverse topics chosen by the PVM community.
"The HEED Award process consists of a comprehensive and rigorous application that includes questions relating to the recruitment and retention of students and employees — and best practices for both, continued leadership support for diversity, and other aspects of campus diversity and inclusion," said Lenore Pearlstein, publisher of INSIGHT Into Diversity magazine. "We take a detailed approach to reviewing each application in deciding who will be named a HEED Award recipient. Our standards are high, and we look for institutions where diversity and inclusion are woven into the work being done every day across their campus."
The other recipients of the 2020 Health Professions HEED Award include three other veterinary schools:
Louisiana State University School of Veterinary Medicine
Texas A&M University – College of Veterinary Medicine & Biomedical Sciences
The Ohio State University College of Veterinary Medicine
Click here for more information about the 2020 Health Professions HEED Award.
Writer(s): Kevin Doerr | pvmnews@purdue.edu