Purdue Veterinary Medicine is Well Represented at Indiana Pork Producers' Event
Friday, February 3, 2023
Each year, the Indiana Pork Producers Association hosts the Taste of Elegance to bring talented chefs together for a competition designed to encourage more frequent use of pork in creative, non-traditional ways in menu items. The prestigious event at the Indiana Roof Ballroom in Indianapolis also provides the opportunity for people connected to Indiana agriculture to get together and spend two hours gliding around the dance floor, sampling, and voting on the finalists' dishes and recognizing the evening's award winners. Held this year on Tuesday, January 24, the occasion attracted more than 450 pork farmers, lawmakers, ag industry leaders, and other dignitaries, including representatives of the Purdue University College of Veterinary Medicine.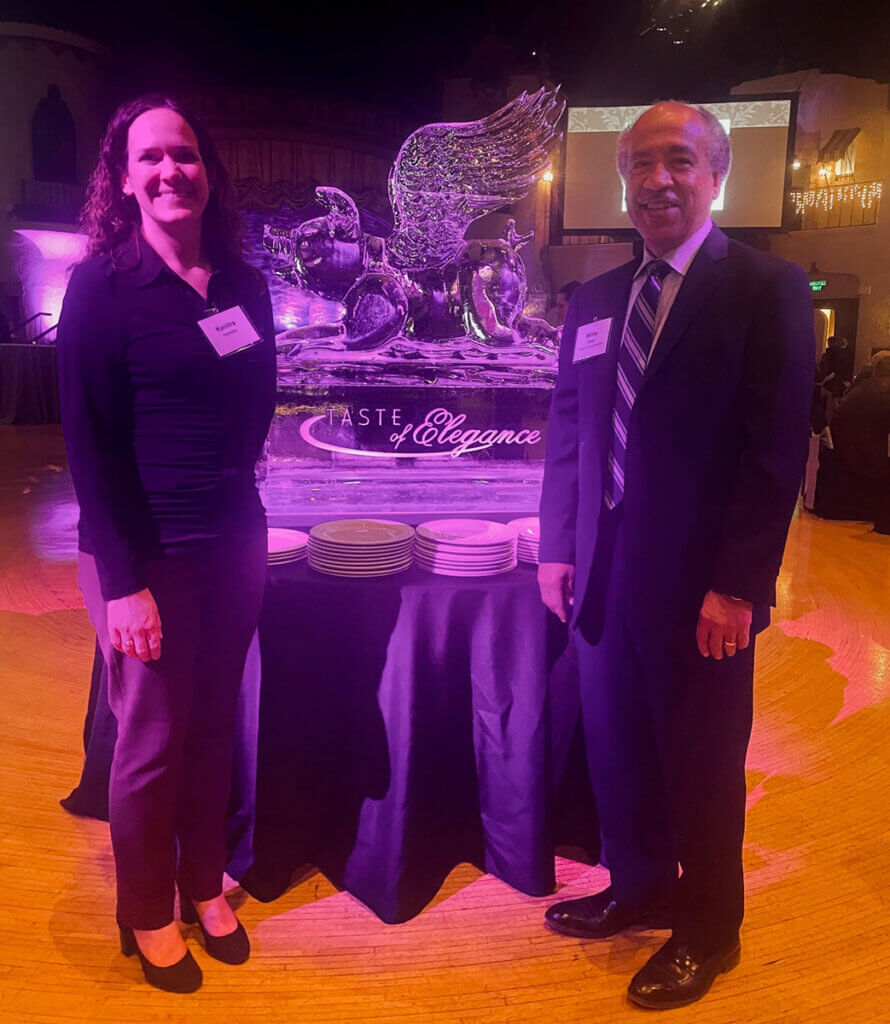 The event spotlighted the Purdue University Farm Animal Hospital and the Animal Disease Diagnostic Laboratory, as both were recognized for supporting the Indiana pork industry as Silver-level event sponsors. Representing the college were Dean Willie Reed and Dr. Dorothy Reed; Dr. Kenitra Hendrix, ADDL director; Dr. Craig Bowen, ADDL assistant director; Dr. Mario Sola, ADDL Histopathology and Autopsy Section head; Dr. Darryl Ragland, Production Medicine Section Head in the Veterinary Hospital; and Kelly Dold, marketing and communications manager for the Veterinary Hospital and ADDL. They utilized the occasion to promote the new David and Bonnie Brunner Purdue Veterinary Medical Hospital Complex, the Farm Animal Hospital in particular, and shared about the ADDL's efforts to increase Indiana's readiness to respond to African Swine Fever should it be encountered on U.S. soil. "The Taste of Elegance provided a great opportunity to demonstrate appreciation for important contributors to the pork industry and connect with colleagues, while also experiencing tasty and creative uses of bacon and other pork products," said Dr. Hendrix.
Chef Dean Sample from The Burgess Restaurant Group in Indianapolis took home the top award in this year's competition. Chef Sample's dish was a tribute to an annual trip he and his wife's family take to a favorite root beer spot each summer. Appropriately, he found a way to incorporate root beer into his featured dish, called Indiana Tenderloin with Fries and Root Beer. The menu item included a tenderloin wellington with pickle duxelles, root beer glazed pork belly, bacon fat fried potatoes, frisée salad with bacon vinaigrette, pork rind crumble, and a mustard aioli. As the Taste of Elegance winner, Sample received a $1,000 prize from Indiana Pork.
Writer(s): Kelly Dold and Kevin Doerr | pvmnews@purdue.edu