Purdue Veterinary Medicine is First Veterinary College Recognized as a Diversity Champion by INSIGHT Into Diversity Magazine
Friday, November 5, 2021
INSIGHT Into Diversity magazine, the oldest and largest diversity-focused publication and website in higher education, has recognized the Purdue University College of Veterinary Medicine as a 2021 Diversity Champion and a 2021 Health Professions Higher Education Excellence in Diversity (HEED) Award recipient. The dual honors mark the first time that the publication has named a veterinary college as a Diversity Champion. 
The Health Professions HEED Award is a national honor recognizing U.S. colleges and universities that demonstrate an outstanding commitment to diversity and inclusion. INSIGHT Into Diversity further recognizes those colleges and universities that rank in the top tier of HEED Award recipients as Diversity Champions.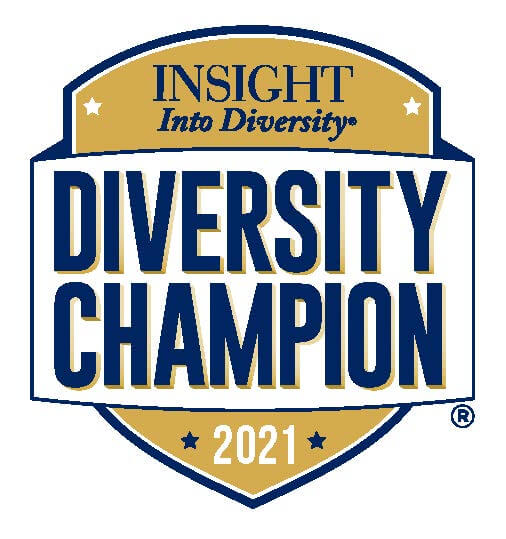 Known for visionary leadership, Diversity Champions are institutions that serve as role models and set the standard for thousands of other U.S. college campuses striving for inclusive excellence. These institutions are recognized for exemplifying an unyielding commitment to diversity and inclusion throughout their campus communities, across academic programs, and at the highest administrative levels.
"The Purdue University College of Veterinary Medicine is a visionary leader among institutions of higher education striving for inclusive excellence throughout its campus," said Lenore Pearlstein, publisher of INSIGHT Into Diversity magazine. "As a Diversity Champion school, the college exceeds everyday expectations by developing successful strategies and programs that serve as models of excellence for other higher education institutions."
The college will be featured, along with 50 other 2021 Health Professions HEED Award recipients, in the December issue of INSIGHT Into Diversity magazine.  Recognition as a Diversity Champion is more selective.  The college is one of only 16 academic institutions to receive the 2021 Diversity Champion designation in addition to the HEED Award.
"Our college is playing a leadership role nationally with model initiatives to advance diversity and inclusion both in academic veterinary medicine, and in the veterinary medical profession as a whole," said Purdue Veterinary Medicine Dean Willie Reed. "This achievement is the result of years of sustained effort, dedication and innovation aimed at making measurable progress as a college and as a health profession in being truly welcoming and supportive of everyone. That accomplishment is only possible because our commitment to diversity, equity, and inclusion, is much more than just something we talk about. We live it, day in and day out, and this award reflects that reality.
Dr. Latonia Craig, assistant dean for inclusive excellence, said the award is an important acknowledgment of the college's noteworthy progress even though there's much more to be done. "The Purdue College of Veterinary Medicine is committed to promoting a college-wide culture where diversity, equity, and inclusion are threaded throughout our programming. This award in no way says that we are a perfect college because we know and understand we still have a lot of work to do. The Diversity Champion award conveys how our progress is on an upward trajectory and that we have a college invested in the work and positioned to take us to greater heights," Dr. Craig explained. "Our efforts moving forward will focus on narrowing gaps where perception and reality may not always agree. We all understand the value of sustaining a climate that supports our faculty, staff, and students' working and learning experiences. We will continue to raise the bar in this space through critical reflection, engagement, innovative programming, and always leading with an intentional desire to do and be better."
For more information about the HEED Award or the Diversity Champion recognition, visit insightintodiversity.com.
Writer(s): Hailee Rolofson, PVM Communications Intern | pvmnews@purdue.edu