Purdue Challenge 5K was Personal for PVM Participants Who Helped Raise $100K for Cancer Research
Friday, May 26, 2023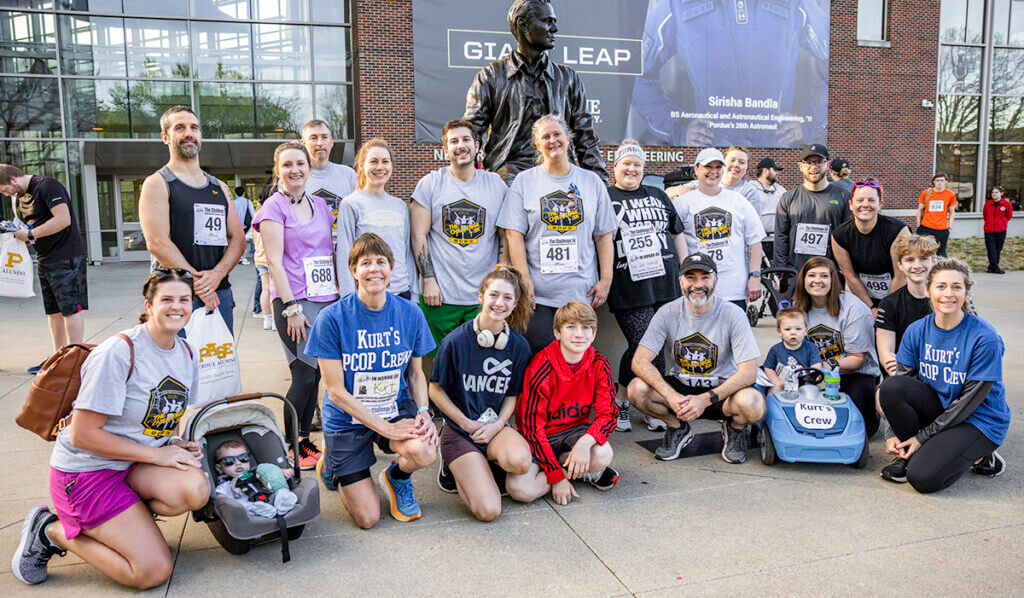 The 15th annual Purdue Challenge 5K run/walk benefiting the Purdue University Institute for Cancer Research had special meaning this year for a group of participants with ties to the Purdue University College of Veterinary Medicine. Several members of the PVM community ran in the event Saturday, April 15 to honor and celebrate the life of a cancer victim who was married to a veterinary nurse in the Evan and Sue Ann Werling Comparative Oncology Research Center. Their effort was both thoughtful and helpful, as the fundraising event raised a total of $100,000 for efforts to pursue a cure.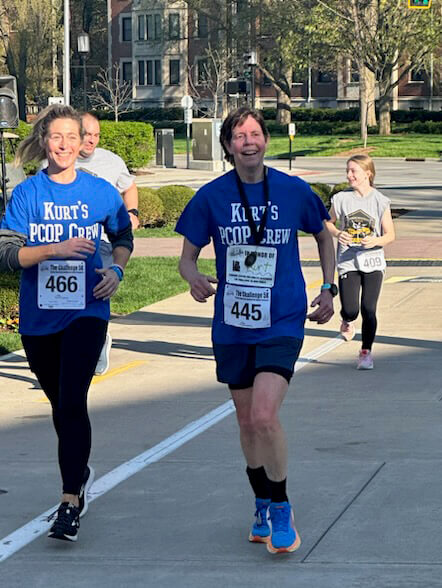 It was last August when Kurt Lahrman passed away from colon cancer at the age of 46, survived by his wife, Sarah, a long-time veterinary nurse and supervisor in the college's cancer center, and their three children. "Before and during his battle with cancer, Kurt was a special person that made the world a better place," recalled Dr. Deborah Knapp, Distinguished Professor of Comparative Oncology and the Dolores L. McCall Professor of Comparative Oncology, who serves as director of the Evan and Sue Ann Werling Comparative Oncology Research Center.
Kurt was remembered as a family man who cherished his wife and children, enjoyed hanging out with friends, and making people laugh. "Kurt's family carried through with such grace throughout his cancer fight," Dr. Knapp said. Sarah and their children participated in the 5K with the PVM team that went by the name, "Kurt's Crew." Most of the PVM participants wore signs to honor Kurt and others who have died of cancer, as well as cancer survivors. Dr. Knapp wore several signs including one in memory of Evan Werling, of the newly named Werling Comparative Oncology Research Center, who was a longtime friend of the college together with his wife, Sue Ann.
Since 2008, the Challenge 5K has generated more than $1 million for lifesaving cancer research at Purdue. The event serves as a reminder that Purdue cancer research provides hope to survivors. Thanks to the Challenge 5K's generous event sponsors, 100% of the money raised directly supports Purdue cancer research, helping the Purdue Institute for Cancer Research make strides in improving cancer detection, treatment, and prevention.
A special thank you to "Kurt's Crew" for representing PVM in the Challenge 5K and paying tribute to Kurt and other cancer victims as well as cancer survivors.
Writer(s): Kevin Doerr | pvmnews@purdue.edu