Prestigious Veterinary Teaching Award Presented to PVM Alumnus
Friday, March 13, 2020
Purdue Veterinary Medicine graduate Jerome Masty (PU DVM '78), a member of the Ohio State University College of Veterinary Medicine faculty, recently was honored as the recipient of the 2019 AAVMC Distinguished Veterinary Teacher Award. Considered as one of the most prestigious teaching awards in international academic veterinary medicine, the award recognizes excellence in professional veterinary medical education.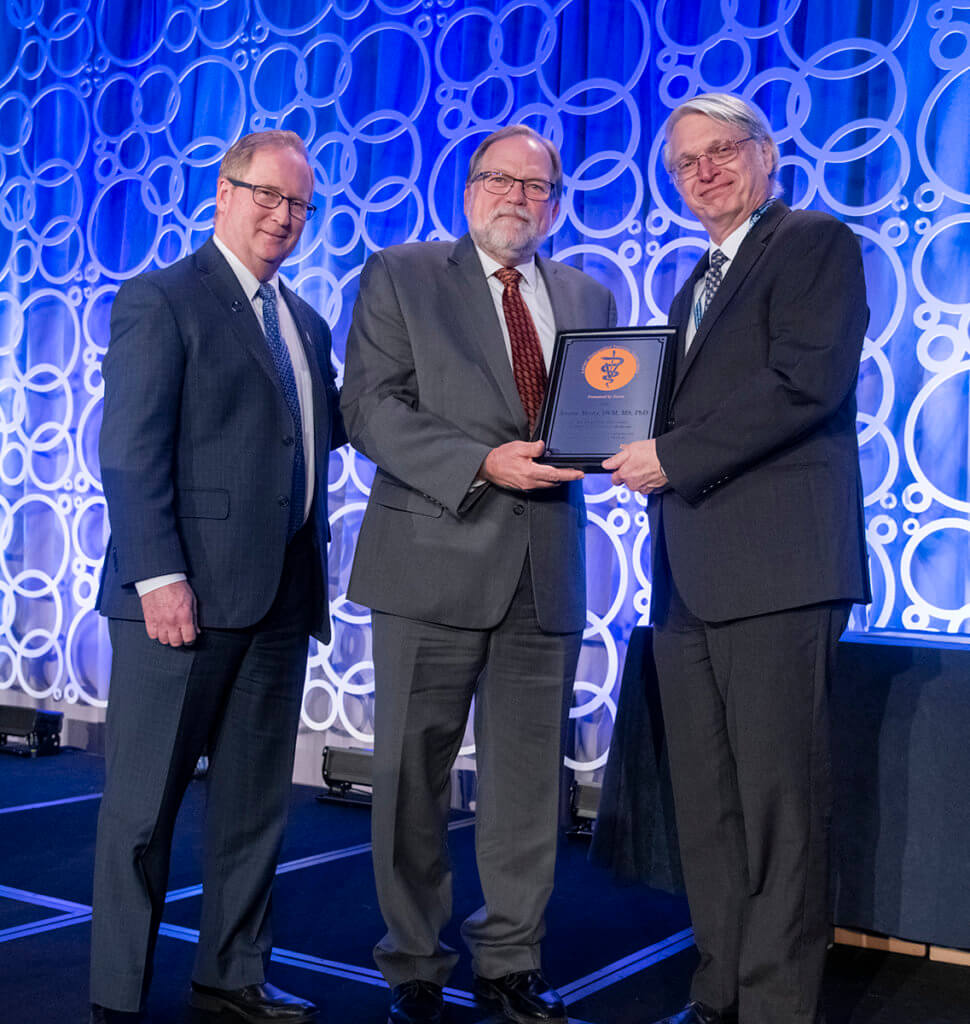 Sponsored by Zoetis, the AAVMC Distinguished Veterinary Teacher Award is presented to an educator whose sustained record of teaching excellence and ability, dedication, character, and leadership has contributed significantly to the advancement of the veterinary medical profession. After graduating in the Purdue DVM Class of 1978, Dr. Masty went on to earn both his master's and PhD degrees in veterinary anatomy at Purdue. Currently an associate professor in the Department of Veterinary Biosciences at Ohio State University (OSU), Dr. Masty primarily teaches first-year gross anatomy, second-year neuroanatomy of the nervous system, and three second-year elective classes in surgical anatomy, feline anatomy, and neuroanatomy.
Dr. Masty has received numerous teaching awards during his tenure on the OSU faculty. He describes his teaching approach as one that goes beyond passive listening to engage students through interactive notes and illustrative diagrams that help students to visualize and remember how different parts of the body work together. He also continuously solicits and responds to student feedback.
Dr. Masty also has fulfilled the role of mentor to numerous other instructors throughout various disciplines at OSU. Assistant Vice Provost Alan Kalish, who has worked with Dr. Masty on numerous teaching enhancement projects for nearly two decades, wrote that he is "one of the most popular and innovative instructors at Ohio State."
"Zoetis is proud to sponsor the prestigious AAVMC Distinguished Veterinary Teacher Award," said Dr. Christine C. Jenkins, Zoetis U.S. Chief Medical Officer and Vice President of Veterinary Medical Services and Outcomes Research. "Recipients like Dr. Masty represent the very best of veterinary medical education, and we are honored to celebrate his achievement and dedication to excellence in preparing future generations of veterinary professionals."
The award was presented during the AAVMC 2020 Annual Conference in Washington, D.C. March 6-8. Click here to view a complete news release about the award.
Writer(s): Maya Sanaba, PVM Communications Intern, and Kevin Doerr | pvmnews@purdue.edu