Parking Changes Today Signal Progress Toward Construction of New Hospital
Friday, January 10, 2020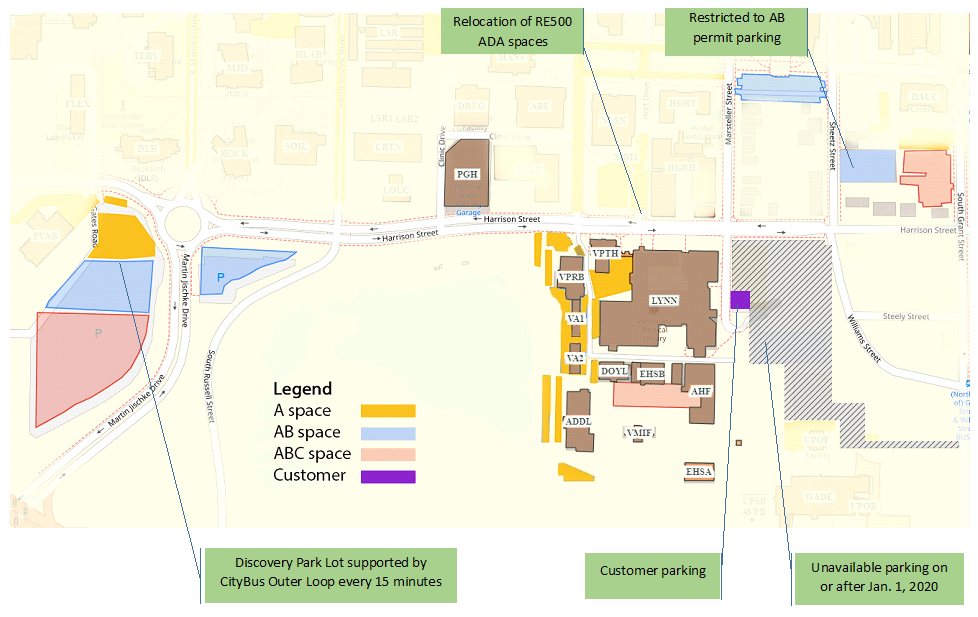 The permanent closing of the permit parking areas east of Lynn today (Friday, January 10) marks the next step in the start of construction of the new Veterinary Teaching Hospital. The fenced-in area soon will be transformed as site-work begins for the new hospital facilities. As a reminder, the remaining 32 spaces adjacent to the Small Animal Hospital entrance are for small animal clients ONLY. The map shows alternate parking for faculty, staff, and students (please note a small mistake on the map – the ABC lot south of EHSB does not extend all the way to AHF, parking directly behind VCPR and on the east side of AHF is A permit only). Be advised that with the start of classes on campus Monday (January 13), the availability of parking spaces in the alternate areas likely will be affected.
Additionally, to assist with parking and mobility on the south part of campus, a number of CityBus changes, including a new South Campus Loop (20 and 20E), takes effect on Monday.
The 20E South Campus Loop Express will provide eastbound and westbound service every 15 minutes from 4:00 – 6:00 p.m., between Lynn Hall and the Discovery Park Lot.
The 20 South Campus Loop will operate every 20 minutes from 6:00 p.m. to midnight with service to the Discovery Park Lot, destinations along Harrison Street, the Krannert Building, and the Purdue University Airport.
The 27 Outer Loop, which cycles every 11 minutes and serves the Discovery Park Lot, Lynn Hall, and other campus locations, will begin operating earlier at 7:04 a.m.
These routes are offered Monday through Friday when the University is open. All campus route maps and schedules are included on the CityBus website.  CityBus also offers real-time GPS tracking of buses. To use this feature, visit the Where Is the Bus? webpage or download the MyCityBus mobile app. CityBus services are free to Purdue faculty, staff, and students with ID.
Writer(s): Kevin Doerr | pvmnews@purdue.edu