Outstanding Efforts of PVM Staff Honored at Annual Spring Awards Program
Friday, May 13, 2022
Recognizing unsung heroes was the theme of the Purdue University College of Veterinary Medicine's 2022 Outstanding Staff and Bravo Awards Celebration. Held this year as an in-person event in Lynn 1136 on Wednesday, April 27, the program began with the presentation of two awards for outstanding staff members.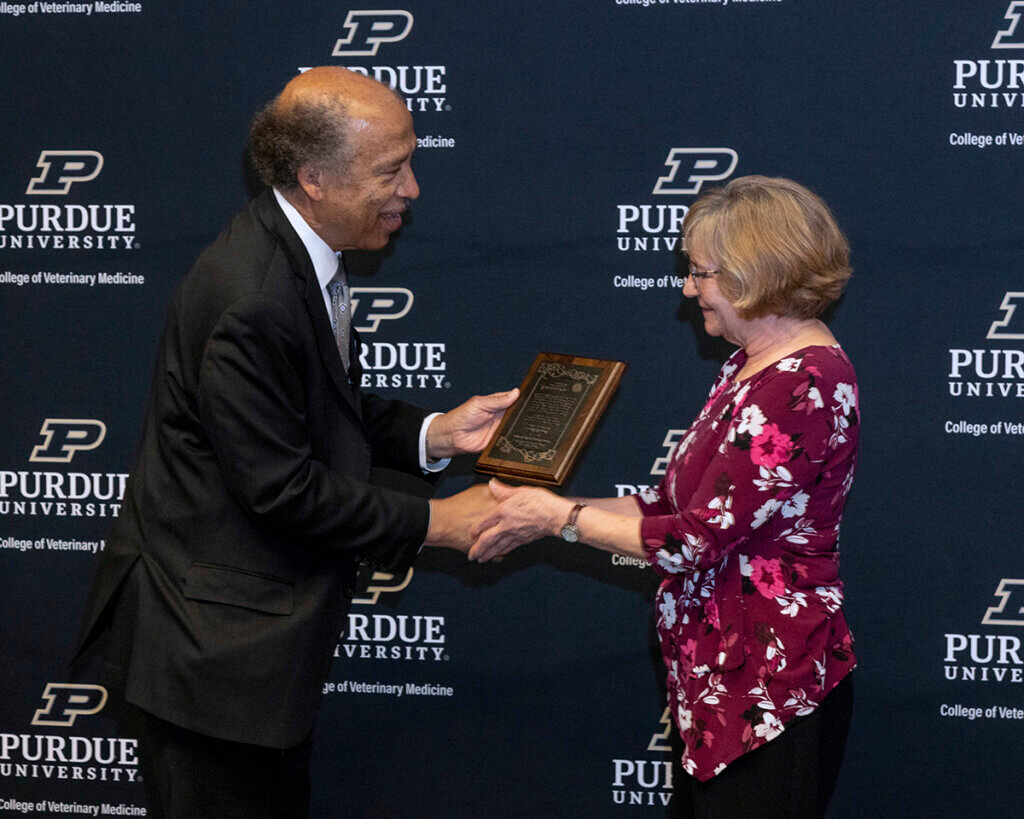 Dean Reed began the program by thanking everyone for attending to help recognize the honorees. Then he explained that the college's Outstanding Staff Award has been given annually since 1988 to recognize excellent performance by the college's non-faculty, full-time employees. "Excellent staff members often are the unsung heroes in an organization, with can-do attitudes, a knack for knowing how to get things done, and friendly demeanors that spark energy and enthusiasm, contributing to a positive work environment," Dean Reed said. Then, he announced that the recipient of the Outstanding Staff Award for 2022 is Janet Rivers, purchasing account clerk in the PVM Business Office. The award recognizes Janet for excellence in service to the students, staff, faculty, and other constituencies of the college.
"Janet, thank you so much for being an excellent resource in our business office," Dean Reed said. "You are a go-to person who helps in so many ways above and beyond your normal job responsibilities." Dean Reed continued by praising Janet as a problem-solver whose skills are depended upon in a wide-range of areas. He also emphasized how she has been the person responsible for ordering all the new equipment for the new David and Bonnie Brunner Purdue Veterinary Medical Hospital Complex. "This is an enormous task, but you have taken on these additional responsibilities as you always do – with a smile on your face and a positive attitude," Dean Reed said.
The award includes an engraved plaque. Dean Reed shared the inscription on the plaque which commended Janet's positive attitude, tremendous work ethic, and commitment to service.
Next, Dean Reed presented the PVM Outstanding Research Staff Award, which is given in honor of a non-faculty research staff member. This year's awardee is Dr. Ekramy Sayedahmed, postdoctoral research associate in the Department of Comparative Pathobiology. The award recognizes Dr. Sayedahmed for his attitude of selfless dedication to the development and growth of research programs and his excellence in research initiative, collaboration, and personal development.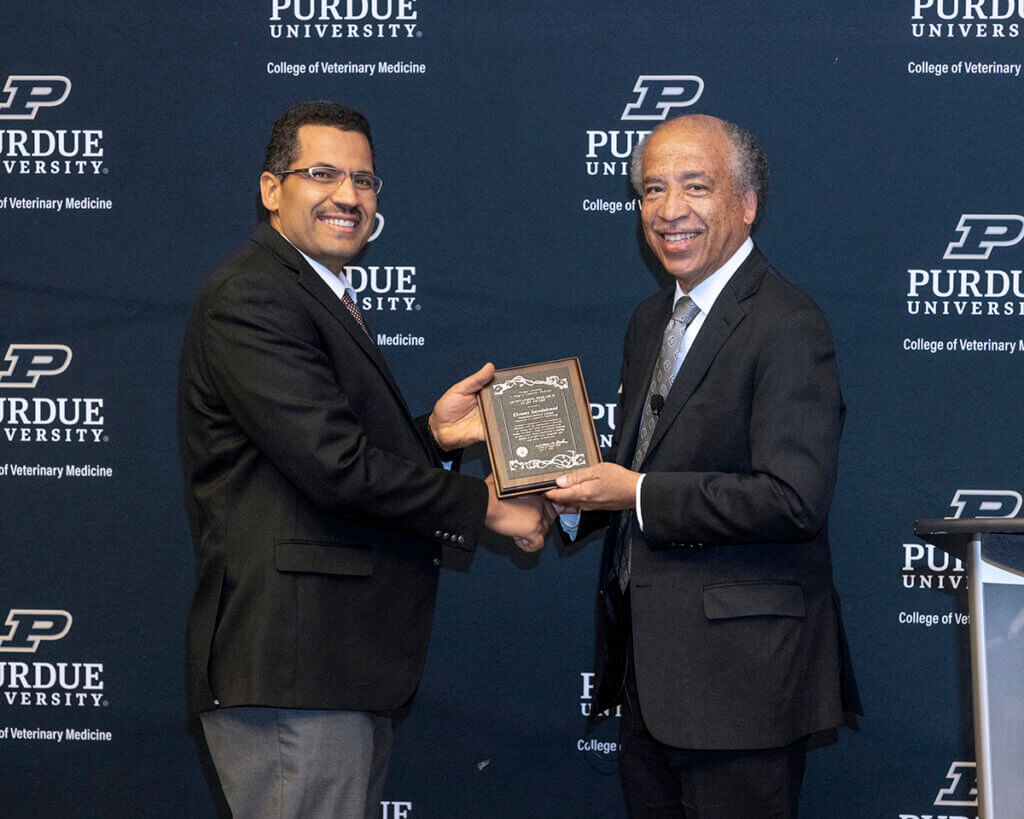 Dean Reed praised Dr. Sayedahmed for his diligent work on the development of the next generation SARS-CoV-2 vaccine candidates. "You played a role in demonstrating the superiority of the bovine adenoviral vector vaccine platform over the human version, and you are among a few scientists in the world who have the exceptional expertise to work on the new vaccine platform that you developed in the laboratory of Dr. Suresh Mittal," Dean Reed said. Dr. Mittal is the college's Distinguished Professor of Virology.
Dean Reed continued by recognizing the tremendous progress Dr. Sayedahmed has made on his own research. "You have done outstanding work developing a universal influenza vaccine that protects against all five subtypes of flu viruses," Dean Reed noted. "In addition, your novel work on the importance of innate lung cells in protection against respiratory viruses is being published, and we enthusiastically await word about your provisional patent!" Dean Reed concluded by praising Dr. Sayedahmed for being an outstanding colleague, helping other graduate students and postdocs regularly on their projects and demonstrating an outstanding work ethic.
Dean Reed then announced the recipients of the college's spring Bravo Awards, which honor substantial accomplishments achieved by employees that extend well beyond regular work responsibilities. Bravo Awards are for concrete or measurable goal achievement or contribution, for which the employee receives no other honor, award, or compensation. Award winners may be recognized in any of four categories:
Moving the University Forward — accomplishments or contributions that transform or advance university objectives;
Innovation and Creativity — innovative work or suggestions well beyond standard job requirements that significantly improve operational efficiencies or introduce new or improved processes;
Operational Excellence — extraordinary effort during times of critical department need; or,
Fiscal Stewardship — significant cost saving or cost avoidance realized beyond normally expected or established standards.
The spring awardees are:
Art Armstrong — recognized for Operational Excellence as Virology Laboratory technician in the Animal Disease Diagnostic Laboratory
Dennis Barnett — honored for Operational Excellence as IT senior manager in PVM-IT
Danielle Buchanan — for Operational Excellence in her role as clinical skills laboratory manager
Cassie Cords — recognized for Operational Excellence as an instructional technician
Kevin Draper — honored for Operational Excellence as facilities manager for the Purdue University Veterinary Hospital
Gabriela Gambirazio — for Operational Excellence as lab technician in the ADDL Molecular Laboratory
Lisa Hunter — recognized for Operational Excellence as the facilities operations supervisor in the Veterinary Hospital
Bill Kielhorn — honored for Operational Excellence in his role as PVM-IT senior technician
Holly McCalip — for Operational Excellence as instructional technologist in the Veterinary Nursing Program
MacKenzie McIntosh — recognized for Operational Excellence as the manager of the Histology Research Laboratory
Crystal Rice — for Operational Excellence and Fiscal Stewardship as business assistant in the ADDL
Michelle Ruedin — honored for Operational Excellence as associate systems engineer in PVM-IT
Bill Smothers — for Operational Excellence as receiving clerk
Stephanie Terry — recognized for Operational Excellence as sterile processing technician in Central Supply
Then, Dean Reed presented a group Bravo Award to recognize the outstanding efforts of the Purdue University Veterinary Hospital's large animal caretakers team, consisting of Sara Green, Brittney Poe, Jenny Day, and Sarah Johnson.
Dean Reed also ensured that during the presentation of each of the Bravo Awards, the audience participated by calling out "Bravo!" for each recipient, a request with which the audience members heartily complied!
Congratulations to all of the award recipients honored at this year's spring Outstanding Staff and Bravo Awards Ceremony!
Writer(s): Kevin Doerr | pvmnews@purdue.edu