Office for Diversity, Equity and Inclusion Welcomes New Staff Member
Friday, February 28, 2020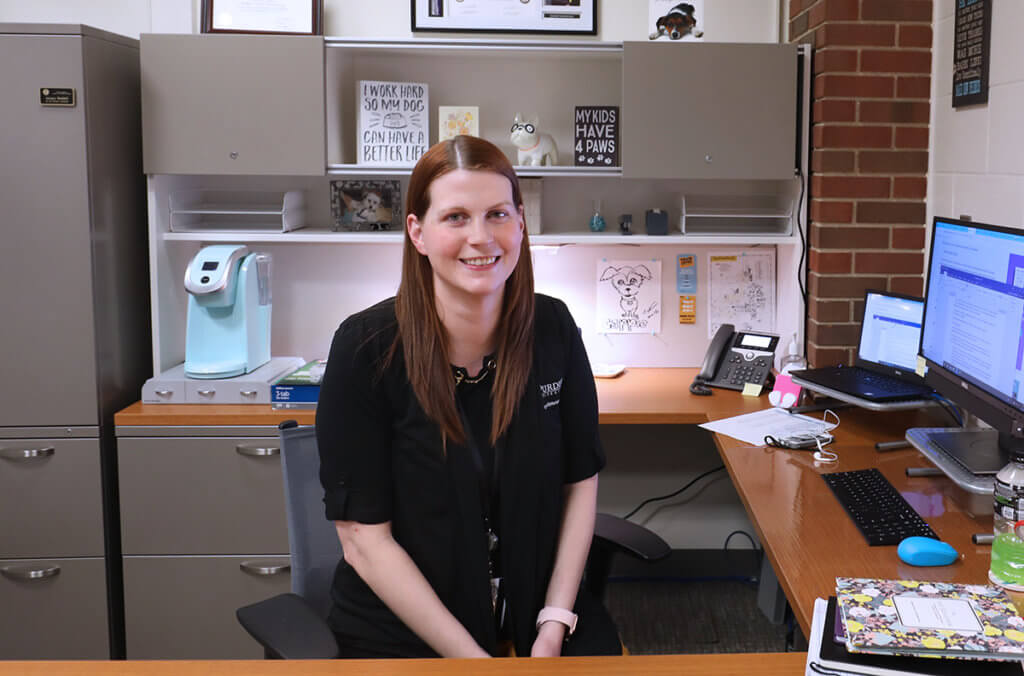 Purdue Veterinary Medicine is pleased to welcome the newest addition to the Office for Diversity, Equity and Inclusion, Jessyca Waddell, who accepted the position of Vet Up! Outreach Coordinator, effective February 10. As part of her new role, Jessyca is responsible for recruiting participants at conferences and career fairs, working with new and current program participants to refine their applications to veterinary school, and helping Purdue DVM students who are Vet Up! participants on their road to graduation and beyond.
Originally from northern Indiana, Jessyca has always loved animals and is a ten-year 4-H member, as well as a collegiate 4-H member. She received her bachelor's degree in animal sciences from Purdue University in 2014 and was actively involved in campus life during her studies. She served as the historical co-chair of the Alpha Phi Omega National Service Fraternity, the secretary of Purdue Collegiate 4-H, and held various offices with the Purdue University Pre-Veterinary Medical Association as well as the American Pre-Veterinary Medical Association.
After graduating, Jessyca worked as the project assistant at the National AgrAbility Project. Housed in Purdue's Agricultural and Biological Engineering Building, the program strives to improve the quality of life of agricultural workers with disabilities. Jessyca also worked with Tippecanoe County's 4-H program as the veterinary science superintendent, a responsibility which triggered her interest in education. She went on to earn a master's in youth development from Kansas State University in 2019.
While pursuing her master's, Jessyca moved to California for a short time to work for the Nsefu Wildlife Conservation Foundation as their director of philanthropy. She later returned to Purdue as an Instructor for the Purdue Athletes Life Success Program (PALS), where she developed an animal-centric curriculum for the participants, all of whom are low-income youth of elementary and middle school age.
"The unique combination of my degrees gives me a strong background in animal and veterinary sciences, as well as in education and development that will help me guide students," said Jessyca. "My own personal experiences also will allow me to help them realize their dreams of becoming veterinarians. I worked in the Animal Sciences Department while I was a pre-veterinary student at Purdue University and advised many students in that role."
Jessyca has two dogs, a Malipom named Cappie and a Maltese named Fynn, and you can find pictures of both of them in her office in Lynn 2133. You can also reach her at 496-4997 or via e-mail at jlwaddell@purdue.edu.
Please join us in welcoming Jessyca to the PVM family!
Writer(s): Maya Sanaba, PVM Communications Intern | pvmnews@purdue.edu