New Intern Joins PVM Communications Team
Friday, October 29, 2021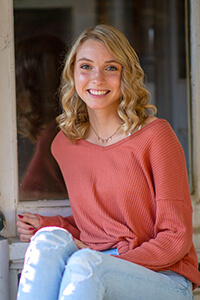 The Purdue Veterinary Medicine communications team is pleased to welcome Madeline Brod, who started as a new PVM communications intern on Monday, October 26. Madeline is a freshman majoring in pre-communication, with plans to study public relations and strategic communications through the College of Liberal Arts Degree in Three accelerated degree program. Madeline also is a member of the Purdue "All-American" Marching Band and the Women's Volleyball Box Band. In her free time, she enjoys reading, playing piano, going to the gym, spending time outside, and loving her Chihuahua mix "Arri", named after the former World-Series-winning pitcher for the Chicago Cubs, Jake Arrieta. Madeline is passionate about animals and the art of communication and excited to learn skills as a communications intern that will be valuable to her future career. Please help extend a warm welcome to Madeline.
You can find Madeline in Lynn 2121, or email her at brod@purdue.edu.
Madeline is one of two PVM communications interns who have joined the PVM communications team. The other is Hailee Rolofson, a senior in the Brian Lamb School of Communication, who will be featured in next week's Vet Gazette.
Writer(s): Kevin Doerr | pvmnews@purdue.edu