New Grant for Priority 4 Paws Supports Shelter Medicine Education and Services
Friday, December 13, 2019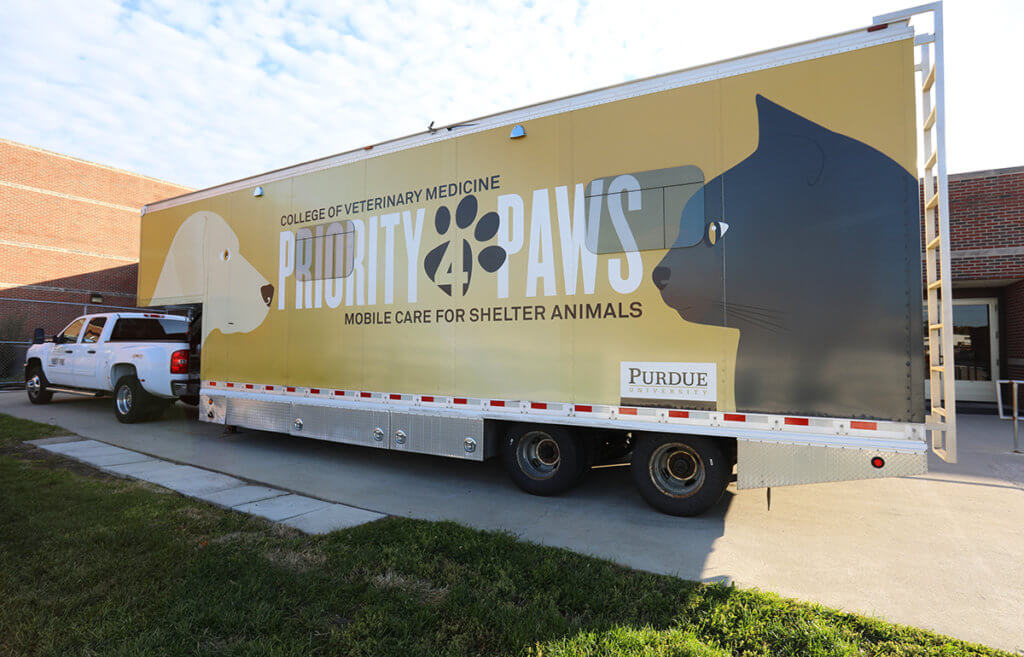 Purdue Veterinary Medicine's mobile surgery unit, Priority 4 Paws (P4P), is a shelter medicine program that combines community service with education to provide invaluable learning experiences for fourth-year veterinary students. Now the program is getting a significant boost in the form of a $150,000 grant from the Nina Mason Pulliam Charitable Trust. Dr. Emily Curry, visiting assistant professor of mobile surgery and shelter medicine, says the funding will enhance the mobile surgery unit's service-learning initiatives in partnership with Marion County, Ind., animal shelters.
P4P's commitment to providing spay and neuter services free-of-charge for animals at partner shelters falls in line with the Nina Mason Pulliam Charitable Trust's values of protecting animals and enriching community life. Since 2012, when P4P was founded, the mobile surgery unit has logged over 100,000 miles traveling across the state to help animal shelters by spaying and neutering shelter animals while also greatly increasing opportunities for veterinary students to gain hands-on surgical experience.
In 2019, the unit served about 2,000 animals, bringing the total served since the unit's inception to about 16,000. Veterinary students who choose to do a three week elective Shelter Medicine and Surgery rotation during their fourth year work on the unit, performing spay and neuter surgeries, whether the unit is "on the road" or "on the pad."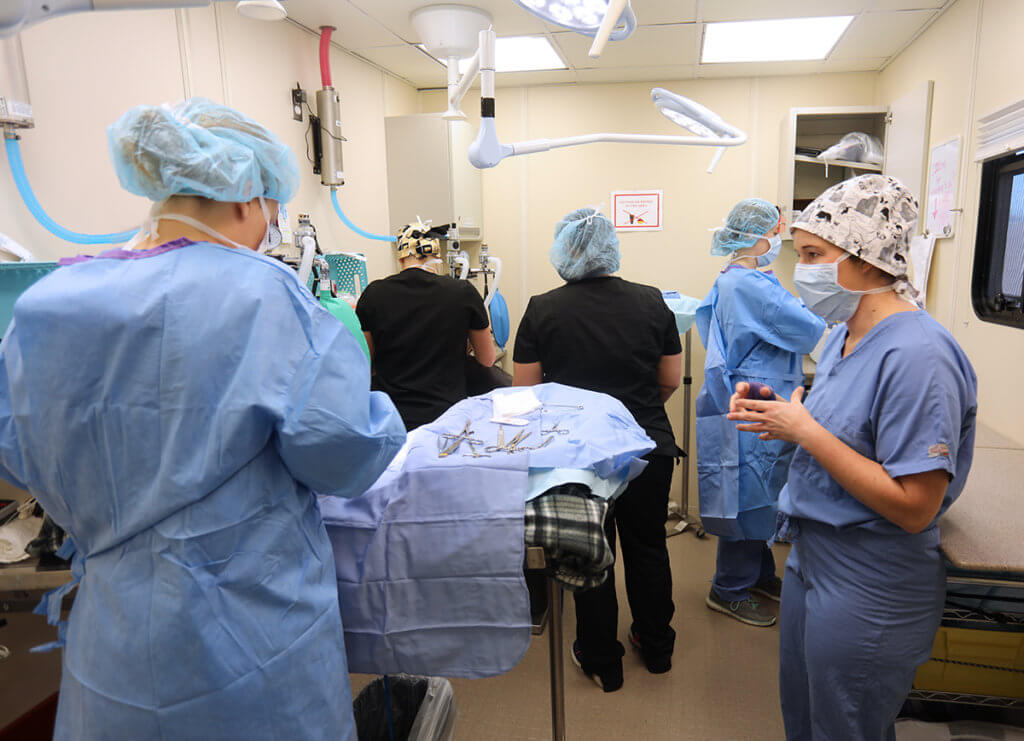 During days "on the road," the unit travels to partner animal shelters within driving distance of Purdue University's West Lafayette campus, and the surgeries are performed while the unit is parked alongside the shelter. After surgery, patients are brought back inside the shelter for postoperative care.
During days when the unit is stationed "on the pad," it is parked in a designated space behind the Purdue Veterinary Teaching Hospital. Workers at partner shelters bring their animals to the unit instead of having the unit come to the shelters. Following the surgeries, the patients are transported back to the shelter facility by shelter workers to complete their recovery. Days on the pad are particularly beneficial to shelters like Lori's Kitty Rescue that do not have physical buildings and rely on a network of people who foster animals, because it makes the service accessible to those animals.
Over the course of each three-week rotation for the veterinary students, the service performs surgeries on more than 100 animals, according to Dr. Curry, a Purdue graduate who actually took part in the Shelter Medicine and Surgery rotation when she was a veterinary student in the DVM Class of 2014. She accepted her current position in February of 2019. "I have always been interested in shelter medicine, and this position offered the incredible opportunity to work with many shelters at one time, which is very unique," said Dr. Curry. "Educating current students has such an impact because they will go on to spread their knowledge and it will be so much more far-reaching than what I could do on my own."
The P4P team also includes Dr. Natalie Bullard, clinical assistant professor of shelter medicine, who just joined the Department of Veterinary Clinical Sciences faculty in early September. Dr. Bullard said she was attracted to the opportunity to work with the unit because, as she explained it, "…the chance to combine shelter medicine, surgery, and teaching was one of a kind." Dr. Bullard added, "It can be challenging to find appropriate animals for students to operate on inside the hospital so I am grateful that P4P is available because it gives them surgery experience that can be difficult to come by at this stage in their education."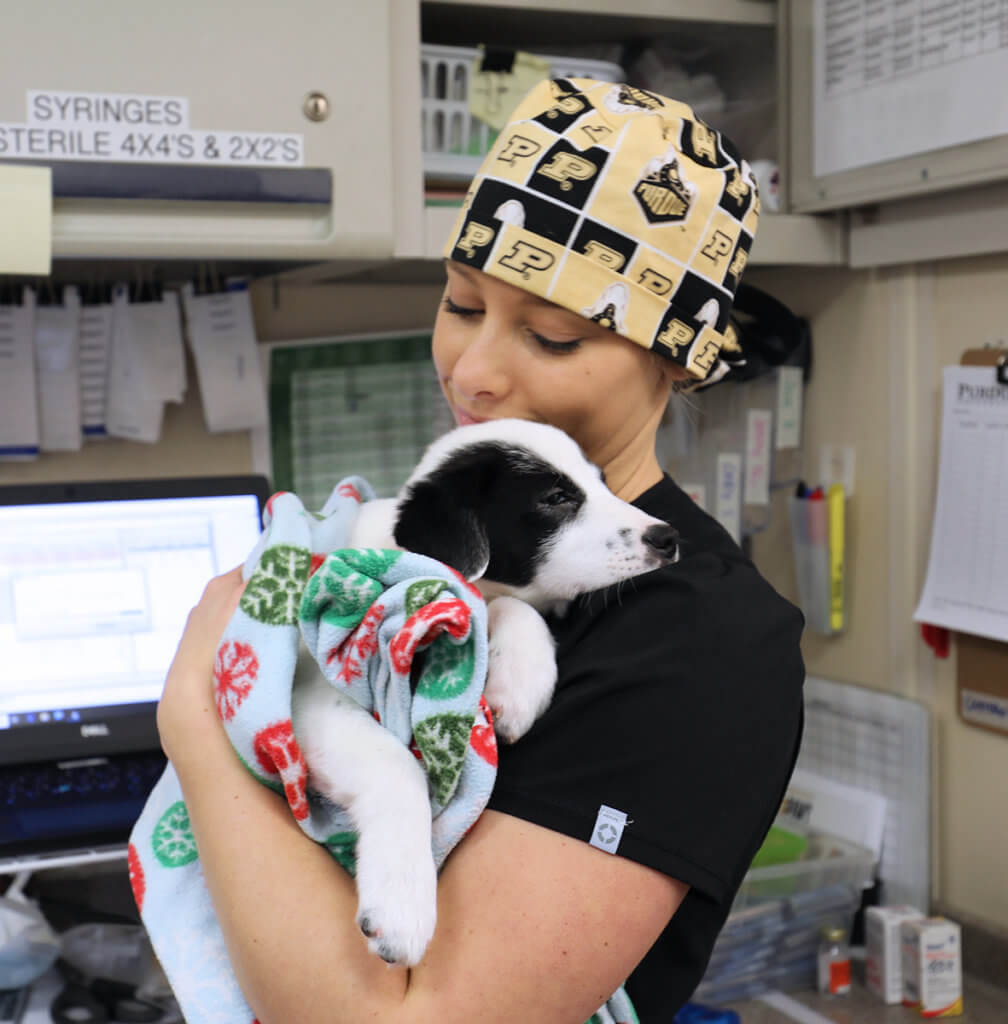 Priority 4 Paws also relies on a team of versa techs to run the unit. Versa techs are versatile veterinary nurses who help wherever they are needed in the Veterinary Teaching Hospital. There is always one versa tech with the unit. "I enjoy working in the unit because we do not really get shelter medicine experience anywhere else," said Versa Technologist Mackenzie Pfledderer. "I get to work with a variety of animals in the hospital when I am not running this unit, but this is such a one-of-a-kind experience." Dr. Curry added, "Taking part in this block teaches students a lot about how veterinarians and veterinary nurses work together, because we are in such close quarters and it is easy to recognize clear roles and the great importance of teamwork."
Allison Kowlowitz, of the DVM Class of 2020, chose the Shelter Medicine and Surgery rotation because she wanted to get more surgical experience. She explained that even though veterinary students observe many surgeries, there are limited opportunities to actually perform them in the Veterinary Teaching Hospital, because of the priority that must be given to interns and residents. "In the P4P unit, the team consists of Dr. Curry or Dr. Bullard, one of the versa techs, and the students, so we get a lot of opportunities to function as the doctor," said Allison.
In May of 2019, P4P expanded its service learning opportunities for students by starting a partnership with both IndyHumane and FACE Low Cost Animal Clinic in Indianapolis. "These partners already have been an awesome addition to the Shelter Medicine and Surgery course, which includes the Priority 4 Paws mobile surgery unit," said Dr. Curry. Now, in addition to working two weeks on the P4P rig, each student on the Shelter Medicine and Surgery rotation spends one week completing an Off Campus Experience, which is split between IndyHumane and FACE. "The students are able to become immersed in the Marion County community and understand the real needs of the area during their week there," said Dr. Curry.
Since the partnership began, the average number of surgeries that students are able to perform has risen from 27 to 45. "It gives them a lot more experience, which is vital at this stage in their education," noted Dr. Bullard. Dr. Curry added, "I have seen firsthand the amazing gains in the students' confidence, both surgically and clinically, as well as in their surgical skills and overall efficiency after their one week Off Campus Experience in Indianapolis. Students are also gaining great mentorship through their time with the wonderful veterinarians at both IndyHumane and FACE."
In addition, the P4P unit travels to both FACE and IndyHumane once every rotation. "That means we are visiting each Indianapolis location with the P4P rig once every three weeks and performing anywhere from ten to 15 surgeries at each location each visit," Dr. Curry explained. "This will translate to at least 200 animals served between these two locations on the rig by the end of this year."
It was P4P's connections with Indianapolis that attracted the funding from the Nina Mason Pulliam Charitable Trust. "This grant will be used to support our involvement in shelter medicine in Indianapolis by funding a day-long spay and neuter event in April of 2020, as well as going towards operational costs for the P4P mobile surgery unit to travel to our Indianapolis partner shelters and perform needed spay and neuter surgeries," said Dr. Curry. "The funding also will provide for financial support to help veterinary students cover expenses associated with living in Indianapolis for a week when they work at the shelters as part of their Off Campus Experience."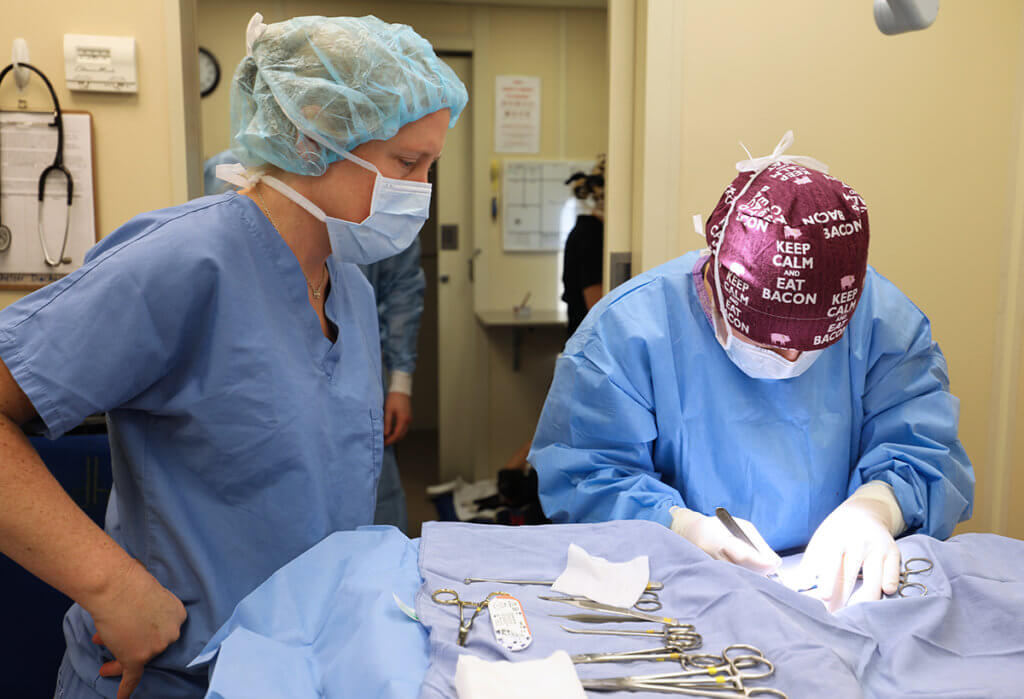 Dr. Curry further explained that the April spay and neuter event will be a large function held at FACE and IndyHumane. "The plan is to serve animals in need of spay or neuter surgeries from Indianapolis Animal Care Services, FIDO (Friends of Indianapolis Dogs Outside), SOAR (Street Outreach Animal Response), and also outdoor community cat colonies. Our goal is to perform 130 surgeries between both locations on the day of the event." Students who have taken the P4P rotation prior to this event may be asked to perform surgeries, as well as conduct preoperative examinations, and monitor post-operative recovery.
"This partnership with IndyHumane and FACE, which can now be continued with the help of this generous grant, is just one way in which we hope to continue to grow the Shelter Medicine and Surgery program here at Purdue – by building upon the important community relationships we already have and continuing to build new ones," said Dr. Curry. "By being aware of, and responsive to, the needs of the communities around us we are able to provide this unique service-learning experience in which under-served populations of animals obtain much-needed care and, at the same time, we are training the next generation of veterinarians to be competent, compassionate, and philanthropically-minded."
The FACE Low-Cost Animal clinic released a video about their partnership with Priority 4 Paws. Click here to watch the video.
The Nina Mason Pulliam Charitable Trust was established upon the death of Nina Mason Pulliam in 1997 to support the causes she loved in her home states of Arizona and Indiana. The Trust seeks to help people in need, protect animals and nature, and enrich community life in metropolitan Indianapolis and Phoenix. Since its inception the Trust has distributed more than $317 million. For more information visit www.ninapulliamtrust.org.
Writer(s): Maya Sanaba, PVM Communications Intern, and Kevin Doerr | pvmnews@purdue.edu