McAfee Animal Hospital 75th Anniversary Marks Three Generations of Veterinary Care
Friday, July 27, 2018
Saturday, July 21, was a very special day for Dr. Larry McAfee (PU DVM '73) and his daughter Brooke (PU DVM 2011), as they celebrated the 75th anniversary of the McAfee Animal Hospital with an Open House event on the facility grounds.  Brooke represents the third generation of McAfee veterinarians.
Located in Valparaiso, Ind., the McAfee Animal Hospital was started by Larry's father, John. A graduate of Michigan State University's College of Veterinary Medicine, Dr. John McAfee passed the enterprise along to Larry, a member of the Purdue DVM Class of 1973, who recently has passed it along to Brooke, a 2011 Purdue DVM graduate. Purdue decorations were prominent, as today, every veterinarian that works for the McAfee Animal Hospital is a Purdue graduate.
Among the visiting dignitaries at the anniversary was Purdue Veterinary Medicine Dean Willie Reed, who welcomed the crowd at the celebration, and thanked Larry for his support of the College.  The hospital's 75th anniversary celebration also featured remarks by Dr. Bret Marsh (PU DVM '84), Indiana State Veterinarian, who thanked Larry and the clinic for their good service to the community and the state. Additionally, Valparaiso Mayor Jon Costas expressed appreciation to Larry for his service to the community and for the way the hospital provides veterinary care that gives such comfort to the city's residents.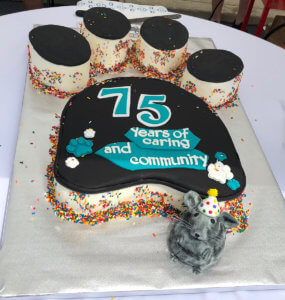 The event also included participation by local businesses and food vendors that had tables featuring information, giveaways, and activities.  Exotic animals also were present as was the Valparaiso Police K-9 unit that gave demonstrations.  In addition, guests were able to take hospital tours that showcased the facility and the various procedures and treatments offered.  PVM was represented at the celebration as well with an informational table promoting the College and its programs.
Congratulations to the McAfee Animal Hospital for 75 great years!  Click here for more information and to view photos from the website Valpolife.com.
Writer(s): Tanya Finkbiner, Rachel Nellett, PVM Communications Intern | pvmnews@purdue.edu