Longtime PVM Staff Member Kris Kazmierczak Receives Nostalgic Farewell
Friday, January 24, 2020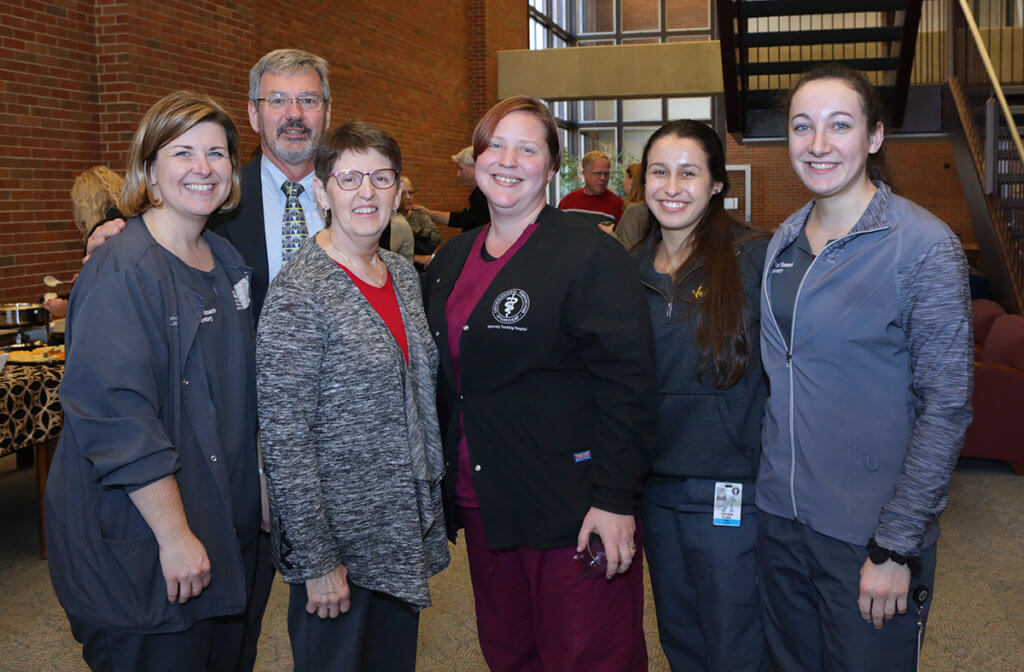 After more than four decades of service to the Purdue University College of Veterinary Medicine, Kris Kazmierczak, RVT, has retired as the veterinary research technical assistant for the Department of Veterinary Clinical Sciences. PVM faculty and staff congratulated Kris at a farewell reception held in her honor January 16 in the Veterinary Medical Library.
The reception included a program led by Dr. Gert Breur, professor of small animal surgery and director of the Center for Comparative Translational Research.  Dr. Breur praised Kris for her dedication and professionalism over her 44-year-long PVM career, during which she held a number of positions, including key roles in the Veterinary Teaching Hospital.
Dr. Breur described how Kris initially was recruited by the surgery faculty in 1976 because the College needed someone who was well-versed in anesthesia. In 1983, she became the chief small animal anesthetist and remained in that position until 1994, when Dr. Breur asked her to work in his laboratory, where she learned how to do quantitative morphology. Two years later, Kris was named as the Veterinary Teaching Hospital's first referral veterinarian communications coordinator. In this position, she was responsible for getting patient information from referral veterinarians to the hospital clinicians and vice versa.
In 2006, Kris transitioned back to a lab setting and began working in Dr. Breur's Gait Laboratory. She managed the lab and taught students how to conduct gait analyses. "She helped convert the Gait Lab from being research-focused to clinical-focused," Dr. Breur explained. "Several gait labs around the world have implemented Standard Operating Procedures (SOP's) that Kris developed. She has been consulted frequently about how to start a gait lab and succeed at running it." Kris remained with the Gait Lab until July 2019, when she accepted the position of clinical trials coordinator, and began working with Dr. George Moore, veterinary clinical trials director and professor of epidemiology.
Dr. Breur concluded his remarks by noting that he and Kris had worked together for 18 years in different capacities. "I would be remiss if I did not mention her contributions as a photographer for many events and research projects," Dr. Breur added. "On behalf of all faculty, staff, and students of the College, I would like to thank you for your contributions to the College over the past 44 years."
Dr. Breur then presented Kris with a commemorative gift in honor of her service.  Attendees also had the opportunity to sign a frame mat to be given to Kris with a photo of the Continuum sculpture.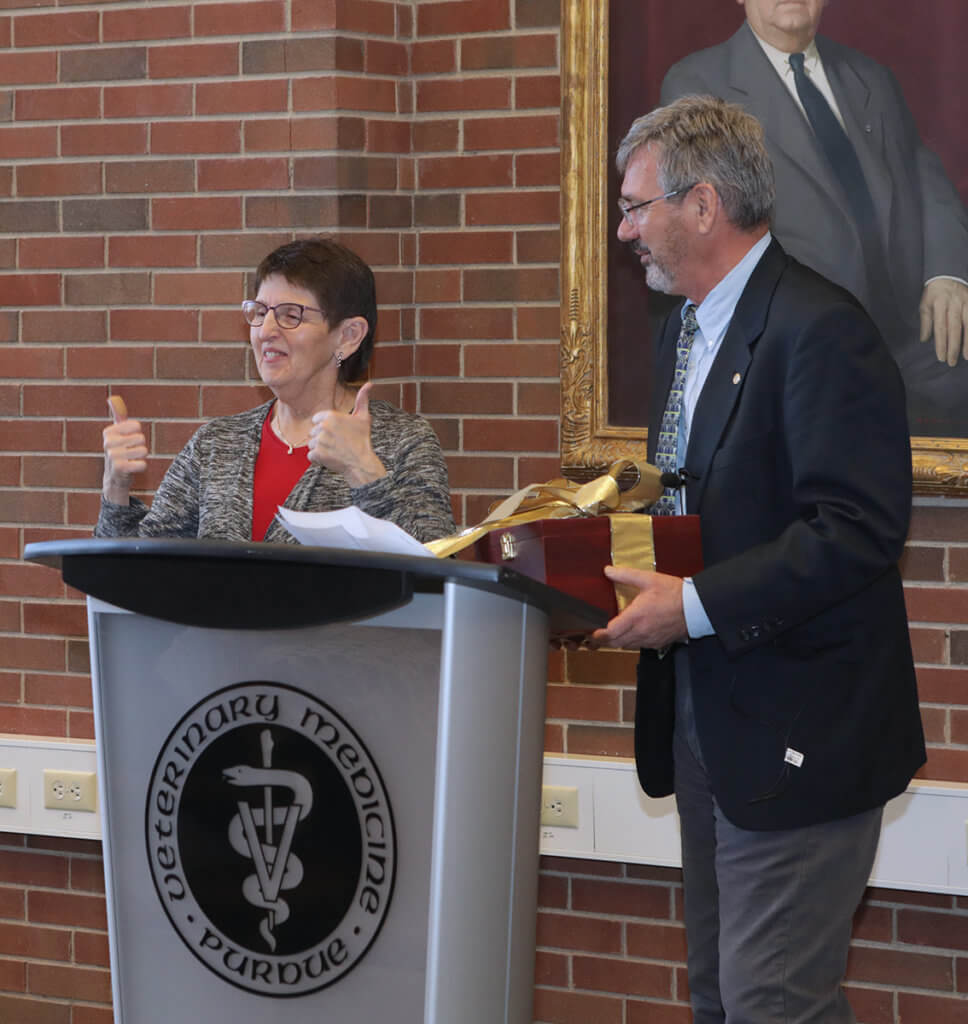 Dr. Breur also shared the podium with several other faculty members who thanked Kris for making a lasting positive impact on the College.  Dr. Catharine Scott-Moncrieff, head of the Department of Veterinary Clinical Sciences, pointed out how Kris worked to get the referral veterinarian communications coordinator position off the ground. "Kris quickly became known as the face of the Small Animal Hospital among our referral veterinarians," Dr. Scott-Moncrieff said.  "In 2003, she won the Outstanding Staff Award. Kris is an amazingly hard worker. Whatever she commits herself to do, she does it 100 percent. Even if it was something outside the scope of her comfort zone, she did it and did it well."
Dr. Jim Toombs, former professor of small animal orthopedics and neurosurgery at Purdue, also attended the reception and recalled how Kris played a pivotal role in the Small Animal Hospital. "When I came to work at Purdue in 1987 as a small animal orthopedic surgeon, I was terrified at the fact that we had no veterinary anesthesiology faculty," Dr. Toombs remembered. "My concerns were quickly put to rest by the skills, dedication, and professionalism of Kris Kazmierczak. She was an outstanding leader in small animal anesthesiology." Dr. Toombs also emphasized how, as referral veterinarian communications coordinator, Kris made sure the clinicians got the most complete information about hospital patients from the referring veterinarians. Dr. Toombs left Purdue in 2003 to become head of the Department of Veterinary Clinical Sciences at Iowa State University's College of Veterinary Medicine, where he served until his retirement in 2016. "I've worked at five institutions during my career and Kris is in that very tiny group of individuals that made the greatest difference in the well-being of my patients and students," Dr. Toombs said.
After additional words of commendation were shared by Veterinary Clinical Trials Director George Moore, Associate Dean for Academic Affairs Kathy Salisbury, and Assistant Professor of Small Animal Orthopedic Surgery Sarah Malek, Kris stepped to the podium to share her thoughts, recalling how she was hesitant about taking the job when she was first contacted by the College in 1976. "I told myself, 'I'll try it out, six months and I'll be home again.' Well six months has turned into 44 years and it's been a great career for me," Kris said. "I learned so much about myself. Teaching and working with students was a great experience. I felt a great amount of responsibility when I took on the referral coordinator position. I was the voice of the referring vet in the hospital." Kris also explained how her work ethic was something she learned from her parents. "They told me that if you say you're going to do a job, you have to give 100 percent to it. I will really miss interacting with everybody here and teaching students and all the other great parts of working at PVM."
Congratulations Kris and best wishes on your retirement! Click here to view a gallery of photos from the reception.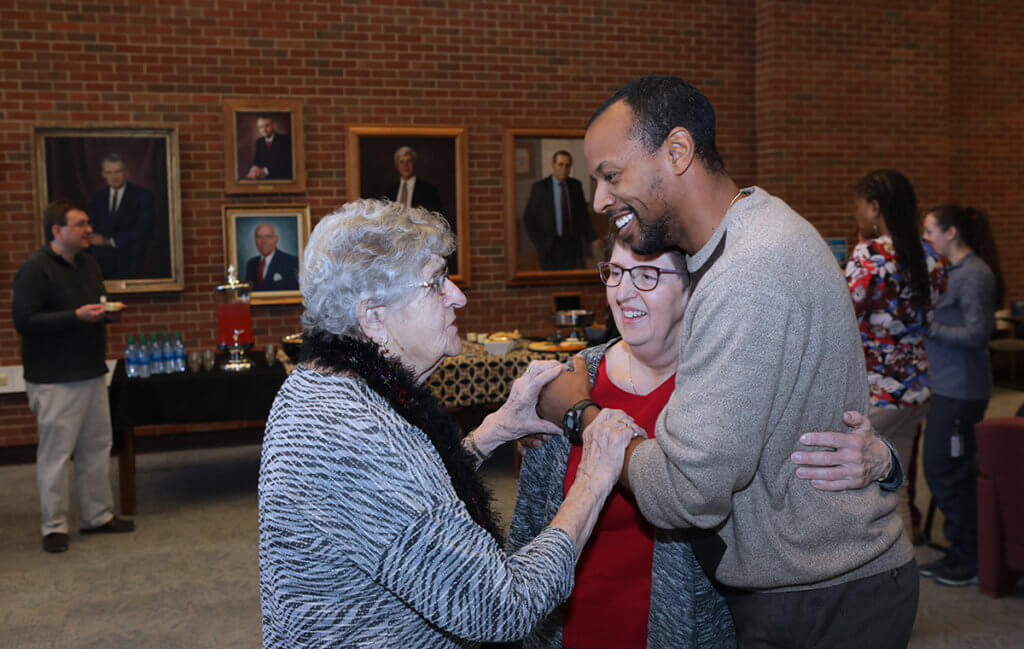 Writer(s): Maya Sanaba, PVM Communications Intern | pvmnews@purdue.edu