List of 22 Extraordinary Women Veterinarians Includes PVM's Dr. Ellen Lowery
Friday, July 29, 2022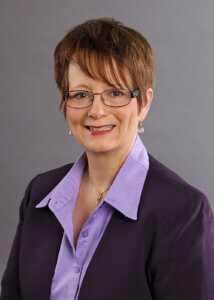 A feature story in the current issue of Todays Veterinary Business, the official journal of the NAVC, spotlights female veterinarians "…blazing a path for the next generation."  Among them is Dr. Ellen Lowery, director of the Purdue University Veterinary Hospital and clinical professor.
Entitled "22 Extraordinary Women," the article by authors Robin Brogdon and Linda Kaplan shares the stories of how the outstanding female veterinarians became driving forces in their areas of expertise. "The remarkable women profiled here might work in varied areas of veterinary medicine, but their shared determination and commitment to innovate, open doors and elevate everyone around them caught our attention as worthy of public acknowledgment and praise, to say the very least," the authors wrote. They continued, "With any 'Best' list, we had to be selective, and it was a challenging task. Anyone forging a path in veterinary medicine in today's complex world is heroic in our eyes. We hope our choices inspire you."
In introducing Dr. Lowery, the article explains that, before assuming various faculty positions and her current role as hospital director at the Purdue University College of Veterinary Medicine, she worked 23 years at Hill's Pet Nutrition, where her increasingly important leadership positions included director of North America professional and veterinary affairs. The article also notes that, as an advocate of personal leadership and professional development, Dr. Lowery served on the Hill's Veterinary Leadership Task Force and helped establish the Hill's Women Empowered Network.
A DVM graduate of the Kansas State University College of Veterinary Medicine who went on to earn her PhD there and her MBA and the University of Kansas, Dr. Lowery also serves as the director of the Veterinary Oral Health Council and in the American Veterinary Medical Association's House of Delegates, representing the American Association of Industry Veterinarians. Additionally, Dr. Lowery also volunteered as the president of the American Veterinary Dental Society and on boards such as the Kansas Veterinary Medical Association, Partners for Healthy Pets, the Veterinary Innovation Council and PRIDE Veterinary Medical Community.
The article then presents a question-and-answer discussion in which Dr. Lowery explains how she balances work-life responsibilities. "I spend time doing what I love to do," Dr. Lowery is quoted as saying. "Throughout my career, my work has provided many opportunities to solve problems, lead change and make connections. I have learned that work often comes in a series of waves. There are times of intense and often long days to meet critical needs or lead change initiatives. I intentionally and purposefully carve out time to balance work — I really enjoy it — with personal time and activities that fill my bucket. Open communication and a shared calendar are two tools that I have used with my wife and family to support that balance and meet commitments."
Asked what her best advice is for younger veterinarians about reaching their goals, Dr. Lowery said, "Invest time in defining and understanding your core values, and then purposefully choose work and life activities that align with your core values. Cultivate a growth mindset and develop your emotional intelligence, which are two critical skillsets that provide a strong foundation for a successful personal and professional life." She also stressed, "…you do you. Do not strive to be something that others expect you to be. Create your vision of the person you want to be, and then make the choices that get you to that goal."
The last question asked in the article is, "If you could start all over again, what would you do differently?" Dr. Lowery responded, "I would ask more questions, and I would've said 'Yes' to new adventures earlier in my life." She added, "I discovered the power of being my authentic self and that failing forward was a part of the journey."
Congratulations to Dr. Lowery for being included on this esteemed list of influential, accomplished and trailblazing women veterinarians!  Click here to view the complete article.
Writer(s): Kevin Doerr | pvmnews@purdue.edu