International Canine Health Award Presented to PVM Distinguished Professor of Comparative Oncology
Friday, October 7, 2022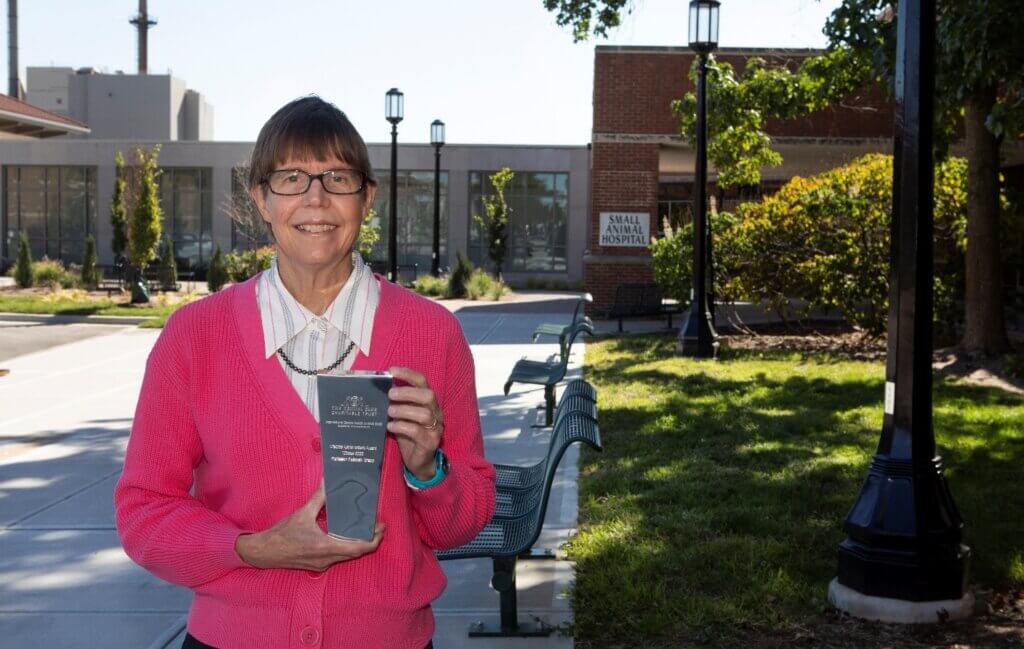 A long-term passion for advancing treatments for animals and humans with cancer through comparative oncology research was rewarded for Dr. Deborah Knapp, Distinguished Professor of Comparative Oncology, when she received the Lifetime Achievement Award from The Kennel Club Charitable Trust.  The honor is one of four International Canine Health Awards given out by the London-based organization, which has the stated aim of making a real difference to the health of dogs and dog welfare, regardless of breed or background.  The awards are regarded as the world's largest and most significant prizes recognizing excellence in canine research, dog health and welfare.
The Lifetime Achievement Award honors a veterinarian or other scientist working in a related discipline who has made a significant impact on the world stage of canine health through a career dedicated to advancing the health of dogs. During the award ceremony, which was conducted virtually from London over Zoom, trustee of The Kennel Club Charitable Trust, Dr. Andrew Higgins, introduced Dr. Knapp as the Lifetime Achievement Award recipient, explaining, "It was a very tight field this year with some really excellent nominations from across the world."
Dr. Higgins went on to praise Dr Knapp for her work over 30 years in comparative oncology at Purdue, focusing on breed predisposition, risk factors, early detection and novel treatments of bladder cancer in dogs, and the application of her findings to the management of human bladder cancer. "Her work on treatment using anti-inflammatory drugs has revolutionized the management of this devastating disease," Dr. Higgins said. He also pointed out that her nomination was proposed and supported by world-class canine clinicians and scientists from diverse institutions.
Dr. Knapp, who also holds the named Dolores L. McCall Professorship in Comparative Oncology, and serves as director of the Purdue Comparative Oncology Program, said it is an incredible honor to receive the award, especially since it is associated with The Kennel Club, which has been advancing the health and well-being of dogs for almost 150 years. Dr. Knapp went on to explain, "I have been very fortunate to lead and work with a very talented and dedicated group of people in the field of comparative oncology research. Essentially, we work to improve the outlook for pet animals facing cancer, and at the same time, we try to generate new information that will ultimately benefit human cancer patients."
Dr. Knapp then described the three overlapping areas of research that the comparative oncology team has focused on. "Our first research area grew out of a surprising and important observation in the clinic, the dramatic regression of advanced cancer in dogs who were only receiving a nonsteroidal anti-inflammatory drug for pain relief, and no other drugs.," Dr. Knapp said. "This observation demanded followup research that has led to drugs in this class being some of the most widely prescribed medicines to treat cancer in dogs worldwide." She also described their research in the area of cancer immunology and urinary bladder cancer. "We are very committed to advancing the work in these overlapping research areas to continue to improve the outlook for dogs and humans facing cancer," Dr. Knapp said.
The award includes a $12,000 prize to go towards new or continued canine research. "In addition to being grateful and humbled to receive this award, I must also say that we are very thankful for the financial support," Dr. Knapp said. "While we have been fortunate to receive good grant support over the years, some of our most important discoveries have come from funds such as the ones appropriated with this Lifetime Achievement Award. Your support will definitely help us to continue to make discoveries leading to better outcomes for dogs facing cancer, and to ultimately make a difference for human cancer patients."
Writer(s): Kevin Doerr | pvmnews@purdue.edu