In Memory: Dr. Donn W. Griffith (PU DVM '68)
Friday, August 7, 2020
The Purdue Veterinary Medicine family is saddened to learn that Dr. Donn William Griffith (PU DVM '68), of Dublin, Ohio, passed away Saturday, August 1, from complications of Progressive Supranuclear Palsy. He was 78.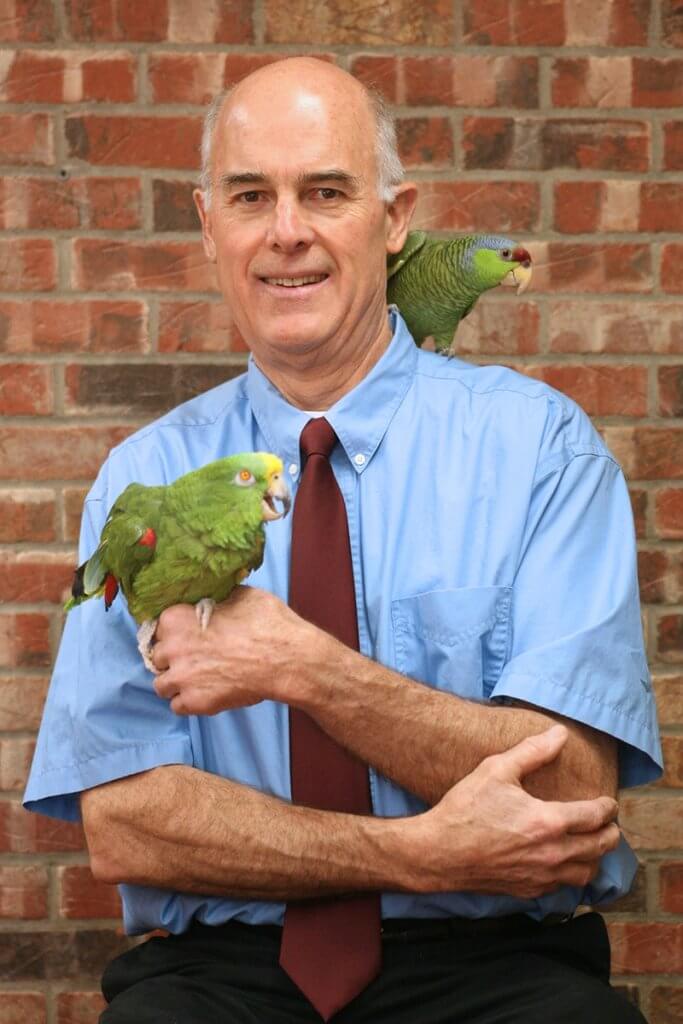 Known as "Dr. Donn" to thousands of devoted pet owners and listeners to his WOSU radio show and viewers of WBNS 10TV Heart of Ohio television segments, Dr. Griffith devoted his professional life to the care of dogs, cats, pocket pets, and exotic animals. He came to Purdue University as an undergraduate student and played football before joining the U.S. Air Force. He later received his bachelor's degree in physiology at The Ohio State University and then returned to Purdue, earning his Doctor of Veterinary Medicine degree in 1968. Two years later, he moved to Dublin, Ohio where he worked in private practice and built a veterinary hospital. He also served as the veterinarian to the Columbus Zoo and Aquarium, in addition to teaching and earning his master's degree in zoo preventative medicine from OSU. After 51 years of practice, Dr. Griffith retired in August 2019.
Dr. Griffith is recognized for his strong work ethic, which he exemplified as he did many types of jobs including ditch digging; selling Fuller brushes, Electrolux vacuums, and John Hancock life insurance; and serving burgers as a carhop. As a veterinarian, he worked six days a week and was on-call for emergencies seven days a week at all hours of the day and night.
Dr. Griffith is remembered as a lifelong learner and avid reader who had a thousand hobbies and was regarded as a great fisherman, euchre player, and photographer. He shared his hobbies and love of the outdoors with his children and grandchildren at their favorite vacation spot in and around Yellowstone National Park, where he also started the first veterinary service in West Yellowstone, Mont., in 1980. Additionally, he founded the Ohio Holistic Veterinary Hospital and served as president of the American Holistic Veterinary Medical Association.
Dr. Griffith was known for being fiercely loyal, keeping up with classmates, and making friends easily wherever he went. A devoted husband, father and grandfather, he was a member of First Community Church for more than 60 years.
Due to current health concerns, guests are welcome to join a virtual memorial service Friday, August 14 at 11:00 a.m., EDT. Click here to watch the service, or call or text SERVICE to 614-889-2556 for more information. The family asks those who wish to do so to make memorial contributions to a charity of their choice or to one of Dr. Griffith's favorites: Ohio Health Delay the Disease, the Purdue University College of Veterinary Medicine, or CurePSP. A memorial tribute to Dr. Griffith may be viewed at DrDonn.com. Click here to view a complete obituary.
Writer(s): Kevin Doerr | pvmnews@purdue.edu