Guatemalan Wildlife Veterinarian Visits Lynn Hall
Friday, February 2, 2018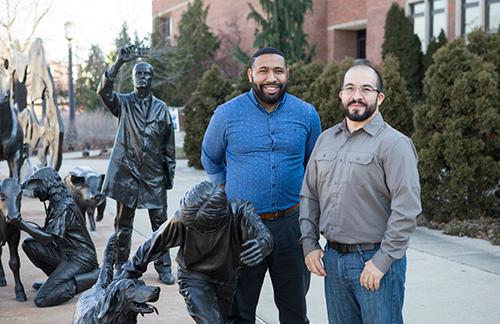 Veterinarian Alejandro Morales (right), assistant director of ARCAS in Petén, Guatemala, braves the Indiana winter for an outdoor photo-op by the Continuum sculpture with Will Smith, II, PVM director of international programs.
By Helen Thimlar, PVM Communications Intern
This week Purdue Veterinary Medicine hosted a visit by Dr. Alejandro Morales, veterinarian and assistant director of ARCAS in Petén, Guatemala. ARCAS is a non-profit Guatemalan NGO that aims to improve the chances of survival and conservation of endangered species and their habitat, as well as to assist in the national management of natural resources.
In addition to his administrative role, Dr. Morales serves as one of two veterinarians on site who specialize in the care and treatment of small carnivores, birds of prey, and reptiles. He wears many hats at ARCAS — from electrical work to clinical procedures, he does it all. "I do a lot of things hands-on outside of medicine because when you're working in conservation, especially in a developing country, you don't have a person for everything," said Dr. Morales. "Everyone has to do a little of everything. It makes it self-sustainable and less expensive so that we can give back more to the animals."
The Purdue University College of Veterinary Medicine fostered a relationship with ARCAS in 2015, when a student reached out to the organization, because of a shared sense of passion for wildlife and conservation. Since then, PVM has established a summer study abroad program for DVM and veterinary technology students.
During his week-long visit at Purdue, Dr. Morales went on various tours, presented seminars, attended student club meetings, and even went to a Purdue basketball game. He says his favorite part was connecting with PVM students and staff in-person.
Dr. Morales wants PVM students to understand the importance of conservation in veterinary medicine and hopes to inspire more students to become "multipliers" and get first-hand experience by enrolling in the ARCAS study abroad program. "It's not just about the health of the animal, but the well-being of the entire ecosystem that the animal inhabits," Dr. Morales said.
For more information on the Wildlife Rehabilitation study abroad trip in Guatemala, contact Will Smith, PVM director of international programs at wsmithi@purdue.edu.
Writer(s): Purdue Veterinary Medicine News | pvmnews@purdue.edu