Gratitude Abounds During Veterinary Nursing Appreciation Week
Friday, October 22, 2021
The Purdue University College of Veterinary Medicine takes great pride in educating the entire veterinary team, and veterinary nurses are a big part of that team! To show its support and gratitude for veterinary nurses, Purdue Veterinary Medicine held a week-long celebration during Veterinary Nursing Appreciation Week, October 18-22. The series of special activities were thoughtfully planned so the college could safely continue this important tradition that recognizes the vital roles veterinary nurses play in the veterinary medical profession. In particular, meals were served in individually packaged grab-and-go containers as a pandemic-related safety precaution.
"PVM faculty, staff, and students are appreciative of one another every day, but this week provides a special opportunity for everyone to reflect on all the things that veterinary nurses do for our college and hospital, and to say thank you," said Dean Willie Reed. As part of the planning, creative energy was expended to coin fun names for some of the special activities. PVM's veterinary nurses enjoyed well-deserved treats with "You are Egg-cellent" breakfast sandwiches on Tuesday, October 19 and "You are Our Heroes!" Jimmy John's sandwiches on Thursday, October 21.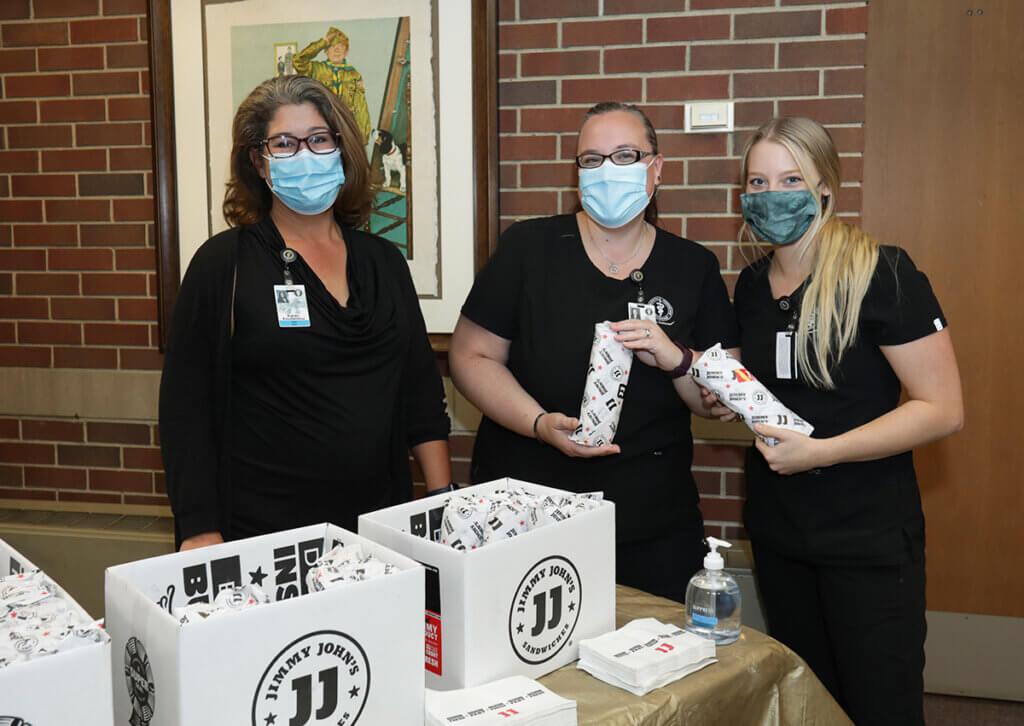 As an extra surprise on Wednesday, October 20, all veterinary nurses throughout the college received a special gift bag full of PVM branded items. And today (Friday, October 22) all of the veterinary nurses' names were added to a drawing for gift cards from area businesses including Bask Aroma, East End Grill, and Nine Irish Brothers. Winners will be announced later this afternoon.
Additionally, note card stations were placed throughout the Purdue University Veterinary Hospital to encourage faculty and staff to write notes of gratitude to veterinary nurses. Special thanks to the planning committee members who organized the week's activities: Megan Brashear, CVT, VTS (ECC); Brandi Maxie, RVT; Ashli Selke, RVT; Donna Tudor, RT; Tami Lind, RVT, VTS (ECC); and Jolene Knuth, RVT, VTS (Anesthesia and Analgesia).
PVM's veterinary nurses also were featured in social media promotions. More than 110 social media posts were published featuring messages of thanks and photos of veterinary nurses. Among those were posts about special Veterinary Nursing Appreciation Week videos, including a production released by Hills Pet Nutrition featuring the college's own Jessica Bowditch, RVT, CCRP, VTS (Physical Rehabilitation), neurology and physical rehabilitation technician. Click here to view the video. Other videos included a message of appreciation from Dr. Ellen Lowery, director of the Purdue University Veterinary Hospital, and a thank you video showing scenes of veterinary nurses at work. Click here to view the video message from Dr. Lowery. Click here to view the thank you video.
An additional post featured a comment from Dr. Nolie Parnell, Small Animal Hospital chief of staff who said, "Our nurse supervisors are inspirational. Not only do they provide leadership, which makes others better as a result of their presence, they are superheroes without capes. They work side-by-side with their teams, they are advocates of forward progress, and their passion for their teams and our profession is what every hospital strives to find. Simply put, we would be lost without them."
And there's still time to personally thank our veterinary nurses for their dedication and excellence before Veterinary Nursing Appreciation Week comes to a close!
Writer(s): Susan Xioufaridou | pvmnews@purdue.edu