Farewell Reception Honors Dr. Kauline Cipriani
Friday, January 26, 2018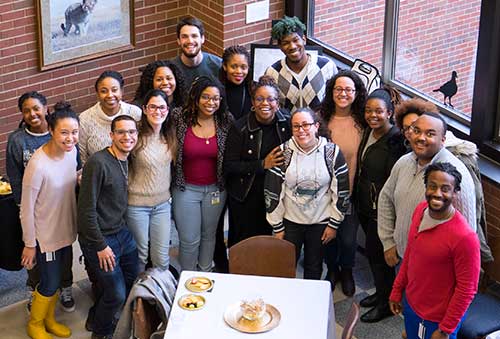 Dr. Kauline Cipriani is joined at her farewell reception by PVM students who completed the Access to Animal-Related Careers (A2RC) program.
Assistant Dean for Diversity and Inclusion Kauline Cipriani has taken a new position and will be leaving Purdue Veterinary Medicine later this month to become the assistant dean for inclusive excellence at the University of North Carolina's Gillings School of Global Public Health. On Wednesday, January 24, a reception was held in her honor at the Continuum Café where she was praised for her countless contributions to PVM.
During the reception, Dean Willie Reed commended Dr. Cipriani on her various accomplishments, noting the impact she's had on PVM in her ten years of service. "She was given the responsibility for leading our efforts to develop a diversity plan in the College," Dean Reed said. "She's worked many hours, many days, many weeks, many months with me and other members of the senior leadership team, as well as with our students and our staff, to help us create an environment where diversity and inclusion are not only embraced, but celebrated — trying to develop a culture, an environment where each one of us can reach our full potential. Multicultural awareness is something that has been identified as a key competency of veterinarians by veterinary educators."
Dr. Cipriani's accomplishments have included working closely with Associate Dean for Engagement Sandy San Miguel to develop the Certificate Program in Diversity and Inclusion, which has since been adopted by 29 of the 30 veterinary schools in the United States; receiving funding from the U.S. Department of Agriculture (USDA) to develop a multicultural scholars program; co-editing a book on diversity and inclusion; developing the highly successful Access to Animal-Related Careers (A2RC) summer program, helping to develop Iverson Bell Summits, and serving nationally as a chair for the Association of American Veterinary Medical Colleges (AAVMC). "Our environment certainly, I think, is better than it has ever been in the history of our college," Dean Reed commented. "Kauline, we thank you for the role you played in helping us to achieve that. Others have noticed that and probably the indicator of that is the fact that our college recently received the 2017 Health Professions Higher Education Excellence in Diversity Award, called the HEED Award."
Then, in recognition of her success, Dr. Cipriani received a framed photo of the Continuum sculpture signed by colleagues as a token of the College's appreciation. She will be sorely missed, but we wish her the best of luck in all of her future endeavors!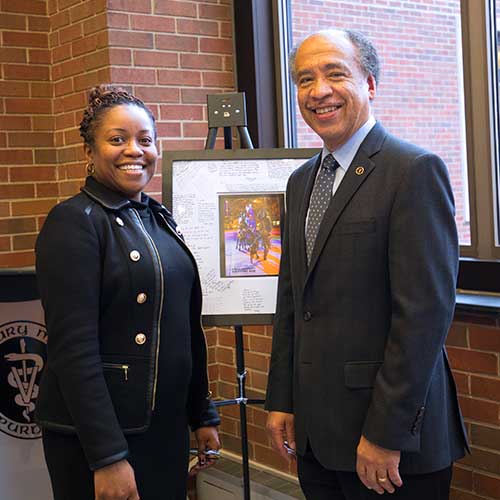 Dean Willie Reed with Dr. Kauline Cipriani at her farewell reception Wednesday, January 24.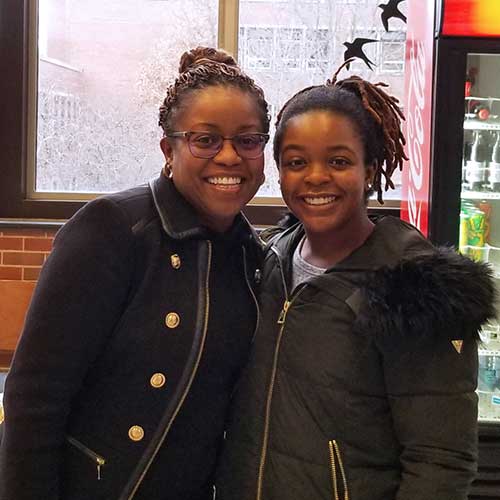 Dr. Kauline Cipriani visits with Akila Bryant, during her reception in the Continuum Café.
Writer(s): Helen Thimlar, PVM Communications Intern | pvmnews@purdue.edu