Expanding Diversity, Equity and Inclusion in Veterinary Nursing is Focus of New PetDesk Scholarship
Friday, January 15, 2021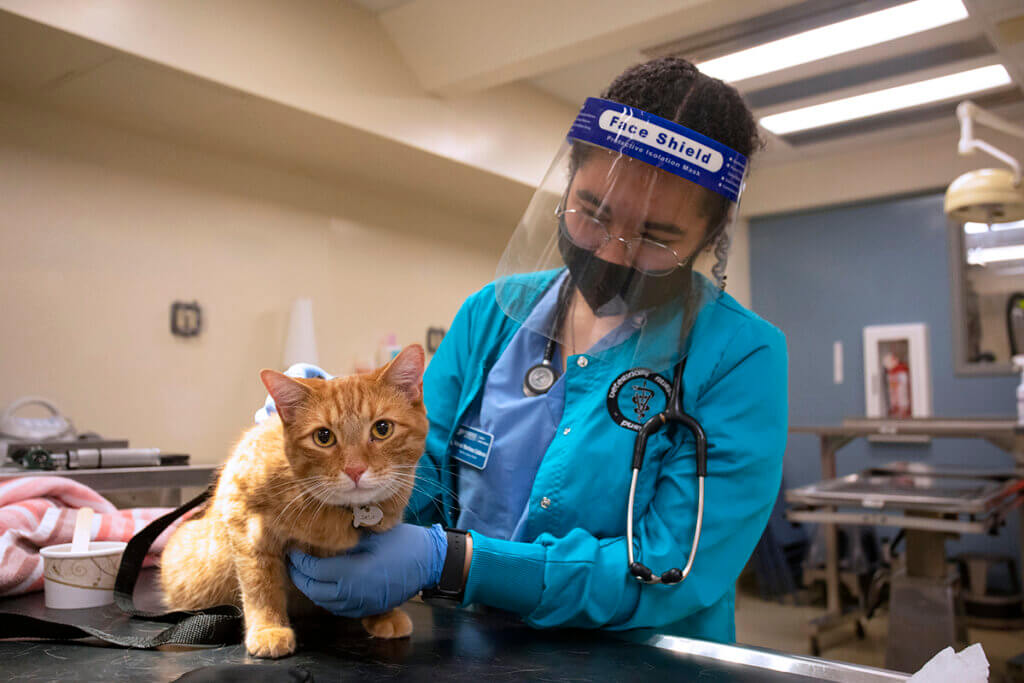 PetDesk, a leading veterinary patient engagement software company, is teaming up with the Purdue University College of Veterinary Medicine to increase diversity, equity, and inclusion in veterinary nursing through a new scholarship program for Purdue Veterinary Nursing students. The PetDesk Equity in Veterinary Nursing Scholarship is being funded through a five year pledge totaling $48,000.
The first installment of $8,000 was received at the end of 2020 and will fund four scholarships of $2,000 each – one for each year of the four year bachelor's in veterinary nursing degree program. To be eligible, students must be enrolled in the Veterinary Nursing Program and demonstrate financial need, a passion for diversity in the field of veterinary nursing, and advocacy for social justice in underrepresented communities. A committee named by the dean will select the recipients.
The founders of PetDesk, Taylor Cavanah, Ken Tsui, and Aaron Bannister, came up with the idea as part of an overall plan to add an external component to the company's longstanding internal commitment to its diversity, equity and inclusion (DEI) mission. They decided that even as a high-growth start-up company, they could devote one percent of yearly revenue to DEI efforts. Then, it was a matter of determining where they would direct the money and how to structure the program to guarantee long-term opportunities for individual recipients and the veterinary industry.
All of this followed an open letter that they published last year on the company website clearly stating that "…PetDesk stands in solidarity with the Black community and the peaceful demonstrators around the world." In a subsequent post, they explained, "We've done a lot of research, learning, and introspection to develop a plan to leverage our monetary success to provide increased opportunity within the industry." They thanked industry leaders who helped them develop their thinking, including two officers in the Multicultural Veterinary Medical Association (MCVMA) with ties to Purdue: Dr. Tina Tran, MCVMA president and former director of the Purdue Veterinary Nursing Program, and Dr. Miguel Ortiz, MCVMA secretary/treasurer and a member of the Purdue DVM Class of 2009.
The result of their efforts is a multi-faceted approach to provide scholarships and other forms of financial support to underrepresented minorities in veterinary medicine, ranging from student scholarships, to post-graduate stipends, as well as business grants to help Black, Indigenous, Latinx, Asian, and all other underrepresented veterinarians start businesses in underserved communities. The new scholarship at Purdue adds a veterinary nursing component to the program. In explaining why they chose Purdue, Cavanah said, "Every school we talked to and every person within the industry directed us to Purdue because the College of Veterinary Medicine has been leading the way in DEI efforts within the veterinary medical profession."
Describing itself as a company full of pet lovers who are passionate about promoting diversity, equity, and inclusion in the veterinary industry, PetDesk states that by supporting underrepresented or marginalized groups it can increase representation in veterinary medicine. The agreement with the College of Veterinary Medicine establishing the PetDesk Equity in Veterinary Nursing Scholarship recognizes the college's commitment to diversity in education and acknowledges the inherent benefits to the field of veterinary medicine in educating students with diverse backgrounds, thoughts, and experiences.
"As a pet health tech company, we always thought that we'd focus our corporate social responsibility efforts on pet health," the PetDesk founders said in their most recent open letter posted on the company's website. "When thinking about our corporate social responsibility efforts, it became obvious that, instead of giving money to pet health causes, we should focus on improving diversity, equity, and inclusion within the pet care industry. Fortunately, that effort will also serve pet health, but in a very different way."
Though these initiatives are just getting underway, the PetDesk founders are passionate about their commitment to the plan and the goals they want to achieve. Specifically, through scholarships, they want to make a huge impact on the lives of individual veterinary professionals by removing the pressure of looming tuition debt after school, and in so doing, create a program that could attract more people of color to increase diversity in the profession, both amongst veterinarians and veterinary nurses.
All of this is a work in progress, they emphasize. "We're still learning, and there are many leaders in our industry that we haven't been able to consult with yet. But we aim to get this done soon so we can award scholarships to our first PetDesk Scholars." They also are anxious to spread the word. "The more students, educators, veterinarians, and industry professionals know about the program, the more feedback we can get, and maybe the more donations we can drive alongside ours."
Information about how Purdue Veterinary Nursing students can apply for the new PetDesk Equity in Veterinary Nursing Scholarship will be e-mailed to the students in the near future. Click here for more information about PetDesk's plans for continuing their DEI efforts in 2021 and beyond and how to play a role.
Writer(s): Kevin Doerr | pvmnews@purdue.edu