Dr. Suresh Mittal Helps Address Public's COVID-19 Vaccine Questions as Part FOX59 Panel of Experts
Friday, February 5, 2021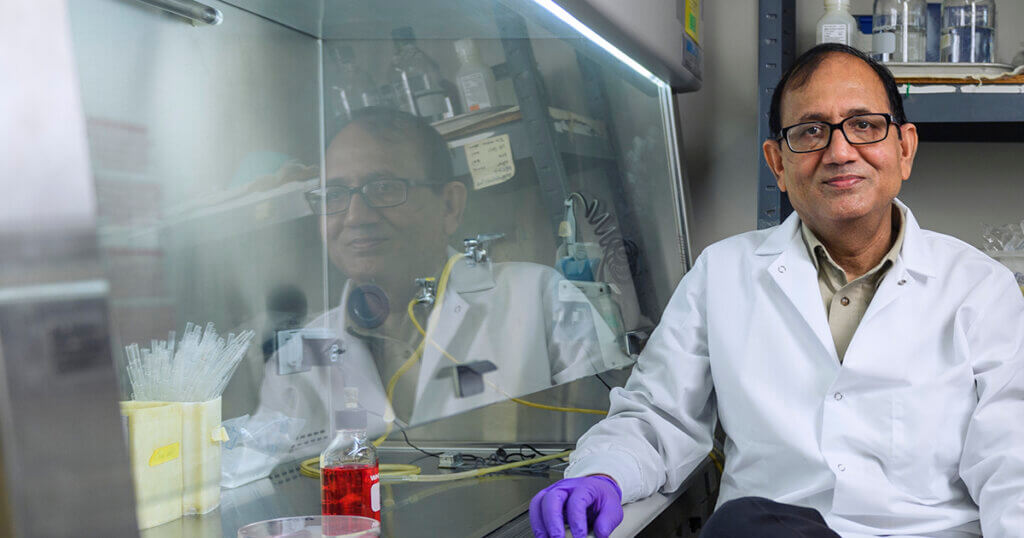 A live town hall about the coronavirus vaccine broadcast by Indianapolis TV stations FOX59 and CBS4 featured a panel of health experts that included Dr. Suresh Mittal, Distinguished Professor of Virology in Purdue Veterinary Medicine's Department of Comparative Pathobiology. Entitled "COVID-19 Vaccine: Know the Facts", the program that aired January 18 focused on the current supply of the vaccine, its efficacy and distribution, and included a number of questions submitted by viewers.
Dr. Mittal was asked to address several questions, beginning with one about the timeline for developing immunity after receiving the vaccine, and whether it is like a flu shot, after which someone might still get the illness, but not have as bad of a case. Dr. Mittal said the vaccine recipient will have protection after the second of the two doses required for both the Pfizer and Moderna vaccines. "So people can get COVID, but won't get sick and it will be more likely that they will not transmit the virus infection," Dr. Mittal said. "So having the vaccine is a good thing. Everybody should have it, since they are not going to get the bad effects of the disease, even if they get infected."
Another viewer asked whether, once someone is vaccinated, it is still necessary to follow all of the recommended precautions to minimize disease transmission. Dr. Mittal explained that even after receiving the second of the two doses of vaccine, it still will be important to follow social distancing and wear a mask, since someone who has been vaccinated might still contract the virus. "They won't get sick but they can still pass it on to people who are not vaccinated. So having the distance, and having the mask is still a good idea, even after the vaccination," Dr. Mittal said.
In response to other questions, Dr. Mittal emphasized that you shouldn't mix and match doses of the Moderna and Pfizer vaccines. He also addressed a question about whether in the future, people will have to take the vaccine annually, like a flu shot. "I would say at this time there is no efficacy data for long term, so those data will come as the time goes by to show how long the immunity will last," Dr. Mittal explained. "The second thing is, after the vaccination of the majority of the population, is the virus going to disappear? If the virus is going to disappear, then we don't need yearly vaccination. If significant numbers of cases are occurring every year… then we have to take the vaccine at least yearly until those numbers reach an insignificant level."
Dr. Mittal was one of five panelists on the 30 minute segment, joining Kristen Kelley, director of infection prevention for IU Health; Dr. Ram Yeleti, chief physician executive at Community Health Network; Dr. Peter Embi, president and CEO of the Regenstrief Institute; and Zach Cattell, president of the Indiana Health Care Association. A second town hall segment featured real-life accounts from frontline workers in the health industry. Additionally, a third segment addressed other topics. During that closing segment, Dr. Mittal discussed prospects for future availability of nasal drop or mist vaccines and explained virus mutations. He then gave concluding remarks, asking that the people of Indiana go out and get vaccinated. "If you won't get vaccinated, then the disease can linger on," Dr. Mittal cautioned.
All three segments of the town hall program can be viewed on the FOX59 news website. Click here to access the recordings.
Writer(s): Kevin Doerr | pvmnews@purdue.edu