Dr. Sandra San Miguel Recognized for Service to the Indiana Board of Animal Health
Friday, November 11, 2022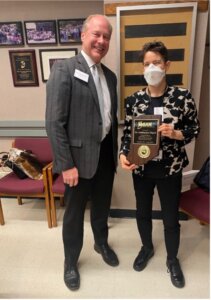 When the Animal Disease Diagnostic Laboratory's Advisory Board met this week, the proceedings included a special presentation by State Veterinarian Bret Marsh, who honored Dr. Sandra San Miguel, Associate Dean for Engagement, for her service to the Indiana Board of Animal Health (BOAH).  Dr. Marsh presented Dr. San Miguel with a plaque recognizing her for serving on the board from 2009 to 2022.
Dr. San Miguel served as the Purdue Veterinary Medicine representative on the Board of Animal Health. She was appointed by the governor based on the recommendation of the Purdue Board of Trustees. The 11-members on the board meet quarterly to set agency policy.
The Board of Animal Health's original mission to "prevent and suppress contagious and infectious diseases among the livestock," has not changed in more than 100 years, but the scope of BOAH's work has expanded:
to enhance Indiana's economy by protecting Hoosiers' investment in animal agriculture, wildlife, horses and companion animals.
to protect public health by preventing and controlling the spread of animal diseases, such as rabies, which pose a threat to people.
to maintain a vital link in a safe food supply through the state meat and poultry and dairy inspection programs.
to help people and their animals who are victims of large-scale disasters such as floods and tornadoes.
Succeeding Dr. San Miguel on the Board of Animal Health is Dr. Darryl Ragland, associate professor of food animal production medicine and Production Medicine section head.
Writer(s): Kevin Doerr | pvmnews@purdue.edu