Dr. Nickie Baird Celebrates Retirement After 20 Years with PVM
Friday, April 1, 2022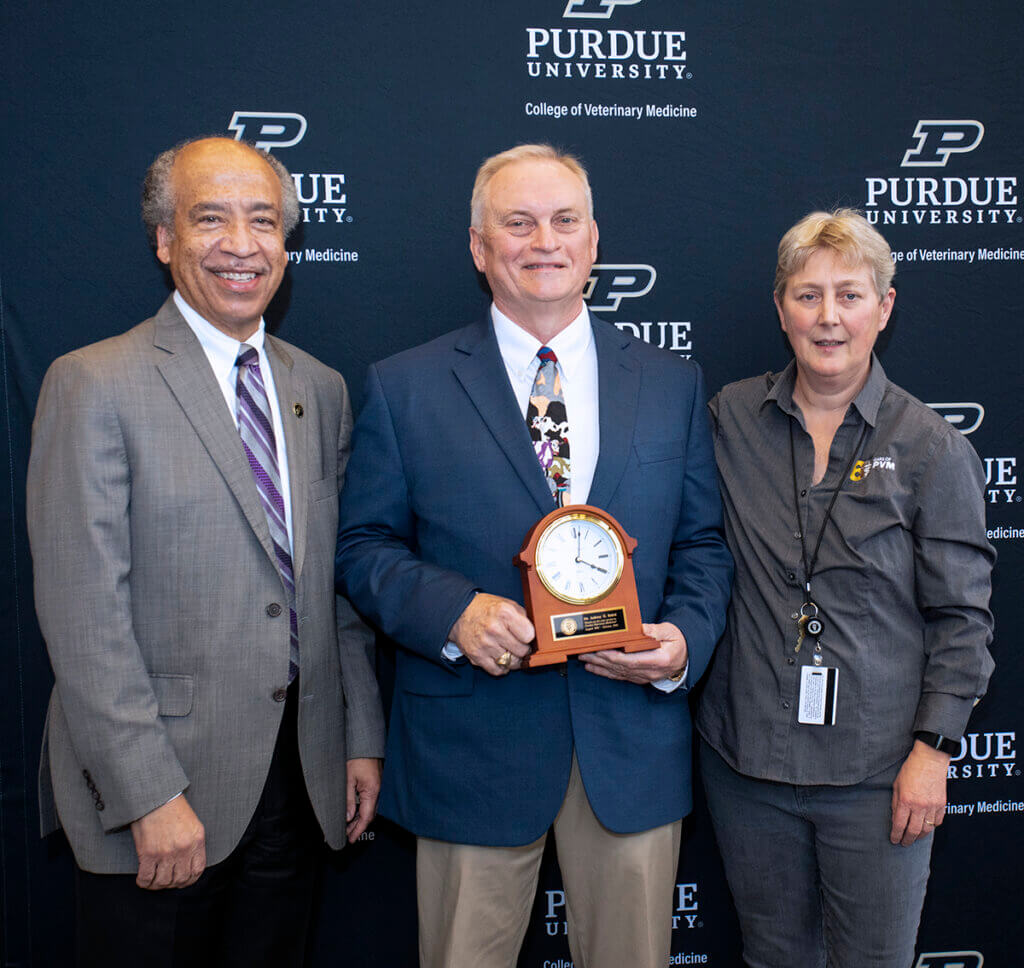 Dr. Nickie Baird, professor of large animal surgery in the Purdue University College of Veterinary Medicine's Department of Veterinary Clinical Sciences, has retired after 20 years at Purdue. His retirement was effective in January of this year, but a reception in his honor was delayed until just last week, on March 23, so it could be held after mask protocols had been relaxed. Attended by staff and faculty colleagues, the reception celebrated Dr. Baird's time at the College of Veterinary Medicine and provided an opportunity to wish him future success as he continues his career with a new appointment in Alabama at the Auburn University College of Veterinary Medicine.
Dr. Baird earned his DVM degree at Auburn in 1984 and then, after spending a year in private practice, went to Texas A&M University where he completed a large animal internship followed by a large animal surgery residency, earning his master's in 1989. He became board certified in large animal surgery in 1994.
Following his residency, Dr. Baird stayed one year at Texas A&M as a clinical assistant professor before returning to Auburn where he was promoted to associate professor. In 1998, he left Auburn to accept a faculty position at the University of Pennsylvania School of Veterinary Medicine. He remained there until 2001 when he came to Purdue to join the College of Veterinary Medicine's large animal surgery faculty.
During a brief program at Dr. Baird's retirement reception, several of Dr. Baird's colleagues gave remarks, including head of the Department of Veterinary Clinical Sciences, Dr. Catharine Scott-Moncrieff, who highlighted some of Dr. Baird's many accomplishments. She pointed out that, of all the places where Dr. Baird has worked, his longest tenure has been at Purdue, where he has enjoyed a highly successful career. He was promoted to full professor in 2017 and has served in many administrative capacities, including as chief of staff of the Large Animal Hospital since 2012 and as a member of the Purdue University Veterinary Hospital's management team that ran the facility in lieu of a hospital director from 2019-2020.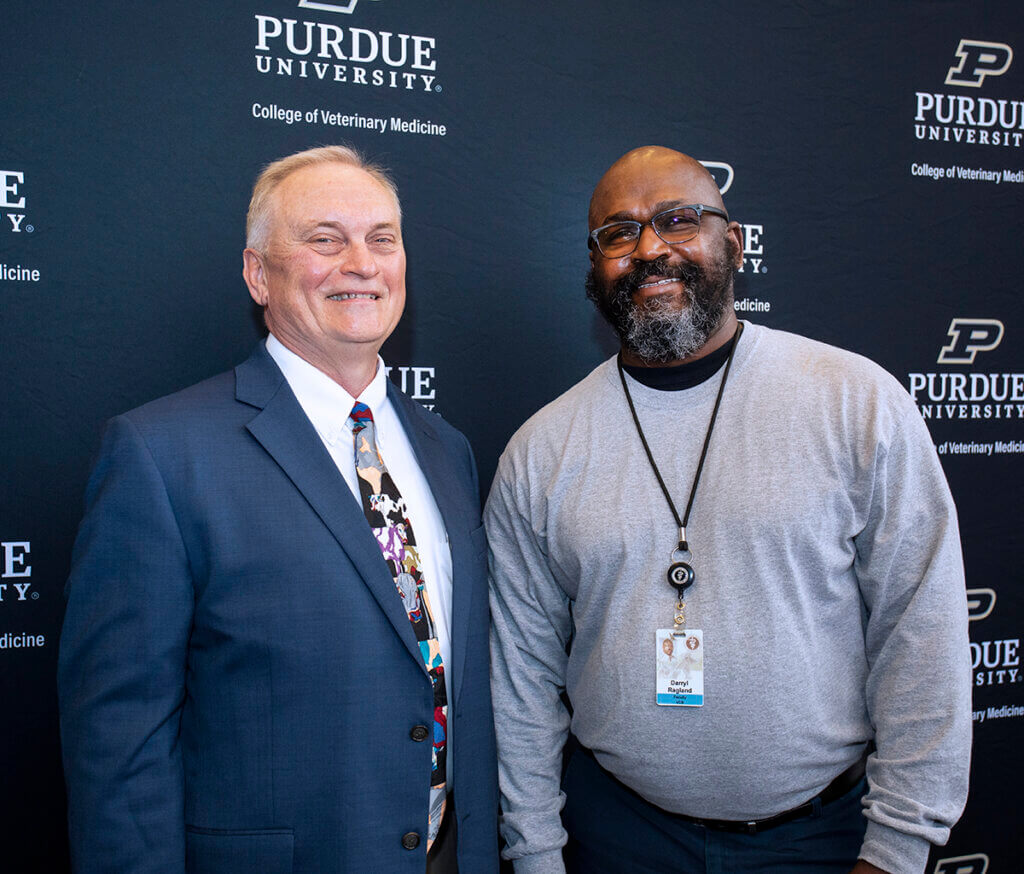 Dr. Scott-Moncrieff also praised Dr. Baird for his recent work assisting with the planning and design of the new David and Bonnie Brunner Purdue Veterinary Medical Hospital Complex, in particular, the new Farm Animal Hospital. Set to be dedicated April 8, the new hospital complex also includes the new Equine Hospital and the expansion of the Small Animal Hospital. Dr. Scott-Moncrieff noted that the Farm Animal Hospital "…is really Nickie's baby," because of all of his effort working directly with the architects on the hospital's design.
Dr. Baird also was praised for being a highly respected large animal surgeon with a focus on farm animal surgery. Dr. Scott-Moncrieff explained that he authored more than 60 peer reviewed publications and also edited two editions of a famed large animal text book on sheep and goat medicine. In addition to his work editing the publication, he authored six of the book's 20 chapters. Dr. Scott-Moncrieff also noted prestigious awards that Dr. Baird has received, including the VMX Conference Speaker of the Year Award in 2018 and Purdue Veterinary Medicine's Alumni Faculty Award for Excellence in 2020. Dr. Scott-Moncrieff also said another honor that Dr. Baird considered especially meaningful was being selected by the DVM Class of 2021 as their speaker at their White Coat Ceremony – an event at which the class members were honored just before the start of their fourth year marking the transition from the classroom to the clinics.
Dr. Scott-Moncrieff also shared about Dr. Baird's personal impact on the college, saying he is someone who "… always has a funny word to say and keeps everybody's spirits up in some of the more difficult times." Declaring that everyone will miss Dr. Baird, Dr. Scott-Moncrieff then introduced Dean Willie Reed who added his words of praise for Dr. Baird's contributions to the college.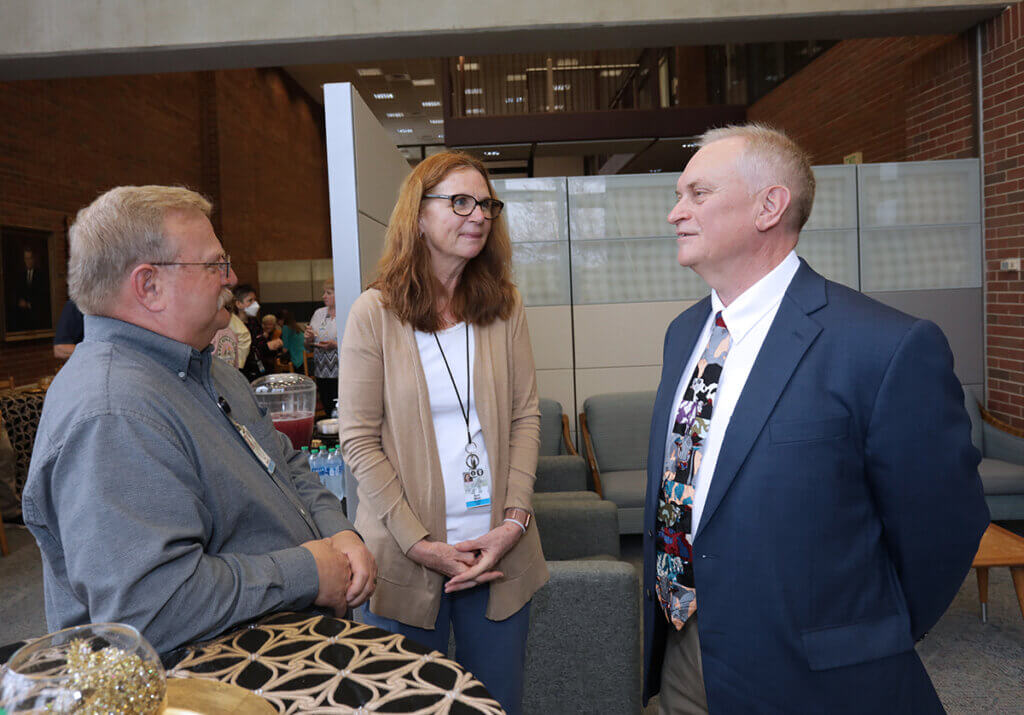 Dean Reed began by saying, "This is again one of those bittersweet days for PVM. It's a day that we say goodbye to someone that's been a member of the family for 20 years." He also again applauded Dr. Baird's involvement with the design of the new hospital facilities, especially the Farm Animal Hospital, as well as the many other ways in which he positively impacted the college. "We're very proud of him as he carries the Purdue flag south," Dean Reed said, explaining that Dr. Baird will be filling a new role at his alma mater, Auburn University, where he accepted a position as associate dean and veterinary hospital director. "As you go forth with the next phase of your career we wish you all the best," Dean Reed said. "We will miss you tremendously. So, thank you for all you've done for Purdue Veterinary Medicine."
Dean Reed then read a letter from Purdue Provost Jay Akridge announcing Dr. Baird's designation as Professor Emeritus of Large Animal Surgery. "President Daniels and I are most grateful for all you have done for the University and take this opportunity to express to you our appreciation for you loyalty and dedication," Provost Akridge wrote. After other colleagues also spoke, Dr. Baird added his own comments, expressing his appreciation to the college and thanking attendees for their roles in making his time at Purdue a wonderful experience. "It was a very good chapter. We made a good decision coming here, but it's time for a new chapter," Dr. Baird concluded. The Purdue Veterinary Medicine family will miss Dr. Baird and wishes him well on his career ahead!
Writer(s): Hailee Rolofson, PVM Communications Intern | pvmnews@purdue.edu