Dr. Laurie Adams Retires as Beloved Veterinary Lecturer with Well-wishes from Faculty and Students
Friday, July 30, 2021
Bittersweet is the word that came to mind as Purdue Veterinary Medicine students, faculty and staff offered congratulations and farewell wishes to Dr. Laurie Adams, Senior Lecturer in Veterinary Administration, on the occasion of her retirement. After more than 13 years of teaching students in the College of Veterinary Medicine, Dr. Adams retired effective Wednesday, July 28. Colleagues and students were able to come by the Alumni Faculty Lounge that afternoon to express appreciation to Dr. Adams and sign a mat that will be placed in a frame with a picture of the college's Continuum sculpture as a recognition gift.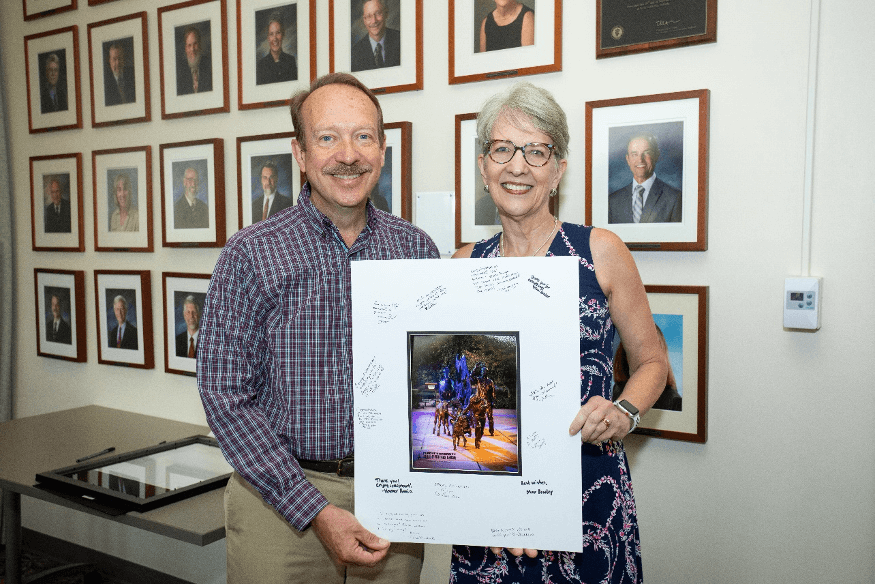 A 1984 DVM graduate of Auburn University, Dr. Adams completed a small animal veterinary internship at the University of Minnesota before working in private veterinary practice, first in River Grove, Ill., and then at animal hospitals in the Minneapolis – St. Paul area. She first joined Purdue Veterinary Medicine's instructional team in 2000 to teach in the Applications and Integrations (A&I) courses, which utilize problem-based learning as part of the first- and second-year DVM curriculum.
Six years later, Dr. Adams stepped away from academia to pursue interests in private practice in the West Lafayette area. She also worked for two years as a locum in the college's Small Animal Primary Care service before returning to the instructional team in 2014 to again teach in the A&I courses.
"Dr. Adams has served as an excellent coach and tutor to many classes of Purdue DVM students," said Dr. Kathy Salisbury, associate dean for academic affairs. "She has high expectations for the students and she helped the students to achieve them. She always worked to improve the students' learning experience. As a key member of the A&I team, she will be greatly missed."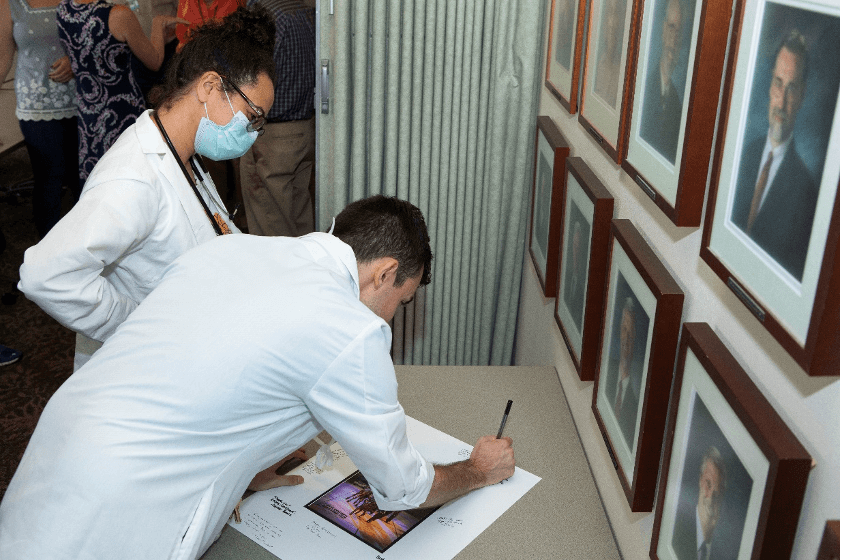 Dr. Adams said she plans to utilize her new found free time to pursue other interests, especially riding her horse! Thankfully, her husband and colleague, Dr. Larry Adams, professor of small animal internal medicine, is staying on as a faculty member in the Department of Veterinary Clinical Sciences and Small Animal Internal Medicine section head in the Purdue University Veterinary Hospital.
Congratulations and best wishes to Dr. Laurie Adams! Anyone who would like to sign the Continuum photo mat still may do so. It is available in the Dean's Office.
Writer(s): Kevin Doerr | pvmnews@purdue.edu