Dr. GuangJun Zhang Shares His Journey to Purdue in Global Faculty Feature
Friday, April 24, 2020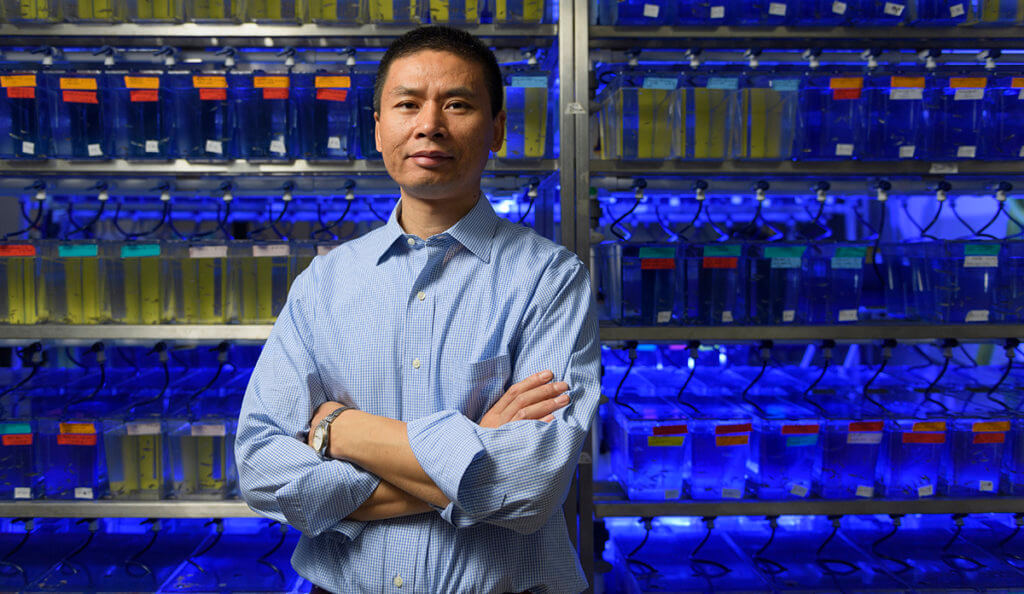 The Vet Gazette continues to spotlight Purdue Veterinary Medicine's global faculty with this week's feature on Dr. GuangJun Zhang, the John T. and Winifred M. Hayward Associate Professor of Genetic Research, Genetic Epidemiology and Comparative Medicine. Born and raised in northern China, Dr. Zhang sees "home" as anywhere he feels most comfortable. "A home can be as small as a room, or as big as an institute or city," he noted.
Dr. Zhang became interested in pursuing medicine when he realized there were not enough doctors to help when his relatives fell ill. He received his MD in 1998 from Tongji University in China and completed his PhD at the University of Florida in 2007. Dr. Zhang went on to do his postdoctoral training at MIT, using zebrafish as an animal model to study cancer genetics.
After MIT, Dr. Zhang was looking for an academic research position and saw that Purdue had an open geneticist position, which he says was a perfect match. As a trained medical doctor, Dr. Zhang believes that his expertise is complementary to veterinary medicine. "Cross-field interaction is particularly important, considering humans and other vertebrates share many diseases."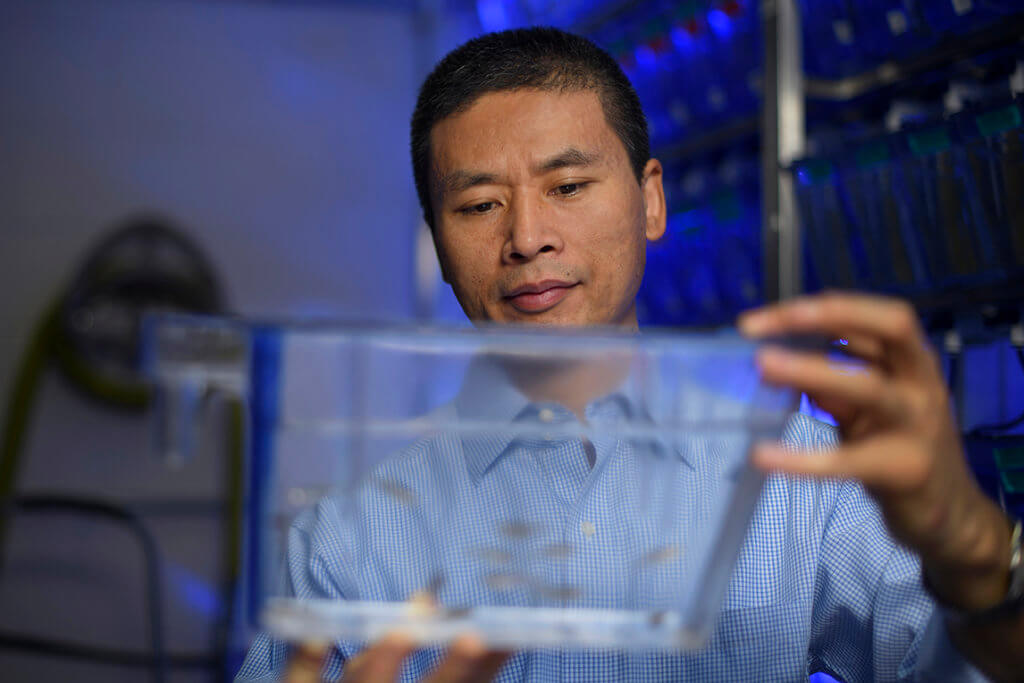 At the College, he mainly works on genetic research, using zebrafish as a model organism to study human cancers and embryonic development. His team, called the Zhang Research Group, is looking for new tumor suppressor genes and oncogenes to better understand the cause of the disease. They hope to provide a mechanism for developing novel treatment strategies. On the embryonic development front, the team is focusing on body patterning by ion channel mediated bioelectricity, a newly recognized scientific field.
"My favorite part of PVM is the diversity and friendly environment, which make people feel at home," said Dr. Zhang. In his spare time, Dr. Zhang goes hiking and running, and enjoys traveling and photography when he has the opportunity.
The Global Faculty Series aims to highlight the College's faculty from around the world, and the combination of small steps and giant leaps that have brought them to Purdue. Look for another Global Faculty feature story in next week's Vet Gazette.
Writer(s): Maya Sanaba, PVM Communications Intern | pvmnews@purdue.edu