Dr. Christine Jenkins Speaks on Diversity and Inclusion during Inclusive Excellence Week
Friday, January 26, 2018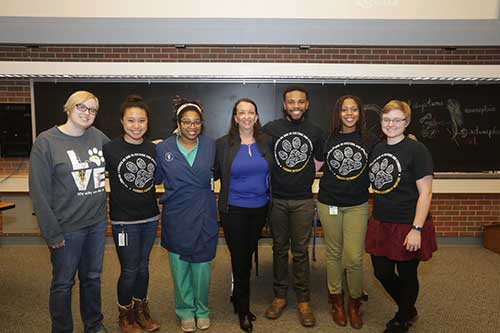 PVM's Martin Luther King Jr. Keynote Speaker for Inclusive Excellence Week Christine Jenkins (center) with members of the executive board of the PVM VOICE chapter (left-right): Christina Smith, Alyssa Tamayo, VOICE chapter president Morgan Fortune, Edris Grate, Mary Jordan and Jessie Whitfield.
Purdue Veterinary Medicine's VOICE chapter (Veterinarians as One Inclusive Community for Empowerment) hosted Inclusive Excellence Week last week, January 15-18, which featured several special events, including a number of guest speakers. The Martin Luther King Jr. Keynote Speaker was Dr. Christine Jenkins, chief medical officer and vice president of veterinary medical services and outcomes research at Zoetis. Due to the rare opportunities she has to give such presentations, her talk proved a unique opportunity for the PVM family.
Dr. Jenkins earned her DVM degree from the School of Veterinary Medicine at Tuskegee University in 1984. She then completed an internship at the University of Florida and a residency at the University of Tennessee in small animal internal medicine. As a featured guest speaker, she spoke about the value of an inclusive work environment and its impact on meeting business objectives. "Organizations that have a diverse leadership team, which includes diversity of nationality, skill-set, as well as gender, are more successful," she said in her talk on Thursday in Lynn 1136. Dr. Jenkins has worked for Zoetis (formerly known as Pfizer Animal Health) for several years. Noting that Zoetis is the largest global animal health company, she commented, "we take an inclusive environment extremely seriously." She also reiterated the importance of making people feel comfortable and included within an organization.
Other events and activities throughout Inclusive Excellence Week included participation in Purdue's Martin Luther King Jr. Day of Service; a talk by Dr. Kenita Rogers, executive associate dean at the Texas A&M University College of Veterinary Medicine, entitled Diversity, Inclusion and Wellness: It Takes a Village; and a presentation by Dr. Ruth Landau (PU DVM 2000; PhD 2013) entitled Working with Limited English Proficient Spanish-speaking Pet Owners and other Tales from the City! All of the topics addressed vital tips for embracing diversity and inclusion as a key to achieving excellence within the profession of veterinary medicine.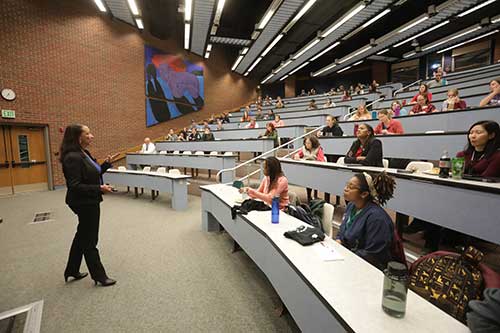 Dr. Christine Jenkins shares her insights on the topic "Diversity and Inclusion in the Workplace," as part of PVM's Inclusive Excellence Week.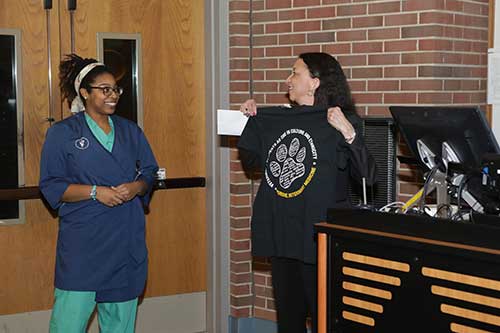 VOICE chapter president Morgan Fortune presents a VOICE T-shirt to Dr. Christine Jenkins as a gesture of appreciation for her lecture as the Martin Luther King Jr. Keynote Speaker during PVM's Inclusive Excellence Week.
Writer(s): Helen Thimlar, PVM Communications Intern | pvmnews@purdue.edu