Diverse Group Begins Year-long Internships
Friday, June 28, 2019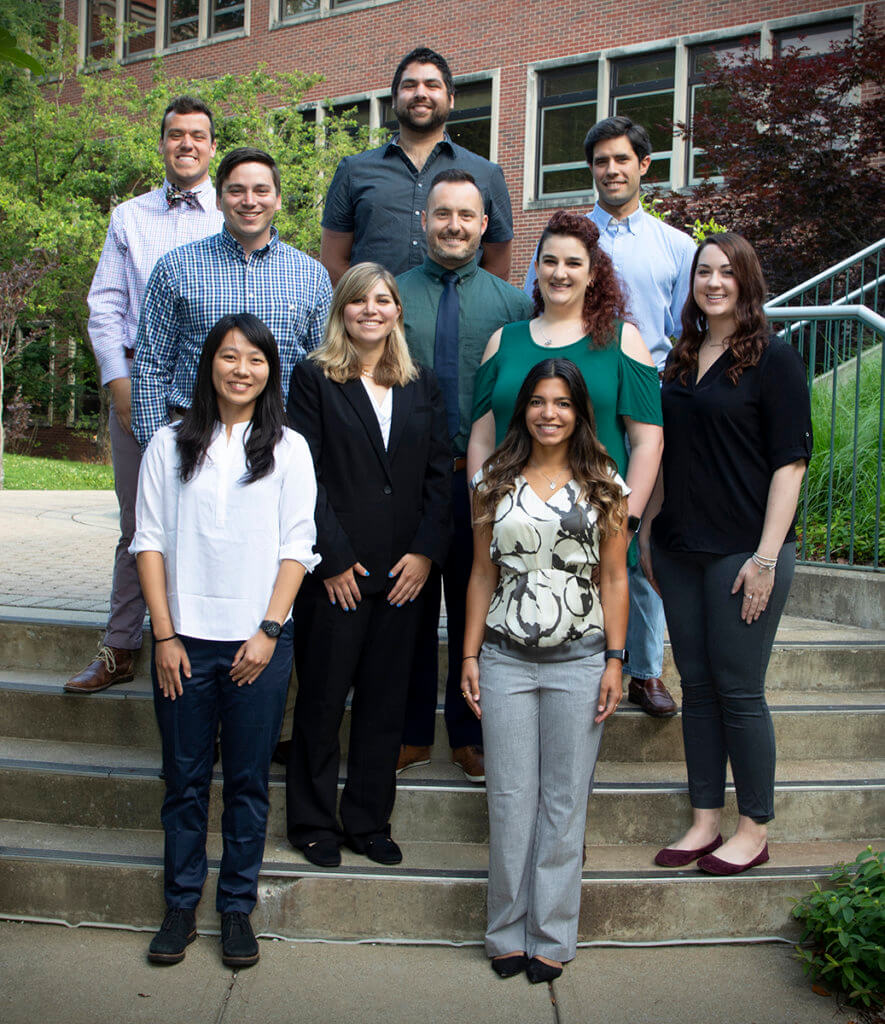 Purdue Veterinary Medicine welcomed a new cohort of interns from across the globe this month. A total of eight doctors have joined the Purdue University Veterinary Teaching Hospital to complete a one-year rotating small animal medicine and surgery internship. The Centaur Equine Specialty Hospital, which is the College's satellite facility located in Shelbyville, Ind., also welcomed a large animal medicine and surgery intern. The clinical internship program is designed to provide advanced training to qualify each doctor for an approved residency program leading to board certification in a recognized veterinary specialty. The new cohort began Monday, June 17, with the doctors undergoing an intensive two-week orientation before beginning work in the clinics.
Also beginning this month is Purdue Veterinary Medicine's new Wasson Veterinary Pharmacy Resident, Alexandria "Alex" Gochenauer, PharmD. This year-long residency in veterinary clinical pharmacy practice, named in honor of the donors who contributed significant funding to support the position, is offered by the College of Veterinary Medicine and the College of Pharmacy.
Please help extend a warm welcome to these newest members of the Purdue Veterinary Medicine family!
Large Animal Medicine and Surgery Intern | Centaur Equine Specialty Hospital
Dr. Francisco José "Paco" Morales Yñiguez | LVM, University Alfonso X "El Sabio", Madrid, Spain
Small Animal Medicine and Surgery Interns | Veterinary Teaching Hospital
Dr. Channing Bancroft | MS, Colorado State University; DVM, University of Minnesota
Dr. Robert "Trey" Callahan | DVM, University of Georgia
Dr. Haoyuan "Lexi" Lang | DVM, National Pingtung University Science and Technology, Pingtung, Taiwan
Dr. Dustin Liechty | DVM, Washington State University
Dr. Bianca Reyes | DVM, Tuskegee University
Dr. Jacobo Romano Noriega | DVM, Instituto de Investigaciones en Ciencias Veterinarias Universidad Autónoma de Baja California, Mexicali, Baja California
Dr. Matthew "Matt" Tanner | DVM, University of Georgia
Dr. Alyssa Zoto | DVM, Lincoln Memorial University
Wasson Veterinary Pharmacy Resident | Veterinary Teaching Hospital
Alexandria "Alex" Gochenauer | PharmD, University of Mississippi
Writer(s): Allison Carey | pvmnews@purdue.edu