Distance Learning Program Ensures It's Never Too Late to Open the Door to Veterinary Nursing
Friday, March 5, 2021
One of the cornerstones of the Veterinary Nursing Distance Learning Program in the Purdue University College of Veterinary Medicine is the flexibility that keeps the door open to a veterinary nursing career for non-traditional students.  Perhaps no one can testify to that better than Karen "Coco" Schefmeyer.  When the 63-year-old enrolled in the distance learning program, she brought a wealth of real world experience to the virtual classroom, and she doesn't miss a beat as she works toward earning her associate's degree in veterinary nursing.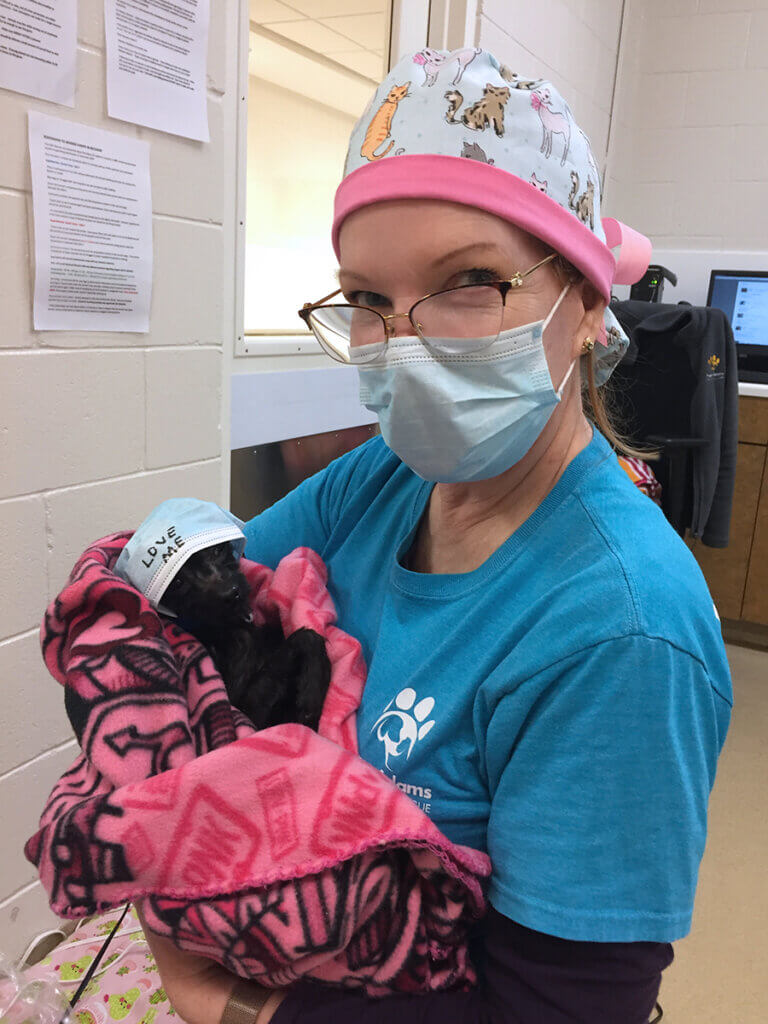 Coco resides in the South Bend area of northern Indiana and describes herself as a proud country resident who lives eight miles from the nearest grocery store. The story of her attraction to veterinary medicine has a familiar ring to it because she said she always had an interest in animals. Throughout her life she also has been surrounded by veterinarians who have inspired her in many ways.
Growing up on a farm, Coco saw many veterinarians who visited to treat the livestock.  In most cases, these practitioners gave Coco first-hand exposure to veterinary medicine. She specifically recalls how one of them – a Purdue graduate – had her help hold the animals while he administered vaccines. These interactions fostered her interest in studying veterinary medicine.
When asked what inspired her to go back to school, albeit virtually, while in her early 60s, Coco said, "I'm looking at my bucket list and it's about the quality of my remaining time. I have some things I want to do and I'm going to do them."
Coco's interest in veterinary medicine was heightened when she volunteered at a spay and neuter clinic called Peggy Adams Animal Rescue League in Palm Beach, Fla. She enjoyed her time there, which encouraged her to pursue any educational opportunities she could find.
At age 59, Coco earned a Certificate in Veterinary Assistance at Palm Beach State College in Florida. Then she opted to enroll in the Purdue Veterinary Nursing Distance Learning Program to earn the degree she did not have the opportunity to pursue when she initially began her college career years earlier. "It's like I'm finally getting to live my dreams from my younger years," Coco said.
Coco had originally intended to attend Purdue University, but she said she could not get into the university's programs because her high school had not offered chemistry. So instead, she followed her interest in writing and studied journalism at Indiana State University. Her education included internships with the Indianapolis Star and the South Bend Tribune. After graduating, she worked for the Associated Press. She described the work as an excellent opportunity, but said it did not fulfill all of her career wishes.
After moving to Los Angeles, Calif., Coco earned a master's in professional writing from The University of Southern California. Through the graduate degree program she learned about a much broader array of writing – everything from writing menus to manuals. She then accepted secretarial positions at Columbia Pictures and Warner Brothers Studios and at one point even worked as a secretary for comedian Richard Pryor.
"Throughout our lives we reinvent ourselves," Coco explained. For her, journalism is in the rear-view mirror and she is now onto another chapter, which is to become a veterinary nurse.
Coco describes her Purdue distance learning experience as fantastic. "I chose Purdue for the excellent instruction, but stayed for the incredible people. I have a wonderful academic advisor and professors who have helped me every step of the way." Coco said her favorite course is pharmacology because it involves all of the aspects of physiology and then throws chemicals, formulas, and molecules into the mix.
Coco already is finding her veterinary studies helpful in taking care of her animals, which include several cats, only two of which reside in her house. She is part of a program called Trap Neuter Return, or TNR for short. Typically, barn and street cats are not spayed or neutered and Coco sets traps for them so she can take them to be neutered and microchipped. Afterward, if they cannot be adopted, she returns them to the field.
In her free time, Coco enjoys sewing and gardening. She also has made several scrub caps for her friends in the medical field. As if that's not enough, she even helps her husband with his commercial real estate business, assisting with the problem solving aspect of the business by helping him find roofing and plumbing issues in the properties he leases. After spending a few minutes visiting with Coco, you realize it's no wonder she boldly forged ahead to begin a new career in her 60s. And you have no doubt she will succeed as someone who embodies the true Boilermaker spirit of persistently pursuing the next giant leap.
Writer(s): Jonathan Martz, PVM Communications Intern | pvmnews@purdue.edu