Creatively Serving Indiana is a "Slam Dunk" for Purdue DVM Graduate
Friday, April 30, 2021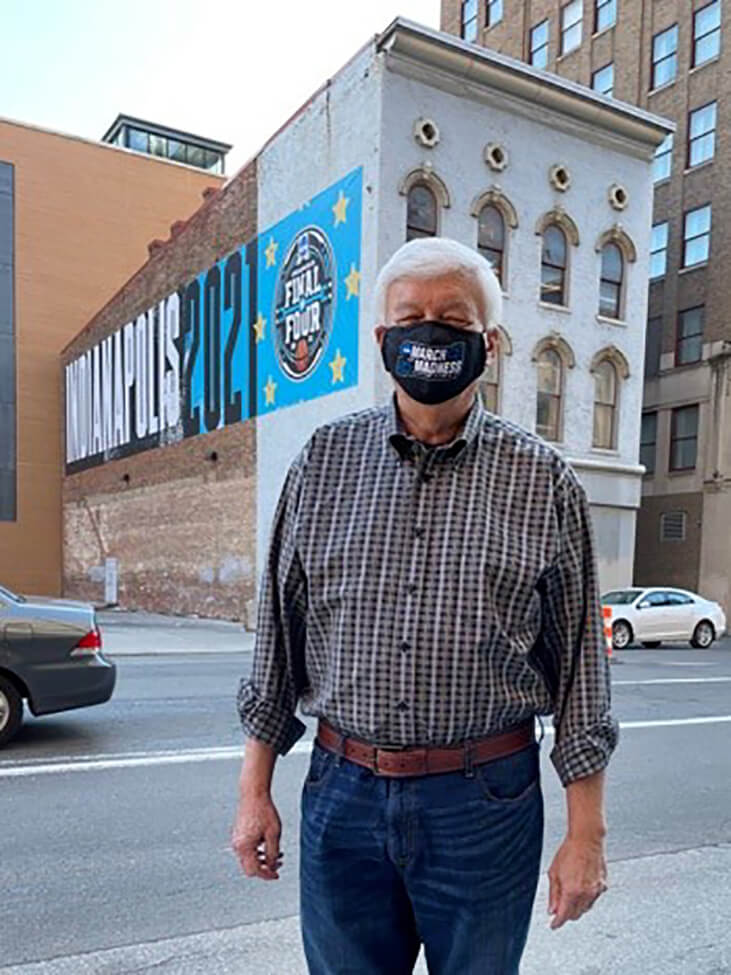 Meet Dr. Philip Borst (PU DVM '75), a Purdue Veterinary Medicine alumnus and long-time Indianapolis practitioner who also serves as co-chairman of the local organizing committee for the Big Ten Men's and Women's Basketball Tournaments. His innovative career combination began while he was a student at Purdue where, in addition to his studies, he also served as a student manager of the Men's Basketball Team.
"I've been very blessed in my life to have been able to do a lot of different things," Dr. Borst said. His interest in veterinary medicine began when he was a child and became fascinated with the veterinary practice owned by his father, Dr. Larry Borst, who also was a state senator. With Purdue having the only veterinary school in the state of Indiana, Dr. Borst chose to enroll as a Boilermaker and earned his Bachelor of Science degree in Agriculture in 1971 and his DVM degree in 1975.  He then returned home to Indianapolis to take over his father's practice. He later purchased the practice from the elder Dr. Borst, and just recently sold it to a fellow Purdue graduate.
As Indianapolis grew into a major sports city, Dr. Borst served on the City-County Council for 28 years. During that time, he witnessed the construction of many of the capitol city's most prominent sports and retail venues, from Bankers Life Fieldhouse to the Circle Centre Mall to the RCA Dome, which later was replaced by Lucas Oil Stadium. Being an avid sports fan, Dr. Borst was excited by the opportunity to join the Board of Directors for the Indiana Sports Corporation, the organization which oversees major sporting events in Indianapolis, including championships such as the NCAA Final Four and, in 2012, the Super Bowl. While Dr. Borst said he enjoys all sports, his favorite is basketball. He also serves on the Board of Directors for the Indiana Basketball Hall of Fame.
When asked what he does for a living, Dr. Borst said, "All sorts of things, from animal studies to sports to economic development." He described the recent college basketball tournaments held in Indiana as the most unique he has seen in his career.  For starters, Indianapolis hosted both the Men's and Women's Big Ten Basketball Tournaments in the same week – the second week in March – with the Men's Tournament played in Lucas Oil Stadium and the Women's Tournament in Bankers Life Fieldhouse.
"That was the beginning of March Madness in Indiana," Dr. Borst said. A dozen women's games were played at Bankers Life Fieldhouse and 13 men's games were played at Lucas Oil Stadium.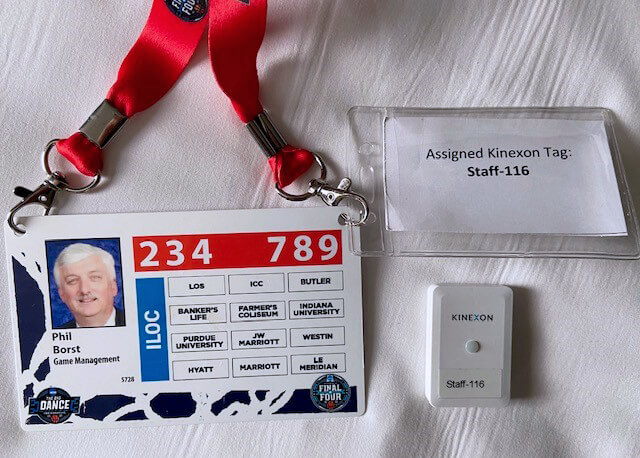 Then, Indiana played host to the entire NCAA Men's Basketball Championship – the sports extravaganza known nationally as March Madness. The tournament featured a total of 91 games held over the course of 28 days. Dr. Borst was co-chair of game management, and helped oversee the planning for housing and transportation of the teams to practice, as well as arranging for referees and janitorial services. He also helped manage a crew of people tasked with making sure the players received everything they needed, from toothpaste to, in one instance, even a new cell phone.
The NCAA Tournament games were played at multiple sites in Indianapolis, as well as at Mackey Arena in West Lafayette and Simon Skjodt Assembly Hall in Bloomington.  So, for March 18, 19, and 20, Dr. Borst returned to Purdue to help manage the games played at Mackey Arena. He was chosen for that role because of his familiarity with Mackey Arena and Purdue's West Lafayette campus.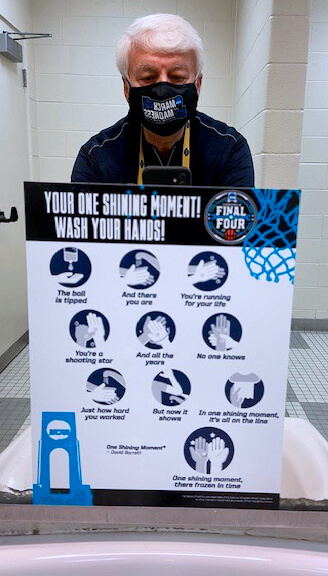 Another challenge that the tournament organizers faced this year was providing for the health and safety of players, coaches, staff, volunteers and fans in the midst of the COVID-19 pandemic. Precautions included extensive testing of team members and volunteers.  "I was in the NCAA 'bubble' for the first ten days of the tournament and had a total of 29 COVID tests during 28 days between all three tournaments," Dr. Borst recalled. He actually had two in one day on March 9 – one was his final Big Ten Tournament test before the Men's Big Ten championship game and the other was his first NCAA March Madness test before going into the NCAA bubble. The players were tested daily as well.
"Out of nearly 28,000 tests only about 15 came out to be positive, which is truly amazing," said Dr. Borst.  He also said the NCAA was fortunate to be able to allow limited fan attendance for the tournament games and even provide a performance by Miley Cyrus between the Final Four semi-final games Saturday, April 3.  "This whole experience truly helped the economy of Indianapolis. The hotels thrived as did restaurants which provided meals to both the players and all staff involved," Dr. Borst said. "This March Madness was as historic as I have seen, as this was my 13th year as Big Ten Co-Chairman and my seventh Final Four and 30th year of NCAA basketball in Indianapolis."
Dr. Borst further explained that being a veterinarian has helped him to keep a positive attitude throughout the COVID-19 pandemic. His education provided him with background knowledge of viruses and vaccines, as well as the habit of washing his hands and taking other preventative measures frequently.
While Dr. Borst's love of sports, and in particular basketball, makes for an interesting blend of interests given his education in veterinary medicine, his commitment to his profession as well as to civic leadership has involved a variety of organizations and responsibilities, including those more directly related to veterinary medicine. He is a past president of the Indiana Veterinary Medical Association,  alternate delegate from Indiana to the American Veterinary Medical Association House of Delegates, and is currently chairman of the Indiana Horse Racing Commission. And as Dr. Borst would say, it's all part of a blessed life.
Writer(s): Jonathan Martz, PVM Communications Intern | pvmnews@purdue.edu