Continuum Café Ready to Serve for Fall Semester after Successful Summer
Friday, August 27, 2021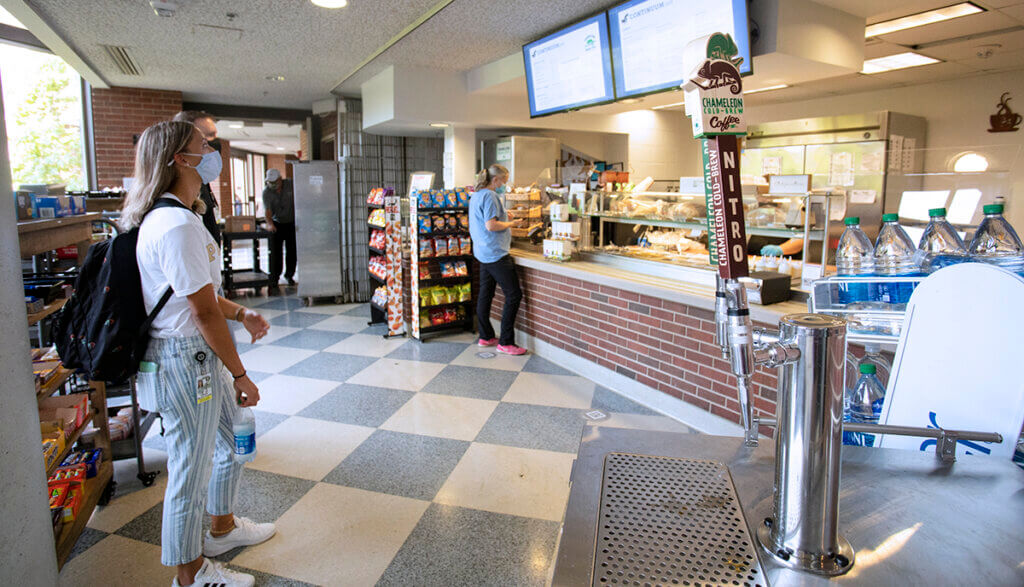 With a new feature item on the menu, the Continuum Café is up and running for the fall semester, following a busy summer of providing breakfast, lunch, and snack items for customers, especially Purdue Veterinary Medicine faculty, staff, and students.  The café is open from 7:00 a.m. to 2:00 p.m., Monday through Friday, which is the same as the café's summer schedule.
New on the menu is Chameleon Organic Coffee, including Cold Brew and Nitro-infused Cold Brew coffees on tap.  Additionally, as of today, the café is now serving Cold Brew Floats, with a scoop of ice cream to go with either the Cold Brew or Nitro-infused Cold Brew, according to Tammie Hill, who manages the day-to-day operations of the café for Aramark, which operates more than 30 dining locations on the Purdue campus. 
Thanks to the patronage of members of the PVM family, the café has experienced good success even in the midst of the ongoing pandemic. "We really appreciate the support of all of our customers over the summer and we look forward to continuing to serve the needs of the PVM family during the new academic year," Tammie said.  "And we are excited to now offer Chameleon brand organic coffee. So far we are the only site on campus serving Chameleon Cold Brew coffees on tap." 
The café also continues to offer breakfast and lunch sandwiches along with fruit and various snack items, from chips to energy bars. A special thank you is in order for Tammie and her crew for keeping the Continuum Café successfully operating even through the summer as an important service for the PVM family and a bright spot in Lynn Hall amongst all the changes that have occurred due to the pandemic.  Along with limiting customer seating, the café continues to follow procedural adjustments that were implemented last year to provide for everyone's health and safety, including serving food items in a grab-n-go format.
Writer(s): Kevin Doerr | pvmnews@purdue.edu