Commissioning Ceremony Honors Four Army Scholarship Recipients in PVM's Class of 2022
Friday, February 1, 2019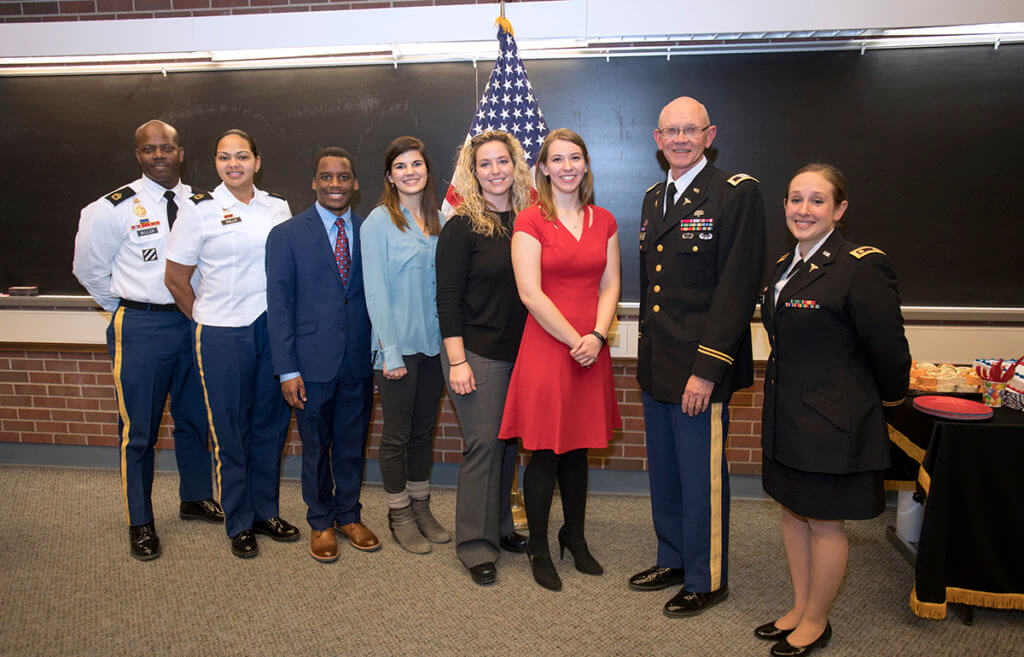 With friends and family looking on, four first-year Purdue veterinary students raised their right hands and took their oath of office as newly appointed second lieutenants in the U.S. Army Reserve during a special commissioning ceremony Tuesday, January 29, in Lynn Hall. The ceremony honored the students for their selection as recipients of full scholarships offered through the U.S. Army's Health Professions Scholarship Program (HPSP), which will cover tuition and provide a stipend during their remaining three years of veterinary school. The students are:
Devonte Brown of St. Louis, Mo.
Sarah Kurdziel of Ninevah, Ind.
Lindsey Nevitt of Zionsville, Ind.
Paige Phillippi of Clayton, N.C.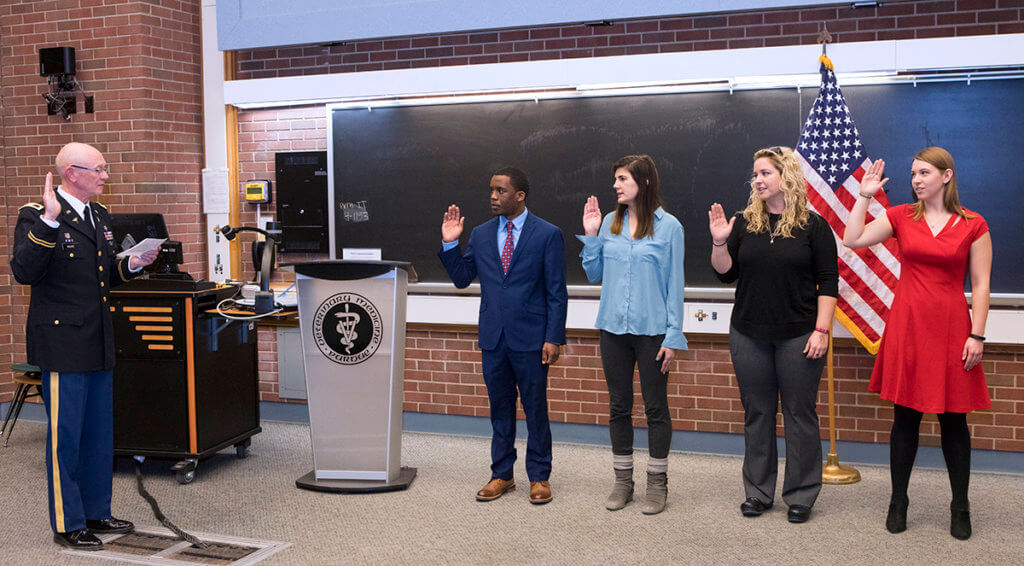 The oath was administered by Dr. George Moore, U.S. Army Col., Ret., who serves on the Purdue Veterinary Medicine faculty as professor of epidemiology and clinical trials director in the Department of Veterinary Administration. Joining Dr. Moore for the ceremony were three other uniformed Army personnel, one of whom is Army Major Whitney Vickery, a first-year small animal internal medicine resident in the PVM Department of Veterinary Clinical Sciences. Dr. Vickery is a past recipient of the HPSP scholarship herself. After earning her DVM degree at the University of Tennessee in 2012, she went on active duty, serving both stateside and overseas, before being approved to pursue specialty training, with the costs covered by the Army. Following her residency, she will fulfill a commitment to serve an additional five years on active duty.
During the ceremony in Lynn 1136, Dr. Vickery addressed the new scholarship recipients, commending them on their selection and encouraging them to appreciate all the benefits and opportunities that they will receive as HPSP participants. Also present for the ceremony were Sgt. 1st Class Breezy Wells and Sgt. 1st Class Kevin Miller, who are Army medical recruiters from Indianapolis. After receiving an inaugural salute from Sgt. 1st Class Wells at the conclusion of the ceremony, the newly commissioned officers greeted the ceremony attendees during a reception that followed.
Dr. Moore said he is proud of the scholarship recipients, and pleased that students are taking advantage of the scholarship program. "As a retired Army officer, I recognize the value of this scholarship opportunity, not only because of the monetary benefits, but also because of the amazing experience and training offered through the Army," Dr. Moore said. While completing their veterinary studies the students also will receive Army officer and leadership training during two summers and participate in an externship through the Army Veterinary Corps. "Combined with an outstanding Purdue education, the additional training and experience provided by the Army will uniquely equip these future veterinarians for promising and rewarding veterinary careers," Dr. Moore said.
Dr. Vickery also noted that it is unusual for a single veterinary college to have multiple HPSP scholarship recipients in one class. This year, out of more than 110 applicants, the Army selected only 33 to receive the scholarships. "To have four of those all enrolled at Purdue in the Class of 2022 is quite remarkable," Dr. Vickery commented.
Congratulations Devonte, Sarah, Lindsey, and Paige!
Click here to view a video of the commissioning ceremony. Click here for more information about the F. Edward Hébert Armed Forces Health Professions Scholarship Program. Click here for scholarship information specific to military veterinarian opportunities.
Writer(s): Kevin Doerr | pvmnews@purdue.edu