Clinical Year Student from Ross University Shares Talent as a Wildlife Artist
Friday, February 7, 2020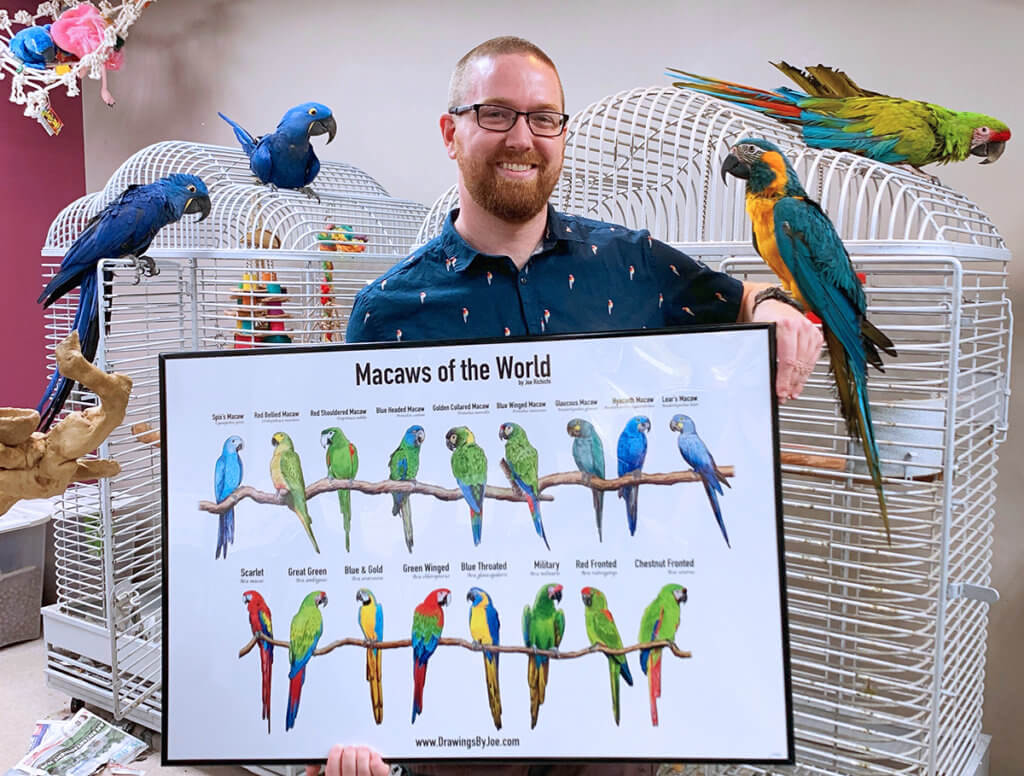 When Ross University School of Veterinary Medicine student Joe Richichi (pronounced rih-kee-kee) recently completed his fourth-year clinical rotations at the Purdue Veterinary Teaching Hospital, he met the requirements for graduation, but at the same time, left something behind, intentionally. That something relates to his remarkable artistic talent, which helped put him through veterinary school.
As faculty, staff, and students who got to know him learned, Joe has a flair for illustrating wildlife. His work even has attracted notice from people involved in major animal television and movie productions, including a new IMAX movie. And now, one of Joe's wildlife drawings is on display in a Small Animal Hospital exam room.
Joe's association with Purdue Veterinary Medicine began in January 2019, when he came to West Lafayette to complete his clinical year.  Ross University's School of Veterinary Medicine, located on St. Kitts in the West Indies, does not have hospital facilities for clinical training, so it partners with other AVMA-accredited veterinary colleges where its students are able to complete their fourth-year clinical rotations.
Joe's pursuit of a veterinary degree represented a change from what he thought he would do ever since elementary school, when he was recognized for having an ability to draw. He took his first drawing class in high school in his hometown of Glens Falls, N.Y. His first self-portrait caught peoples' attention and a later drawing of New York City, as viewed from the Empire State Building, was featured in publications, displayed in a museum, and recognized with numerous awards. Though he was offered scholarships to pursue further training, Joe opted to study at SUNY Adirondack, a State University of New York Community College in his hometown, where he earned his first associate's degree in communication and media studies.
After working for a few years and not finding a way to do artwork as a career, Joe embarked on a different career path. While working at a pet store, he realized he had a passion for reptiles and promptly relocated to Florida, where he earned his second associate's degree in animal sciences before enrolling in the University of Florida's bachelor's degree program in animal science, which he completed in 2016.
As he pursued his dream of becoming a reptile veterinarian, Joe also began rescuing unwanted reptiles from Craigslist and reptile shows. He made it his mission to nurse them back to health and give them to good owners through ReptiCon, an organization that hosts reptile and exotic animal expos. "As I was taking in all those reptiles, I started drawing them and putting that artwork online, which turned into people requesting specific species," explained Joe. "Eventually, I had more drawings of reptiles than I had live animals."
After being accepted into Ross University's DVM program, Joe was in for a pleasant surprise related to his art. He said he never anticipated the number of doors in the art world that would open for him once he started veterinary school. "After seeing some of my drawings of sea turtles online, the Tennessee Aquarium contacted me to express their interest in having me illustrate promotional materials for an IMAX movie, Turtle Odyssey," Joe said. If you view the movie website at tutleodysseyfilm.com, and click on the education link, you can download the classroom poster that features Joe's artwork and credits him as the artist. The 3D movie is playing this month at the IMAX Theatre at the Indiana State Museum in Indianapolis.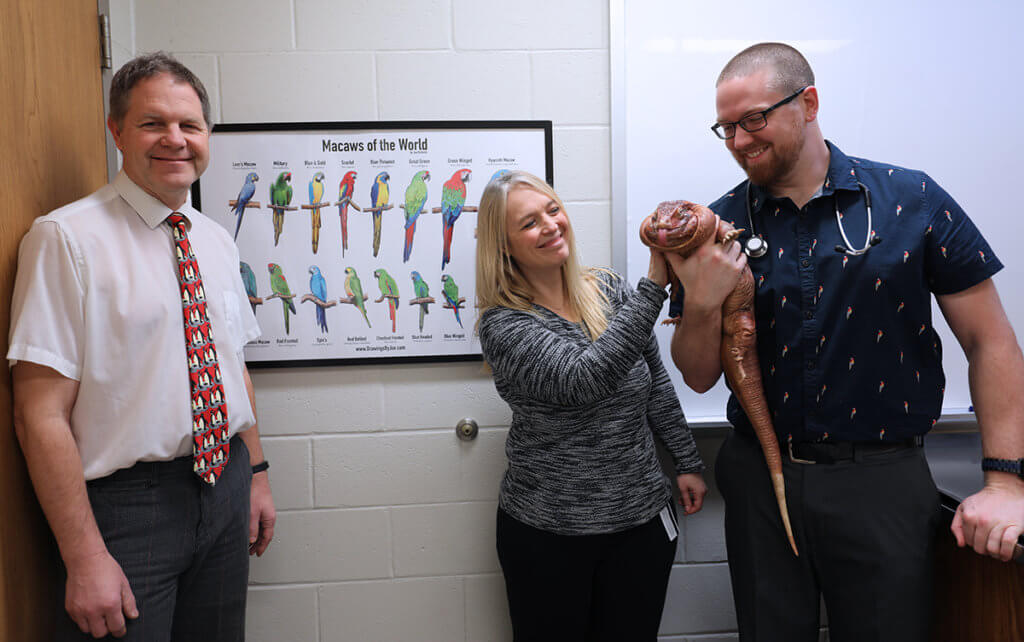 In addition, one of Joe's professors at the University of Florida wrote an equine history textbook and asked Joe to illustrate ancient equine species based on their skeletons for use in the book. Shortly after that experience, Joe was contacted by hosts of two different television shows for his drawing prints of various caiman crocodile species. Also, wildlife expert and TV personality Forrest Galante requested Joe's help illustrating a once-forgotten species that Galante had rediscovered.
It's easy to see examples of Joe's artwork by visiting his website, drawingsbyjoe.com. Or you can see one in person in Exam Room B in the Small Animal Hospital, where his drawing, "Macaws of the World" is hanging on the wall, courtesy of Dr. Sarah Malek, who had received the artwork as a gift and decided to share it on loan so others can enjoy it. As of a few months ago, Joe's art also is being sold in some stores. So, not only is his artwork a form of creative expression, it also has generated income that helped finance his education.
Fittingly, Joe finished his year at Purdue in his favorite rotation, treating exotic pets in the hospital's Small Animal Primary Care service. Joe especially appreciated the opportunity to work with two fellow exotic animal enthusiasts, Drs. Steve Thompson and Lori Corriveau.
Thanks to his success in earning his DVM degree, Joe will have another means of earning income beginning in March when he starts his new job as an exotic animal veterinarian at City Creatures Animal Hospital in Buffalo, N.Y. The full-service veterinary clinic offering companion and exotic pet care is just the kind of work setting that Joe, or Dr. Richichi as he will be called, had hoped to find. And he has seven pets to keep him company, including Blaze, an Argentine Tegu; Agent Romanov, an albino red tail boa; Vanna White, a leucistic Ball Python; two Axolotls (Mexican walking fish) named Mudkip and Wooper; and two cats named Chicken and Waffles.
Writer(s): Maya Sanaba, PVM Communications Intern, and Kevin Doerr | pvmnews@purdue.edu