Celebrating Inspiring Leadership During Black History Month
Friday, February 26, 2021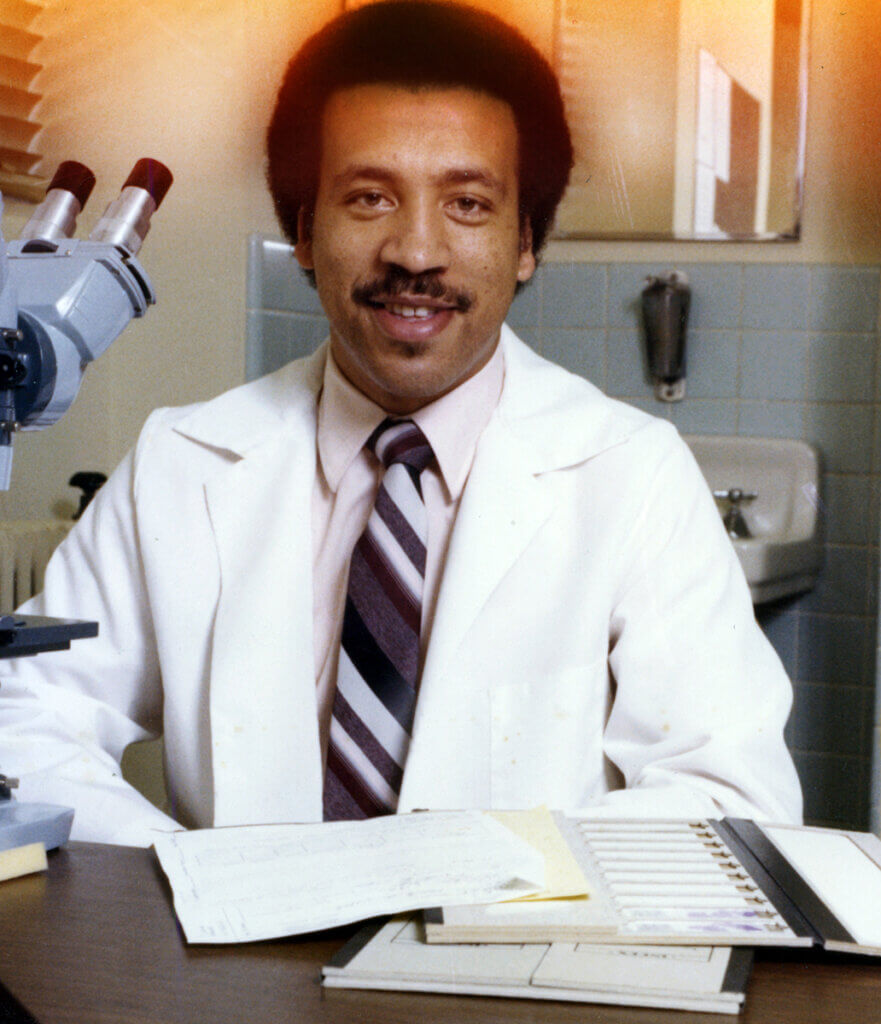 In recognition of Black History Month, Purdue Veterinary Medicine is highlighting the career of a college leader who also has served in national leadership positions, always with a passion for enhancing the diversity of the veterinary profession — our very own Dean Willie Reed. Since earning his DVM degree at Tuskegee University, he has persistently pursued his dream of becoming a veterinarian while expanding opportunities for others from diverse backgrounds to do the same.
Born in Mobile, Ala., Dean Reed spent his childhood in a nearby small town. Living in a rural community, Dean Reed grew up around many animals. He also excelled in science classes, which helped foster his interest in studying veterinary medicine. His commitment to the field solidified when his high school vocational agriculture teacher said veterinary medicine would be a good fit for him. However, getting into a good program was difficult as there were less than 20 veterinary schools in the entire nation at the time. Moreover, the entire county that he grew up in only had one veterinarian.
Additionally, in an era of desegregation, times were challenging and opportunities were limited for Black students, but thankfully Dean Reed was blessed with a supportive family who aided him during every step of his journey. He remembers how his grandmother taught him first grade on the front porch of her house and his father was a strong supporter of his interest in studying veterinary medicine. Dean Reed recalled that his father even said that he likely would have studied veterinary medicine himself if the opportunity had been available at the time. With the blessing of a supportive family, Dean Reed set off in 1972 for Tuskegee University, one of the nation's Historically Black Colleges and Universities (HCBU).
That adventure proved to be one small step toward future giant leaps. "Dreams do come true, but they are built on the foundation of hard work and determination," Dean Reed shared.
Describing his Tuskegee education as excellent, Dean Reed said he found that a multitude of different opportunities were available. During his summers, he took advantage of a chance to study comparative laboratory animal pathology at the University of Alabama in Birmingham as well as at a pharmaceutical company in Kalamazoo, Mich. While in Kalamazoo, Dean Reed met Dr. Doris Hughes, the first Black woman to earn a Purdue DVM degree. Dr. Hughes and her husband were both Purdue graduates, and encouraged Dean Reed to complete his PhD at Purdue. He took their advice and in 1982, with his newly minted PhD degree in hand, he joined the Purdue Veterinary Medicine faculty, first serving as an assistant professor of mammalian pathology and later as associate professor of avian pathology and as chief of avian disease diagnostic services in the Animal Disease Diagnostic Laboratory.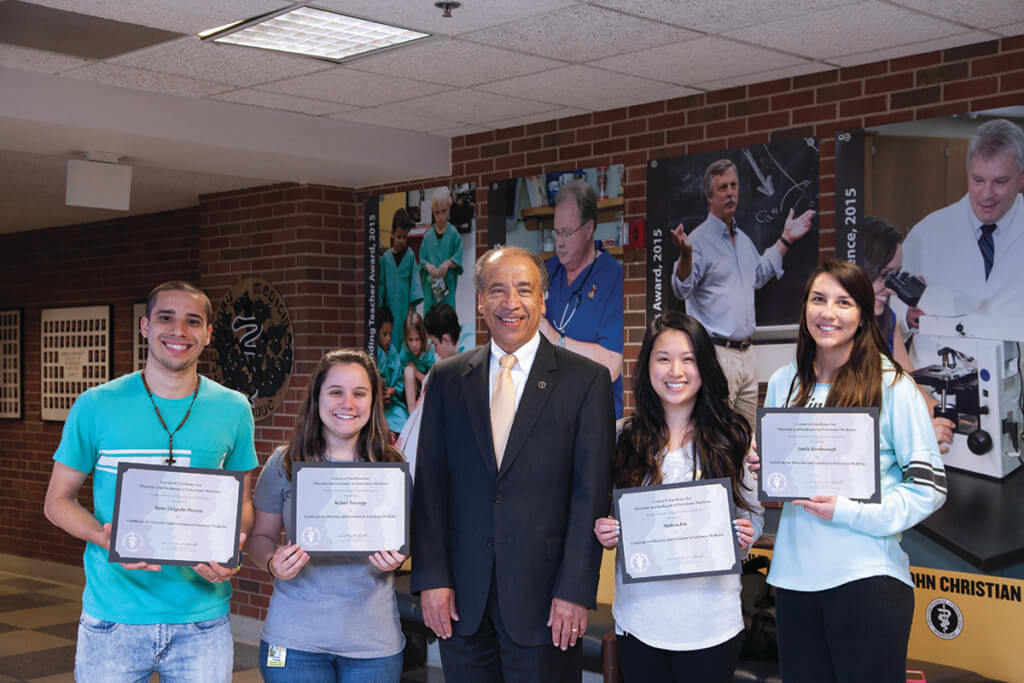 More change came in 1990 when Dean Reed left Purdue to join the Michigan State University faculty as a full professor and director of the Animal Health Diagnostic Laboratory, now known as the Veterinary Diagnostic Laboratory. During his time at MSU, he also became chairperson of the Department of Pathobiology and Diagnostic Investigation. While serving in these positions, he helped create one of the largest pathology training programs in the country and opportunities for minorities, eventually growing the number of Black pathology graduates by 40%. Under his leadership, the MSU College of Veterinary Medicine constructed the largest and one of the most comprehensive veterinary diagnostic laboratories in the country performing over 600,000 tests per year.
Dean Reed's career continued to reach new heights leading to a signature moment in 2006, when he was contacted about an opening for a new dean of the Purdue University College of Veterinary Medicine. He immediately accepted the invitation to apply.
As Dean Reed recalled, "My mind was flooded with memories of the very special, palpable feeling of family that characterizes the community of Purdue Veterinary Medicine faculty, staff, and students. The chance to return to the Purdue campus and lead this team was especially compelling. I accepted the appointment effective in January 2007, and began the most exciting and rewarding time of my career."
Dean Reed explained that one of his favorite aspects of the College of Veterinary Medicine is the friendly and hardworking atmosphere that the staff and faculty members create. He is thankful for the supportive environment they have helped foster, which he counts as a factor even in his own success, in a way that is reminiscent of how his own supportive family helped him succeed when he was a child. "When you like the people you work with, work doesn't feel like work," Dean Reed emphasized.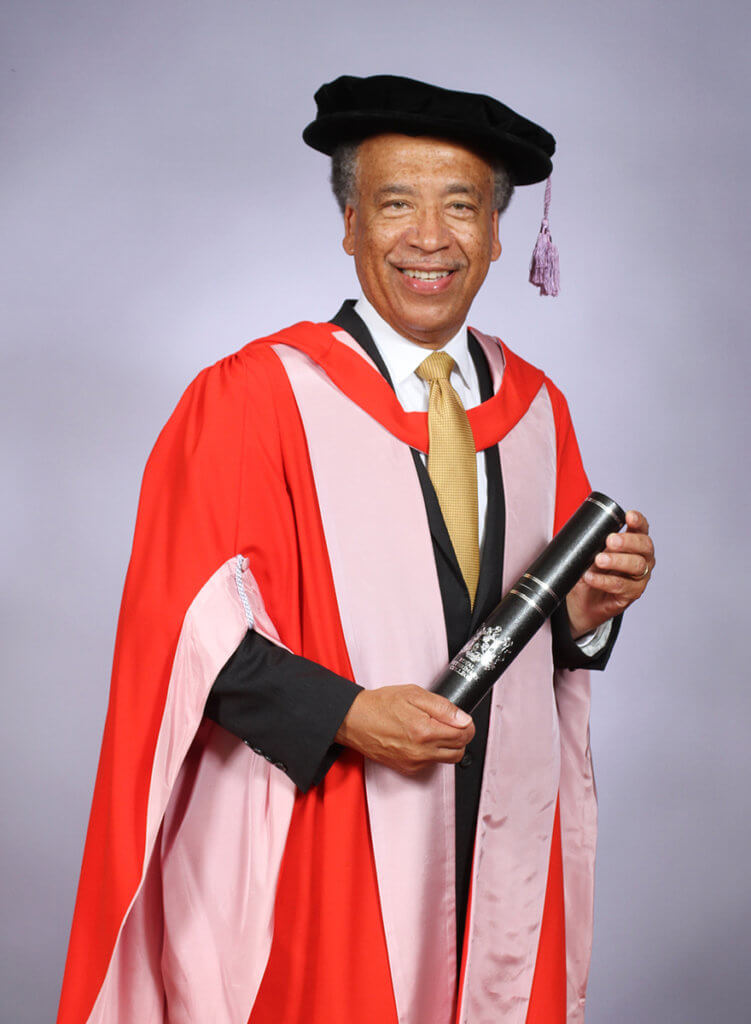 When asked what advice he has for current students studying veterinary medicine, Dean Reed advised that any university students should seek to get involved on their campuses and make connections, which will come in handy later in life. Reflecting on his own experience, Dean Reed said he likely never would have become Dean of the Purdue College of Veterinary Medicine if he had not met Dr. Hughes in Kalamazoo. Furthermore, he said he probably would not have had the job opportunity in Kalamazoo had he not been recommended for it by one of his favorite professors at Tuskegee University.
With more than 30 years of experience in academia, not only has Dean Reed led the College of Veterinary Medicine, he also has played an influential role in the veterinary profession nationally. A diplomate of the American College of Veterinary Pathologists and charter diplomate of the American College of Poultry Veterinarians, Dean Reed has been heavily involved in the veterinary community and as a leader in organized and academic veterinary medicine, serving as president of the Association of American Veterinary Medical Colleges, president of the American Association of Veterinary Laboratory Diagnosticians, president of the American Association of Avian Pathologists, and chair of the American Veterinary Medical Association Council on Research. In 2018, Dean Reed received an honorary degree from the Royal Veterinary College of the University of London for his leadership at Purdue in expanding opportunities for minority students.
A role model for role models, Dean Reed epitomizes the persistent pursuit of the next giant leap, both in terms of pursuing his own dream, and helping others pursue theirs.
Writer(s): Jonathan Martz, PVM Communications Intern | pvmnews@purdue.edu