CAWS Symposium Focuses on Building Capacity to Advance Animal Welfare Science
Friday, May 31, 2019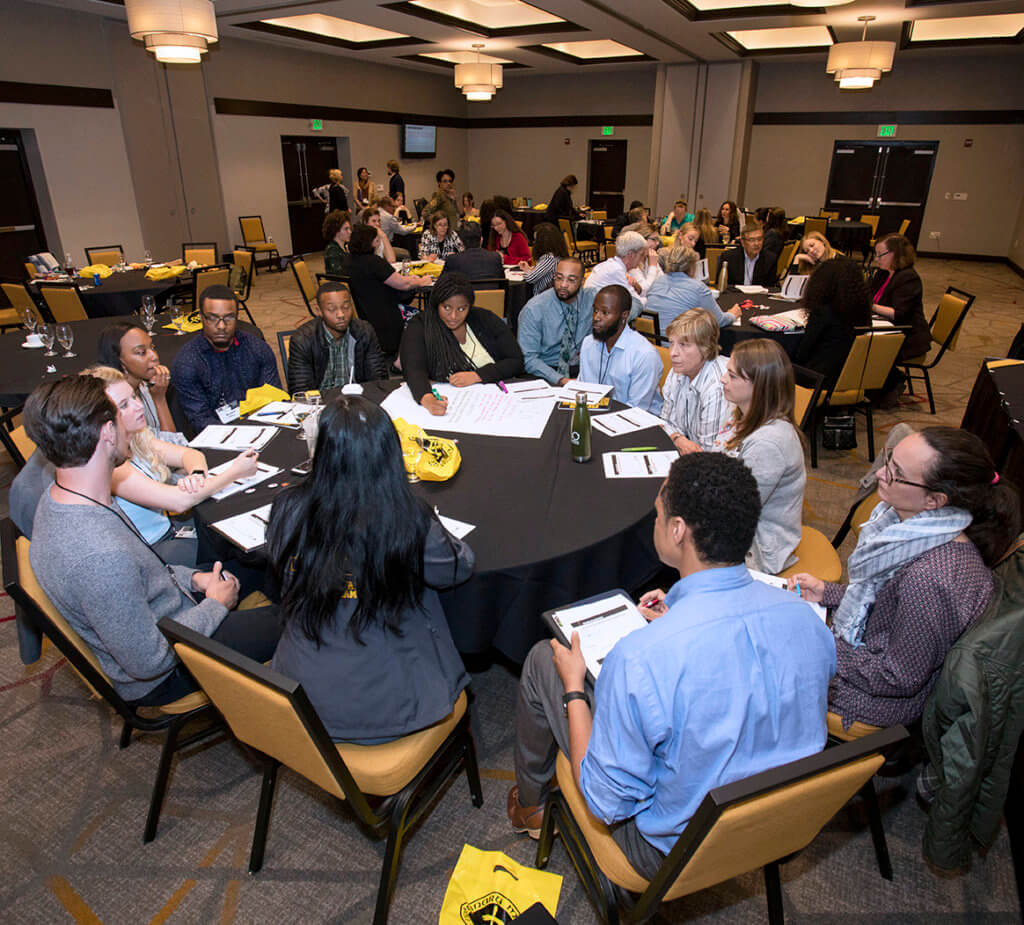 The 2019 Center for Animal Welfare Science (CAWS) Symposium brought together industry experts in animal welfare science, researchers, and veterinarians, as well as faculty and students from land grant, private, and Minority Serving Institutions of higher education for presentations, working break-out sessions, and information sharing.  The event was held at the Courtyard Marriott Lafayette on May 15 and 16 and attracted more than 100 attendees.  The program was funded by a grant from the National Institute of Food and Agriculture in the United States Department of Agriculture (USDA NIFA), and was presented by the Purdue University Center for Animal Welfare Science (CAWS) in collaboration with Tuskegee University, North Carolina A&T State University, and the University of North Carolina at Chapel Hill.
Keynote speaker David Fraser, professor and Natural Sciences and Engineering Research Council (NSERC) Industrial Research Chair in Animal Welfare at the University of British Columbia, discussed new themes in improving animal welfare. Dr. Fraser noted the importance of the human dimension as a major theme in future animal welfare research. He said the term "One Welfare" extends the approach of the term "One Health," and highlights the interconnections between animal welfare, human welfare, and the integrity of the environment. The One Welfare concept leads to new avenues for research that seeks to address challenges related to animal welfare.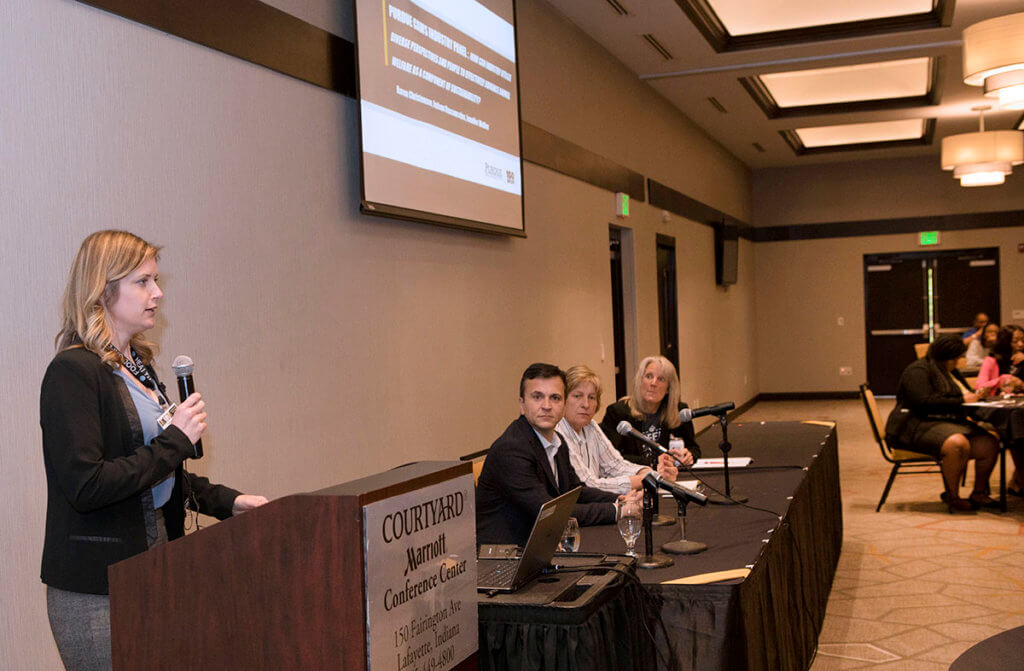 Other symposium speakers discussed the Council for Agricultural Science and Technology Taskforce report on farm animal welfare, which identified multiple emerging challenges for U.S. animal agriculture. Those challenges include the need for improved understanding of the role of animal welfare in sustainability, antimicrobial resistance, global developments, urban agriculture, and assessing animal mental states. The symposium discussions led to further dialogue among participants on how to incorporate diverse approaches to better meet the changing needs of animal agriculture.
The second day of the symposium began with a joint presentation by Purdue Veterinary Medicine Dean Willie Reed and Dr. Ruby Perry, Dean of the Tuskegee University College of Veterinary Medicine, who both shared about the importance of diverse voices in animal welfare from a veterinary medicine perspective. This session introduced a vital discussion on how to incorporate animal welfare across the curriculum in order for undergraduate, graduate, and veterinary students to gain practical knowledge and the necessary animal welfare-related skill set for them to be able to make meaningful contributions to their animal science or veterinary careers.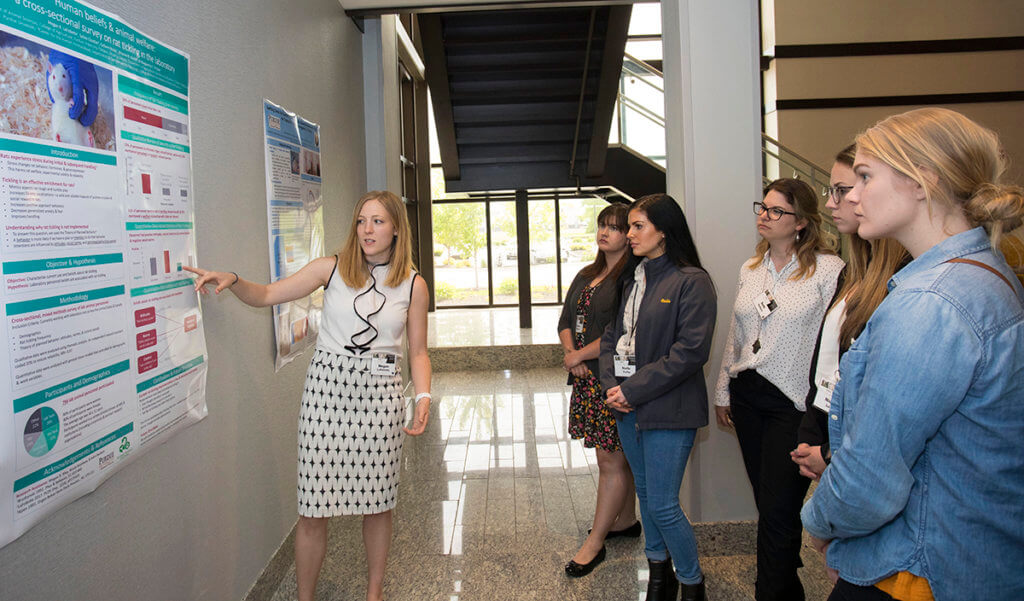 Another feature of the symposium was an industry roundtable that focused discussion on how to engage and foster a productive dialogue that results in science-based development of programs and policy to ensure that animal welfare is protected, while giving due consideration to the diverse perspectives of all stakeholders. Moderated by Dr. Sara Crawford, assistant vice president of animal welfare at the National Pork Board, the roundtable included Dr. Judson Vasconcelos, director of veterinary and consumer affairs at Merck Animal Health; Dr. Karen Christiansen, senior director of animal well-being at Tyson Foods; and Dr. Jennifer Walker, director of milk quality at Danone.
Attendees also were able to participate in break-out sessions, during which they had time to assess current challenges and develop collaborative partnerships and solutions aimed at building capacity to more effectively diversify and grow the discipline. A research poster session also gave participating students the opportunity to display their research and discuss how they are advancing animal welfare science. The symposium wrapped up with a session on dairy cattle welfare that brought the symposium's conversations full-circle. Led by Dr. Gustavo Schuenemann, professor and extension veterinarian – dairy, in the Department of Veterinary Preventive Medicine at The Ohio State University, and Dr. Jan Shearer, professor of veterinary diagnostic and production animal medicine at Iowa State University, the session highlighted the importance of translating research on animal welfare to on-farm applications and practices that have a meaningful impact at the farm level. Drs. Schuenemann and Shearer encouraged a continued exchange of ideas by animal welfare science professionals in order to have an economically sustainable management system that ensures the safety of the food supply with best animal welfare practices for years to come.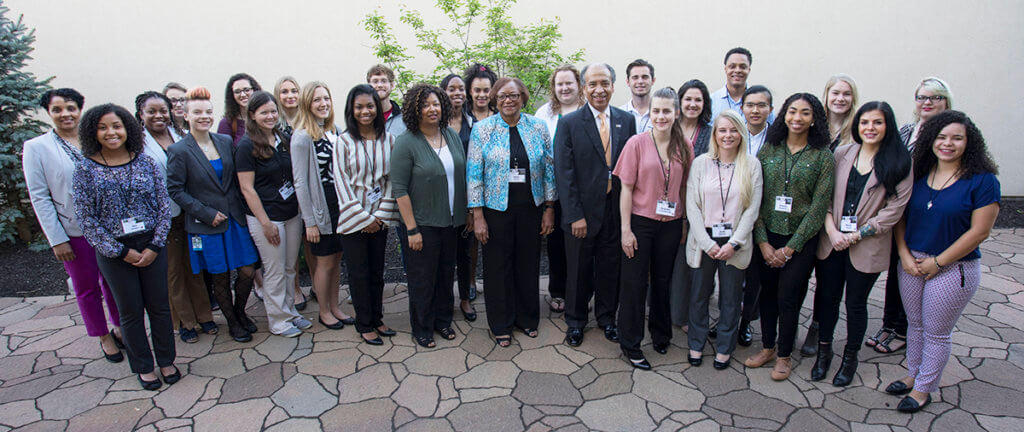 Writer(s): Andrea Brown and Kevin Doerr | pvmnews@purdue.edu