Awards Ceremony Recognizes Outstanding PVM Staff
Friday, July 10, 2020
The Purdue University College of Veterinary Medicine honored several members of the staff and faculty during a virtual version of the traditional Outstanding Staff and Bravo Awards Ceremony Wednesday, July 8.  Dean Willie Reed presented the awards during a program on the Zoom platform, which he opened by saying, "Even though we can't be together in person for this special occasion, it's important to honor the significant accomplishments of the people we will recognize today."
The first two awards given out are called the Outstanding Staff Awards, which have been presented annually since 1988, when they were initiated with a gift by an alumnus, the late Dr. Carl Osborne (PU DVM '64) and his wife, Lynn. The awards recognize excellent performance by the College of Veterinary Medicine's non-faculty, full-time employees. "Excellent staff members are, in my view, the often unsung heroes in an organization," Dean Reed said.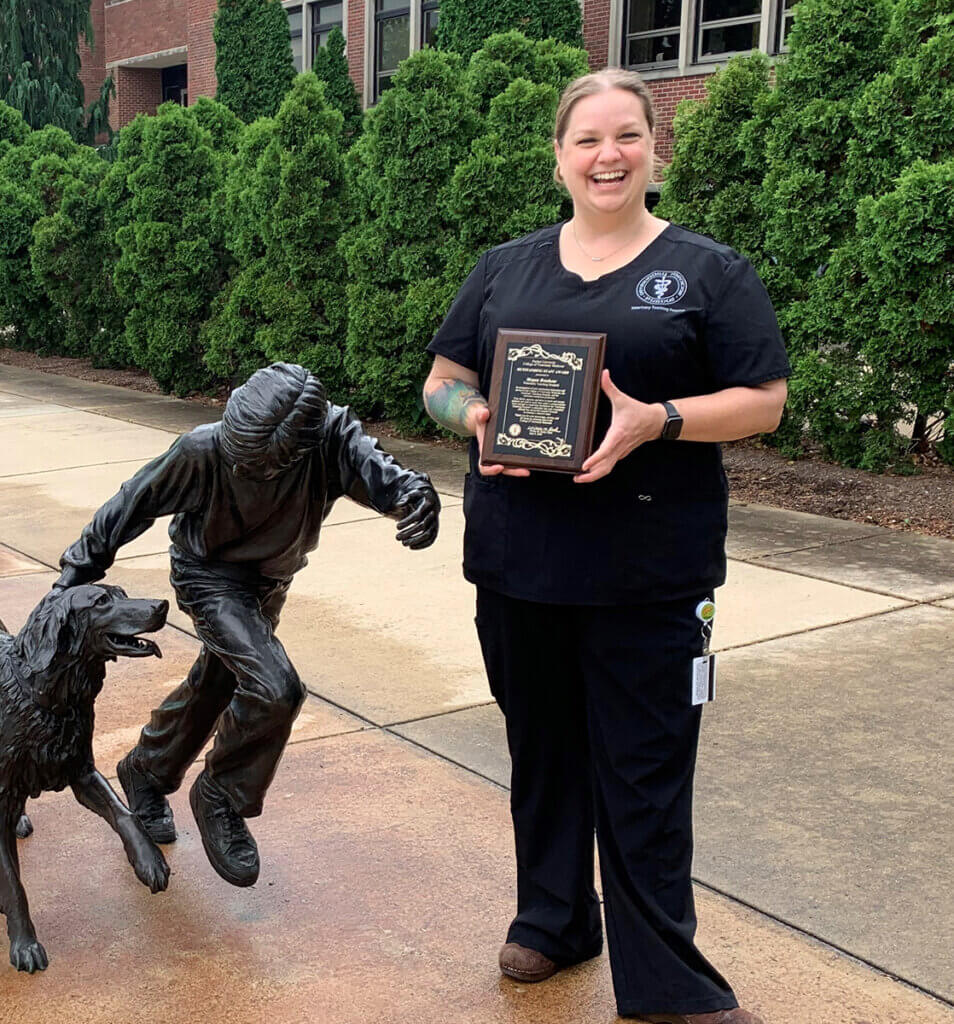 The first award was presented to Megan Brashear, RVT, VTS (ECC), small animal veterinary nursing manager in the Purdue Veterinary Hospital, who was nominated for excellence in service, enhancing the college's public image, excellence in public and professional services and relations, and exceptional performance of assigned duties above and beyond expectations. "You spend a significant amount of time in the clinics, displaying genuine enthusiasm for providing the highest standard of care, and willingly sharing your vast experience with our team and students," Dean Reed said in describing Megan's accomplishments. He also cited Megan's exemplary presentation skills and awards at international VMX and WVC conferences. "You model what we mean when we say that Boilermakers are known for their persistent pursuit of excellence." Dean Reed also commended Megan for exemplary communication skills and helping colleagues and students study for VTS and VTNE exams, as well as for going above and beyond in her job duties, putting in extra hours while demonstrating her dedication by going out of her way to help on the hospital floor, and carrying out a consistent commitment to excellence in recruiting new team members, all with a positive attitude and caring demeanor.
Megan was presented with a plaque in advance of the event that includes the following inscription: "Your desire, passion, and drive to teach and mentor students and staff to reach their goals is commendable. Your strength in leadership throughout the Veterinary Hospital is admirable and your exemplary attitude has moved the hospital forward in creating a cohesive team."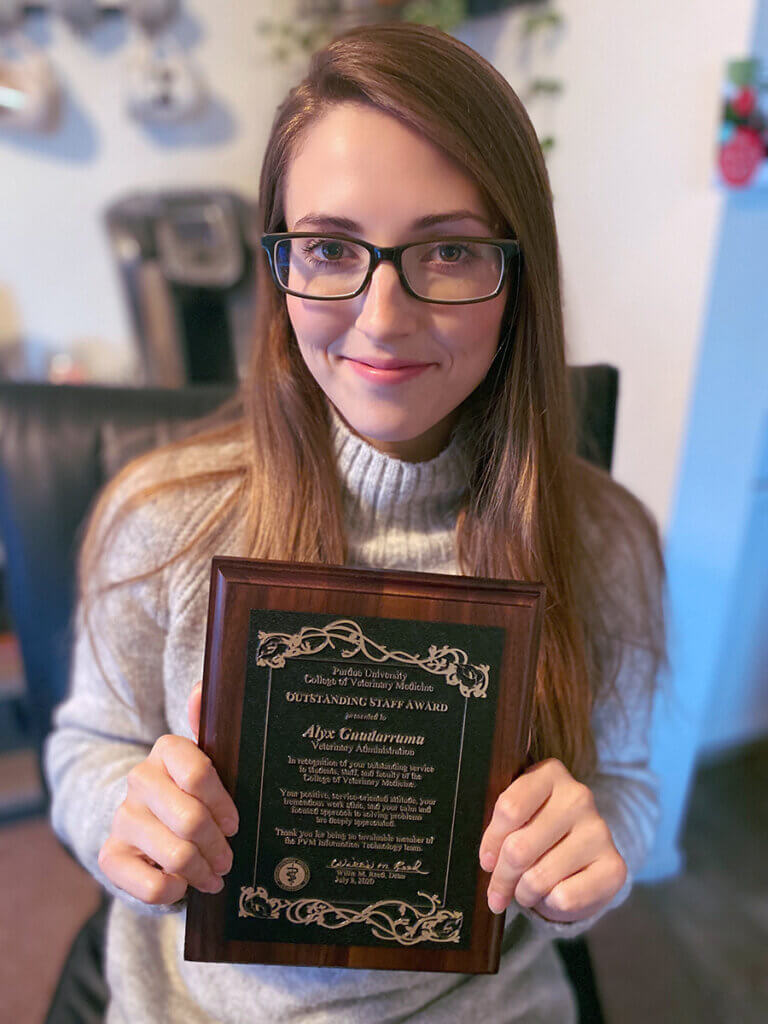 The second Outstanding Staff Award was given to instructional designer in PVM-IT, Alyx Guadarrama, who was nominated for excellence in service to students, staff, faculty, and other constituencies of the college, and exceptional performance of assigned duties above and beyond what is ordinarily expected of the position. "Alyx, your constant pursuit of knowledge to enhance your capabilities is amazing," Dean Reed said. "As your technical knowledge has grown, you have excelled in your ability to serve as a vital resource for our faculty, staff, and students, helping us all to become better at utilizing virtual learning technologies."
Dean Reed then read the inscription on the award plaque, which included this commendation: "Your positive, service-oriented attitude, your tremendous work ethic, and your calm and focused approach to solving problems are deeply appreciated. Thank you for being an invaluable member of the PVM Information Technology team."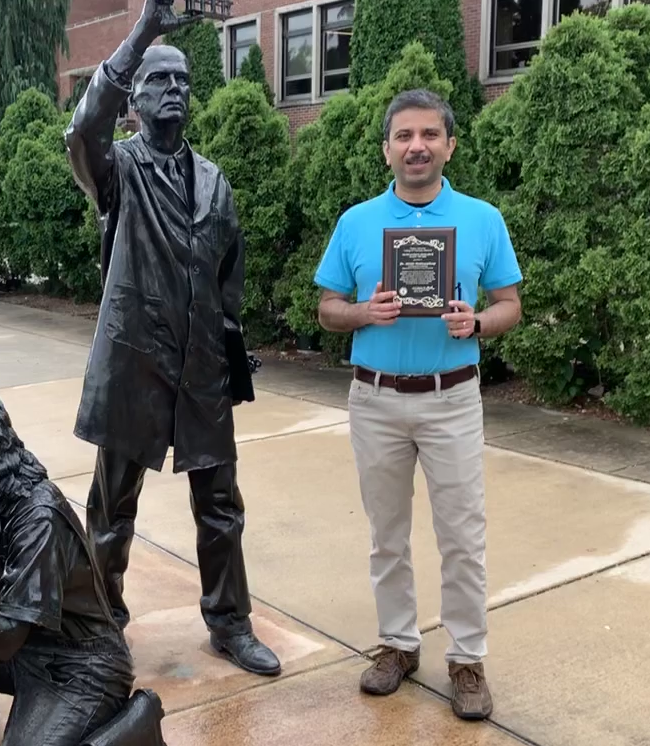 Next, Dean Reed presented the Outstanding Research Staff Award, which recognizes non-faculty research staff members for the very important roles they play in the discovery mission of the college. The 2020 Outstanding Research Staff Award recipient is Abhijit Mukhopadhyay, PhD, who was nominated for performance over and above the call of duty; his attitude of selfless dedication to the development and growth of research programs; and his excellence in research initiative, collaboration, and personal development. "Abhijit, the sheer number of letters included in your nomination packet illustrate the amazing impact you have had on research in our college," Dean Reed said. "Your expertise and service are invaluable to many important studies and discoveries."
Dean Reed then presented Dr. Mukhopadhyay with the award plaque, which includes the following inscription: "Awarded in recognition of your excellence in laboratory work, commitment to clinical research, and your contributions to discovery at the Purdue University College of Veterinary Medicine and beyond, your collegiality, work ethic, and for your valued contributions to teaching students of all skill levels, we honor you."
Next, faculty and staff members who completed the online Certificate Program for Diversity and Inclusion in Veterinary Medicine were honored. Dean Reed recognized each of the individuals who recently finished the program, which was developed in conjunction with the American Veterinary Medical Association and the Association of American Veterinary Medical Colleges through the college's Center of Excellence for Diversity and Inclusion in Veterinary Medicine. Congratulations to the following individuals:
Cassandra Cords, RVT, veterinary skills and competencies teaching technologist in the Department of Veterinary Administration
Carlene Linn, administrative assistant in the Office of Academic Affairs
Dr. Andrea Santos, assistant professor of veterinary clinical pathology in the Department of Comparative Pathobiology
Wanda Tappenden, client liaison representative in the Veterinary Hospital
Dean Reed concluded the awards ceremony by presenting Bravo Awards, which recognize substantial accomplishments achieved by employees that extend well beyond regular work responsibilities. Award winners may be recognized in any of four categories:
Moving the University Forward — accomplishments or contributions that transform or advance university objectives
Innovation and Creativity — innovative work or suggestions well beyond standard job requirements that significantly improve operational efficiencies or introduce new or improved processes
Operational Excellence — extraordinary effort during times of critical department need
Fiscal Stewardship — significant cost saving or cost avoidance realized beyond normally expected or established standards.
Congratulations to the following Bravo Award recipients:
Jolene Knuth, RVT – for Operational Excellence as anesthesiology technology supervisor in the Veterinary Hospital
Deborah Morgan – for Operational Excellence as quality and safety manager in the Animal Disease Diagnostic Laboratory
Anthony Scalone – for Operational Excellence in his role as Quality and Systems Trainer in the Animal Disease Diagnostic Laboratory
Cass Simmons, RVT, VTS (Surgery) – for Operational Excellence in her role as small animal surgery technologist in the Veterinary Hospital
Writer(s): Susan Xioufaridou | pvmnews@purdue.edu