Annual PVM Horseman's Forum Reins in 175 Attendees
Friday, February 16, 2018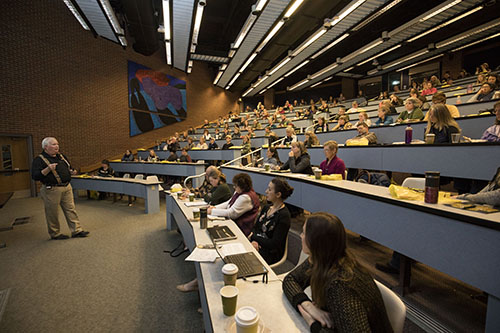 Joe Monroe of Nutrena leads a Horseman's Forum session entitled "Feeding the Metabolic Horse."
This year's annual Purdue Veterinary Medicine Horseman's Forum held on Saturday, February 10, attracted 175 attendees to Lynn Hall, including both youth and adult horse owners and enthusiasts. The Horseman's Forum is a special event hosted by the PVM Office of Lifelong Learning that aims to educate horse owners and equine industry professionals about current horse health issues, ranging from basic preventative health care and husbandry topics to state-of-the-art medical advancements. Attendees came from across Indiana as well as Illinois, Minnesota, Kentucky, and Ohio.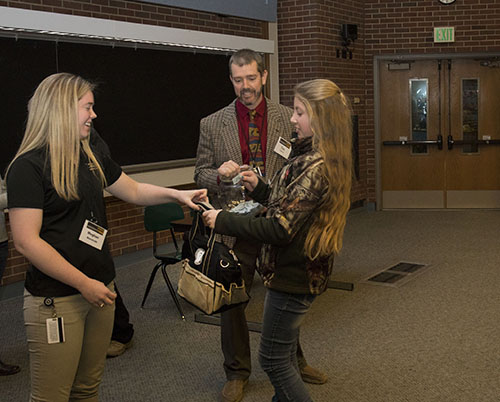 Equine Club President Meghan Wanstrath, of the DVM Class of 2019, awards a PVM Equine First-aid Kit as a give-away to Dakota Szakacs, a horse enthusiast in the 7th grade from St. Joseph County, as Dr. Tim Lescun looks on during the Horseman's Forum in Lynn 1136.
The program included popular treadmill and endoscopy demonstrations by Dr. Laurent Couёtil, professor of large animal internal medicine and director of the Equine Sports Medicine Center, and Dr. Sandy Taylor, associate professor of large animal internal medicine. The forum also featured lectures on such topics as nutrition, mare reproduction, pre-purchase examinations, and equine health presented by Purdue faculty and staff as well as industry experts and Dr. Gillian Haanen, a veterinarian from the Netherlands with expertise in neonatology, gastro-intestinal, cardiology, and respiratory and infectious diseases.
The Horseman's Forum was sponsored by Nutrena, Progressive Nutrition, Zoetis, and Haygain, which provided prizes for the giveaways and items for goodie bags. Students from the Equine Club also were on-hand selling custom PVM Equine First-aid Kits as a fundraiser. Special thanks to the faculty on the Horseman's Forum Planning Committee for organizing the successful program: Drs. Amanda Farr, Tim Lescun, and Sandy Taylor.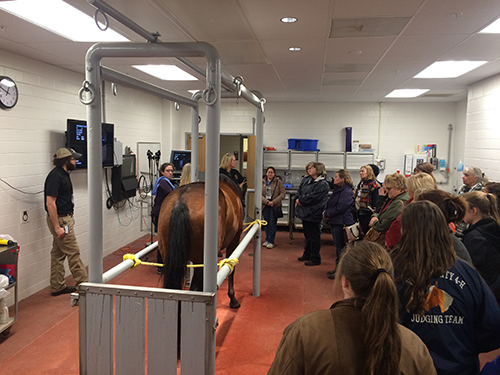 Dr. Sandy Taylor gives an equine endoscopy demonstration in the Large Animal Hospital during the 2018 Horseman's Forum.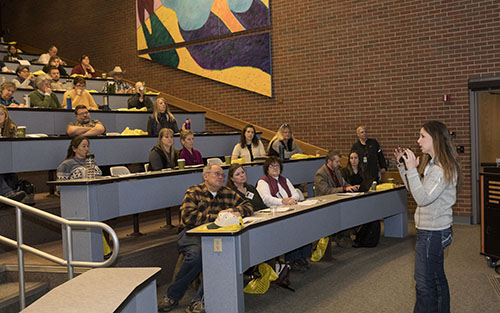 Dr. Jennifer Koziol, clinical assistant professor of theriogenology and production medicine, gives a talk entitled "Breeding the Middle-aged Mare" at the Horseman's Forum.
Writer(s): Helen Thimlar, PVM Communications Intern | pvmnews@purdue.edu