Alumnus Appointed as New AASV President
Friday, March 27, 2020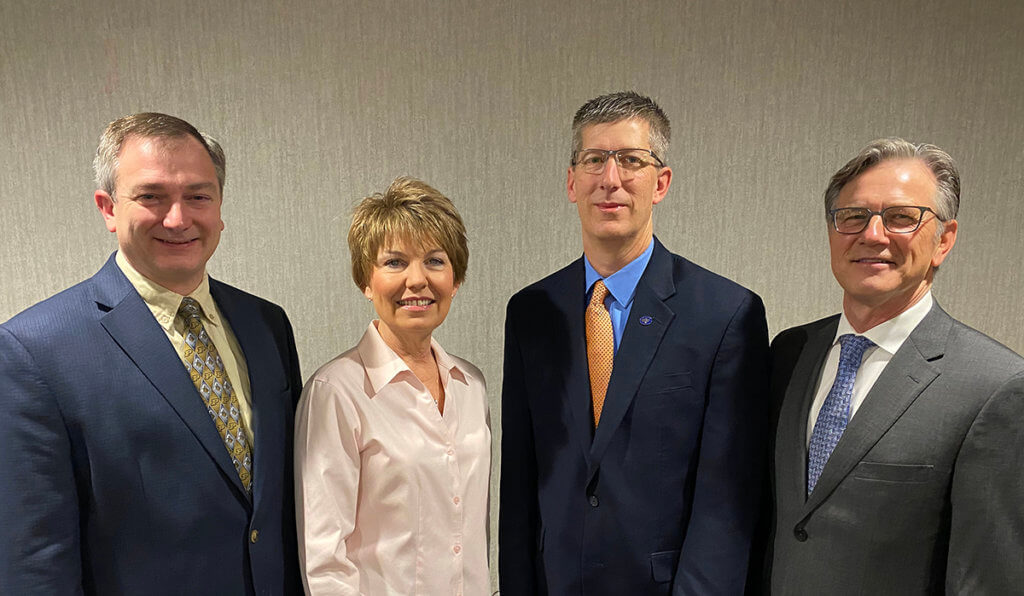 Dr. Jeffrey Harker (PU DVM '94) assumed the top office in the American Association of Swine Veterinarians (AASV) earlier this month when he began his term as the association's president. This next step for Dr. Harker in his career dedicated to swine practice reflects a pattern of service in multiple organizations.
Having grown up on a diversified livestock and grain farm near Waldron, Ind., Dr. Harker was active in both 4-H and FFA in his youth and was presented with the FFA's American Farmer degree in 1989. After earning his Purdue DVM degree in 1994, Dr. Harker joined fellow PVM alumnus Dr. Max Rodibaugh (PU DVM '77) as an associate veterinarian at Swine Health Services (now AMVC Swine Health Services) in Frankfort, Ind. In 2001, he became a partner in the swine specialty practice that serves a diverse clientele, from those with small show pig herds to contract growers in integrated production.
Since joining the AASV, Dr. Harker has served on the Board of Directors, represented the organization in the American Veterinary Medical Association's House of Delegates, participated on the AASV Annual Meeting Planning Committee, and held the office of President of the Indiana Pork Producers Association. In 2017, he received the AASV Meritorious Service Award. In addition to his work with the AASV, Dr. Harker has been involved with the National Pork Board's Operation Main Street program since its inception in 2004. He also serves as an adjunct assistant professor in Purdue Veterinary Medicine's Department of Veterinary Clinical Sciences.
"I am looking forward to working with the AASV board, members, and staff on solving the challenges as they arise over the next year. Considering the current poor market situation along with the increased threat of foreign animal disease, the AASV will need to continue to provide the best scientific information to the swine industry," said Dr. Harker. "I hope that I can help maintain AASV's past success in navigating through these challenges."
Dr. Harker currently lives in Clinton County, Ind. with his wife, Traci, and two of their four children. His other two children and his grandchildren live nearby.
The other AASV officers serving with Dr. Harker are Dr. Nathan Winkelman (UMN DVM '84), immediate past president; Dr. Mary Battrell (ISU DVM '95), president-elect; and Dr. Michael Senn (KSU DVM '91), vice president.  The new officers were installed March 10 during the association's 51st Annual Meeting in Atlanta, Ga.
Writer(s): Maya Sanaba, PVM Communications Intern | pvmnews@purdue.edu