Alumni Presented with Prestigious IVMA Awards
Friday, February 28, 2020
The Indiana Veterinary Medical Association (IVMA) recently honored three Purdue Veterinary Medicine alumni as award recipients at the organization's 2020 Crossroads Veterinary Conference. Drs. Jerry Rodenbarger (PU DVM '79), Steve Sunbury (PU DVM '93), and Denise Katz (PU DVM 2011) each received prestigious IVMA awards during the annual meeting, which was held in Noblesville, Ind. from January 30 to February 1.
Dr. Jerry Rodenbarger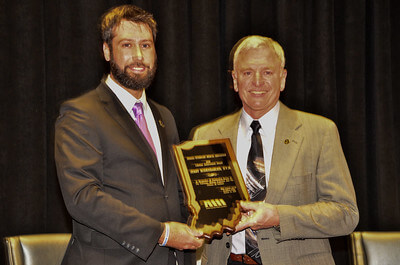 Dr. Rodenbarger was honored with the IVMA Lifetime Achievement Award, which recognizes an IVMA member for cumulative service and accomplishments benefiting the profession, organized veterinary medicine, and the community. A native of West Lafayette, Ind., Dr. Rodenbarger earned his Purdue DVM degree in 1979 and then worked for two years at a small animal hospital in South Bend before moving to Valparaiso, Ind., where he took a position in a small animal/equine practice. During the past 39 years, he has owned or partnered in three practices in the Valparaiso area. Dr. Rodenbarger also has been actively involved in community and charitable organizations, serving on boards and committees for such organizations as the Boys' and Girls' Club, the United Way, and Our Greater Good, while also being actively involved in his church. Along the way, he and his wife have received a number of awards, including the Park Foundation Legends Award, the United Way Dorothy Porter outstanding volunteer award, the Valparaiso Chamber Legacy of Service Award, and the Carolyn and Dr. John Wolf YMCA Legacy Award.
A strong believer in supporting organized veterinary medicine, Dr. Rodenbarger has served the veterinary medical profession in several capacities, including as the District 1 representative to the IVMA Board of Directors.  He also has chaired the IVMA Ethics Committee and will continue as the Region I representative to the IVMA board in 2020. In addition, Dr. Rodenbarger currently serves on the Indiana Board of Veterinary Medical Examiners and as the secretary/treasurer for the board of the Purdue Veterinary Alumni Association.
Dr. Steve Sunbury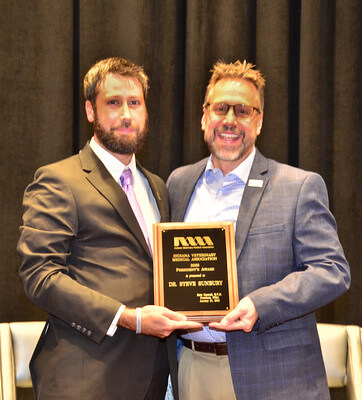 Dr. Sunbury received the IVMA President's Award, which was presented by outgoing IVMA president and fellow Purdue alumnus Matt Cantrell (PU DVM 2010). The award recognizes an Indiana veterinarian or citizen who has made exceptional contributions to the association during his or her term in office. Dr. Sunbury earned his Purdue DVM degree in 1993, and comes from a family of veterinarians, including his father, his brother, and his uncle. After graduation, Dr. Sunbury joined the Seymour Animal Hospital in Seymour, Ind., to work with his father and now co-owns the practice, which expanded in 1996.
Dr. Sunbury's record of involvement with organized veterinary medicine includes serving as secretary/treasurer, vice-president and president of the 9th District IVMA, and as an IVMA board member and officer, fulfilling a variety of responsibilities including board chairman and, in 2010, IVMA President. Currently a member of the board of the Purdue Veterinary Alumni Association, Dr. Sunbury also has served on the Purdue Veterinary Medicine Admissions Committee, the PVM Veterinary Nursing Advisory Committee and the PVM 60th Anniversary Planning Committee. He also serves on the Indiana Board of Veterinary Medical Examiners and is a life-long member of the IVMA and the AVMA.
Dr. Denise Katz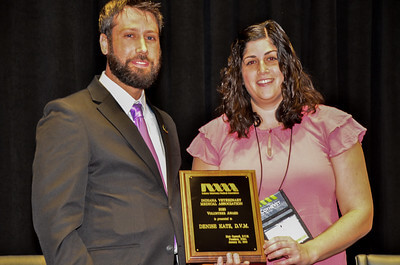 Dr. Katz was awarded the IVMA Volunteer of the Year Award, in recognition of her leadership and service related to the IVMA. After earning her Purdue DVM degree in 2011, Dr. Katz began her career in private practice at Noah's Animal Hospitals in Indianapolis. In 2013, she took a hiatus from general practice to pursue her interest in shelter medicine and worked at the Houston SPCA and appeared on the Animal Planet series "Animal Cops Houston." She also served as an adjunct professor for the Texas A&M University College of Veterinary Medicine & Biomedical Sciences, teaching shelter medicine to clinical fourth-year veterinary students. In 2014, she received the Award for Excellence in Teaching from Texas A&M.
Eventually Dr. Katz returned to Indiana to be the shelter veterinarian for Indianapolis Animal Care Services, where she was instrumental in developing the medical team, increasing the live release rate, and assisting with the passage of city ordinances to improve animal welfare in Marion County. She also received the Meritorious Service Award in 2015 and Mayor's Performance Award in 2016 for her service as the city's shelter veterinarian. In 2017, Dr. Katz returned to Noah's to start All Pet Health Care, which focuses on access to care for underserved communities. A year later, she assumed the role of chief medical officer for all eleven Noah's Animal Hospitals. Dr. Katz is passionate about providing excellent veterinary care to all patients and meeting the needs of their owners.
IVMA Officers Include PVM Alumni
In addition to presenting awards, the IVMA also installed new officers at the annual meeting, some of whom are Purdue alumni. Dr. Matt Cantrell (PU DVM 2010) is the immediate past president. Dr. Kyle Shipman (PU DVM 2015) was elected as treasurer. And Dr. Hilary Christner, who earned her bachelor's degree in animal sciences at Purdue University before completing the DVM program at Ross University, is president-elect.
Writer(s): Maya Sanaba, PVM Communications Intern, and Kevin Doerr | pvmnews@purdue.edu