ADDL Showcased at Indiana State Poultry Association Annual Banquet
Friday, February 18, 2022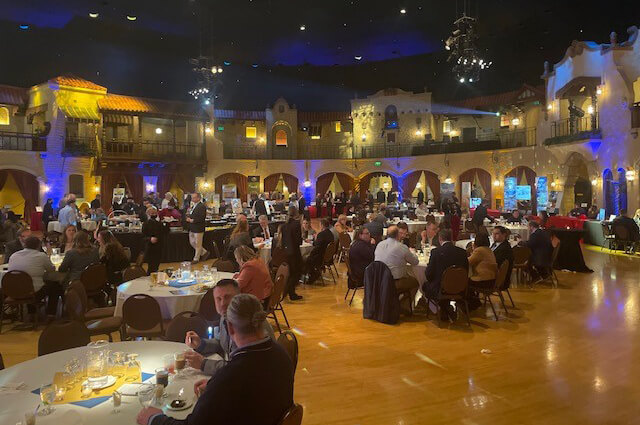 "An Evening Under the Stars with the Indiana State Poultry Association" was the theme for the association's Annual Banquet last week at the Indiana Roof Ballroom in Indianapolis, where a special display showcased the Animal Disease Diagnostic Laboratory. The more than 200 attendees at the event on Tuesday, February 8, represented poultry producers, allied industry, Indiana's Congressional delegation, the Indiana General Assembly, and the State of Indiana executive branch and agencies, as well as the USDA and Purdue University.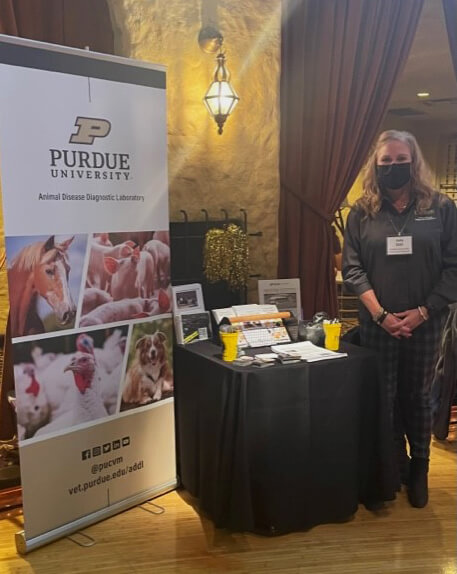 Throughout the evening, attendees had the chance to make new contacts and renew connections with old friends, as well as to share with the representatives of Indiana's Congressional delegation and the General Assembly how Indiana's poultry industry strengthens our communities and the state. Gourmet recipes such as Duck Wontons, Turkey Wellington, Buttermilk Crusted Chicken in a waffle cup, and made-to-order omelets were just a few of the delectable items on the evening's menu.
The ISPA Annual Banquet also provided an opportunity to say thank you to the many dedicated elected officials and public servants whose ongoing support is essential to nurturing Indiana's poultry producers and helping the industry thrive and grow in the future. Purdue University, including the ADDL and the College of Agriculture, was well represented during the evening with display tables and features in the program highlighting, in particular, the National Thanksgiving Turkeys, Peanut Butter and Jelly, and their journey last Thanksgiving. That's when they traveled from the Welp Farms in Indiana to the White House and finally to Purdue University to live at Purdue's Animal Science Research and Education Center.
Kelly Dold, marketing and communications manager for the Animal Disease Diagnostic Laboratory, attended the event to share about new testing available at the ADDL as well as the pre-Thanksgiving testing the ADDL did for Peanut Butter and Jelly so they could meet the requirements for traveling to the White House to receive their Thanksgiving pardon by President Biden.
Writer(s): Kevin Doerr | pvmnews@purdue.edu