$3.86 Million NIH Grant Accelerates Purdue Veterinary Scholar's Novel Approach in Race to Develop Effective Vaccine to Combat COVID-19
Friday, August 21, 2020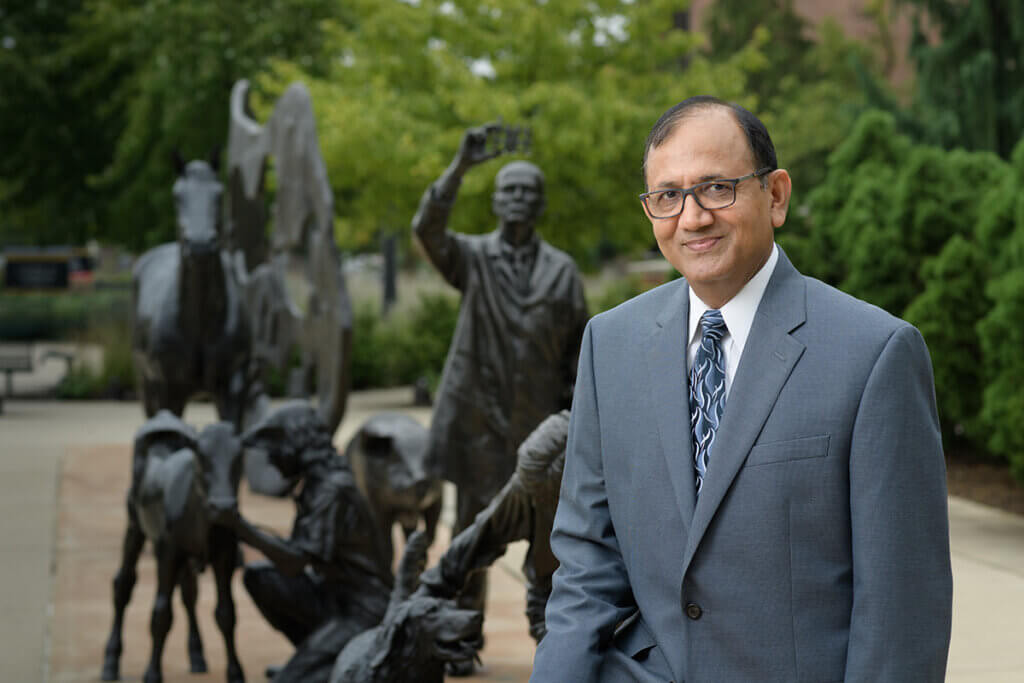 In the midst of the COVID-19 pandemic, with many schools and colleges across the United States implementing plans to start face-to-face classroom teaching, the race to develop an effective vaccine is intensifying, according to Purdue University Distinguished Professor of Virology Suresh Mittal. "The availability of an effective vaccine will be vital to protect everyone here in the U.S. and worldwide," said Dr. Mittal, who is an accomplished vaccine researcher in the College of Veterinary Medicine's Department of Comparative Pathobiology.
COVID-19 is caused by a coronavirus called severe acute respiratory syndrome coronavirus 2 (SARS-CoV-2). Dr. Mittal is leading a research team that is taking a novel approach to developing an efficient vaccine for COVID-19, and the research just received a major boost in the form of a five-year $3.86 million grant from the National Institutes of Health.
Dr. Mittal's approach utilizes a harmless form of a common cold-like adenovirus as a vaccine platform. "This platform-based vaccine expresses the important SARS-CoV-2 immunogens that produce an immune response," Dr. Mittal said. "This type of COVID-19 vaccine provides a balanced antibody and cell-based protection."
Dr. Mittal said the COVID-19 vaccine needs to be highly immunogenic because the human immune system does not have an immune memory against this new virus. His vaccine approach is simple due to the use of a safe version of adenovirus with the capability to induce protective immune responses.
Dr. Mittal is collaborating on the research with Dr. Suresh Kuchipudi, clinical professor and associate director of the Animal Diagnostic Laboratory at Pennsylvania State University; and Dr. Suryaprakash Sambhara, Immunology Laboratory team lead at the Influenza Division of the Centers for Disease Control and Prevention.
Dr. Mittal emphasized that it will be critical to have several vaccine approaches in order to meet global demand for the COVID-19 vaccine. He said at present, there are at least three adenovirus-based COVID-19 vaccines in Phase 2 or 3 clinical trials. More than 160 COVID-19 vaccines are at various stages of development.
Dr. Mittal also cautions that the elderly are the most vulnerable segment of the population because of a higher risk of COVID-19 severity, and therefore, vaccine development efforts should consider the decline in the immune competence of the elderly.
"An effective COVID-19 vaccine will flatten the COVID-19 pandemic's trajectory and its second wave, thus saving lives and the global economy," Dr. Mittal said.
Writer(s): Kevin Doerr | pvmnews@purdue.edu