2023 Indianapolis Prize Winner "Popi" Shares Penguin-related Conservation Lessons with PVM Students
Friday, November 10, 2023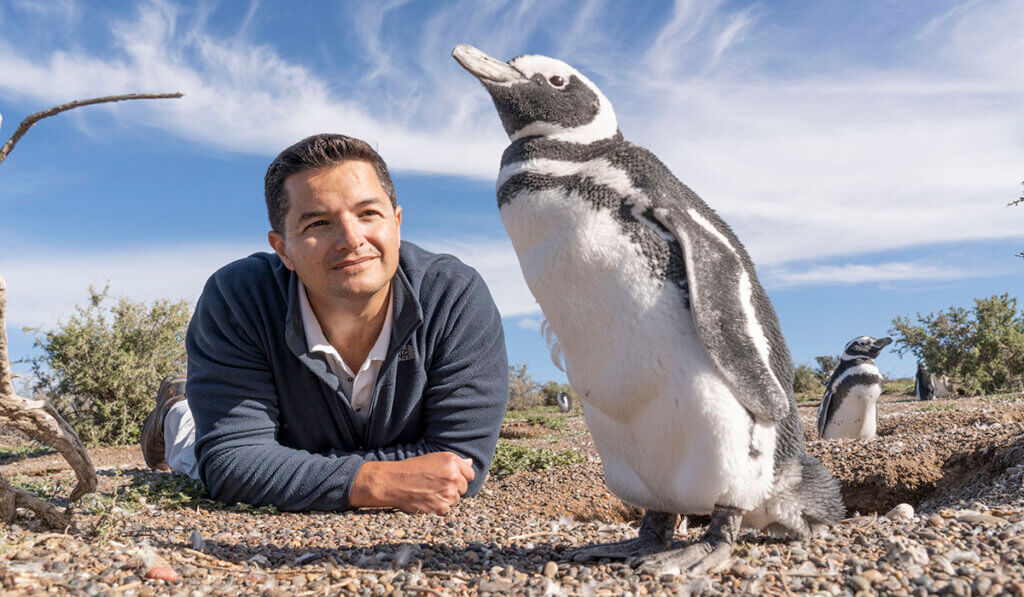 The Indianapolis Prize is the world's leading award for animal conservation. Every two years, the world's preeminent animal conservationists are celebrated and honored at the Indianapolis Prize Gala presented by Cummins Inc., which was held this year on Saturday, September 30. The next Monday, October 2, the winner of the 2023 Indianapolis Prize, Dr. Pablo Borboroglu, came to Lynn Hall to speak to the Purdue veterinary student body about his work to protect penguin species around the globe as the founder and president of the Global Penguin Society.
Dr. Borborgolu primarily works to improve penguin colony management by creating large areas of protected penguin habitat. Given his unwavering loyalty to his animals, his consistently encouraging spirit and his caring mentorship, it's not surprising that Dr. Borboroglu goes by "Popi" for short.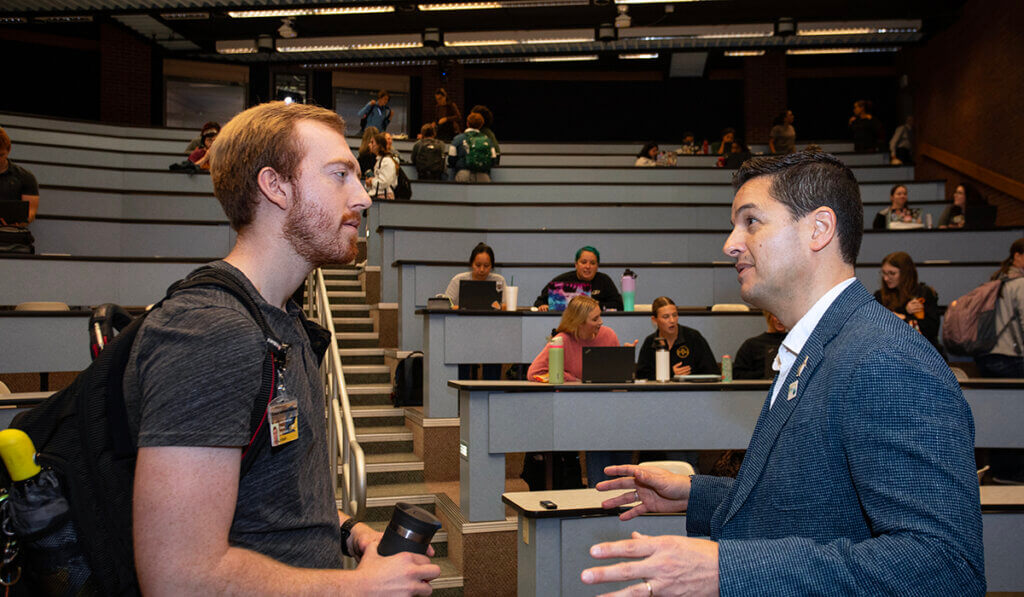 "Every two years, the international conservation community turns its eyes toward Indianapolis for the awarding of the Indianapolis Prize," said Dr. Rob Shumaker, president and CEO of the Indianapolis Zoo. "This event is a celebration of real-life heroes whose work makes a lasting impact on the future of our world." This year, the hero soaring above the rest was Dr. Borboroglu, who was selected from a group of six finalists by a jury of distinguished scientists and conservation leaders to receive the Prize.
"I am incredibly grateful and honored to be named the 2023 Indianapolis Prize Winner," said Dr. Borboroglu. "It's a dream for conservationists. Receiving this award is validation that what you do is important. Wildlife conservation is critical for all of us because it helps us maintain the structure and function of the environment. This award provides motivation and more encouragement to continue pursuing my passion for protecting penguins."
Dr. Borboroglu's visit to Purdue as a guest speaker was arranged through a collaboration between PVM and the Indianapolis Zoo and attracted a capacity audience in Lynn 1136 with an overflow of students watching a livestream from a classroom below. Dr. Borboroglu's passion for protecting penguins certainly shone through during the talk as he left attendees with heartwarming stories and the motivation to make their own impact on the world.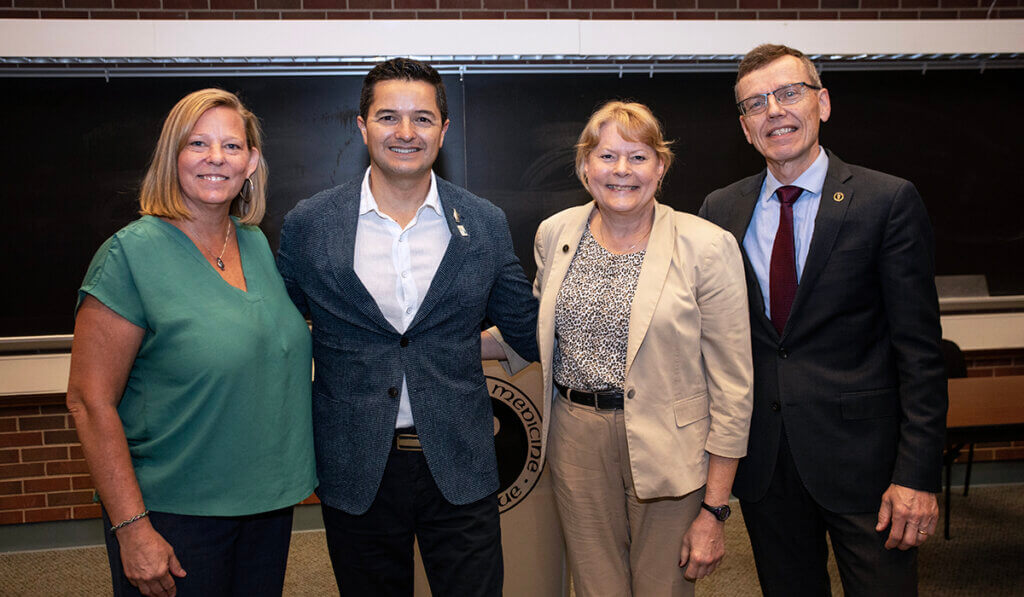 Dr. Borboroglu shared about the seeds that were planted very early in his life, which eventually blossomed into a successful career. It all began with his great-grandmother, who inspired him to pursue a career in education about protecting penguins after taking frequent excursions to the coast of his home country of Argentina to be surrounded by wildlife. As he grew into a teenager, oil spills began to plague the Argentinian coast, resulting in upwards of 40,000 penguin deaths per year in his region. To most, this was normal. To Dr. Borboroglu, this was heartbreaking – and he wanted to do something about it.
Dr. Borboroglu studied biological sciences at the National University of Patagonia and earned his PhD in marine biology from the National University of Comahue in Argentina with a specialization in sea birds and penguins. He is a researcher at Argentina's National Research Council (CONICET) and an affiliate professor at the University of Washington. Now, after protecting over 32 million acres of marine and coastal areas, introducing more than 7,500 children to penguin colonies through an educational program, distributing 1,000 educational books for free in five Spanish-speaking countries, and benefiting over 2 million penguins through improved colony management and scientific implementation, Dr. Borboroglu can say his small steps have turned into giant leaps toward the protection of penguins and the education of thousands around the world.
Dr. Borboroglu concluded his presentation at Lynn Hall by leaving students with advice on how they – and everyone – can take small steps to protect penguins and oceans around the world: avoid single-use plastics, research supply chains of large companies and stop support of those with excess plastic use, and start conversations with others to spread the word on the importance of protecting our world.
Click here to learn more about the Global Penguin Society.
Click here to watch a recording of Dr. Borboroglu's presentation at Purdue.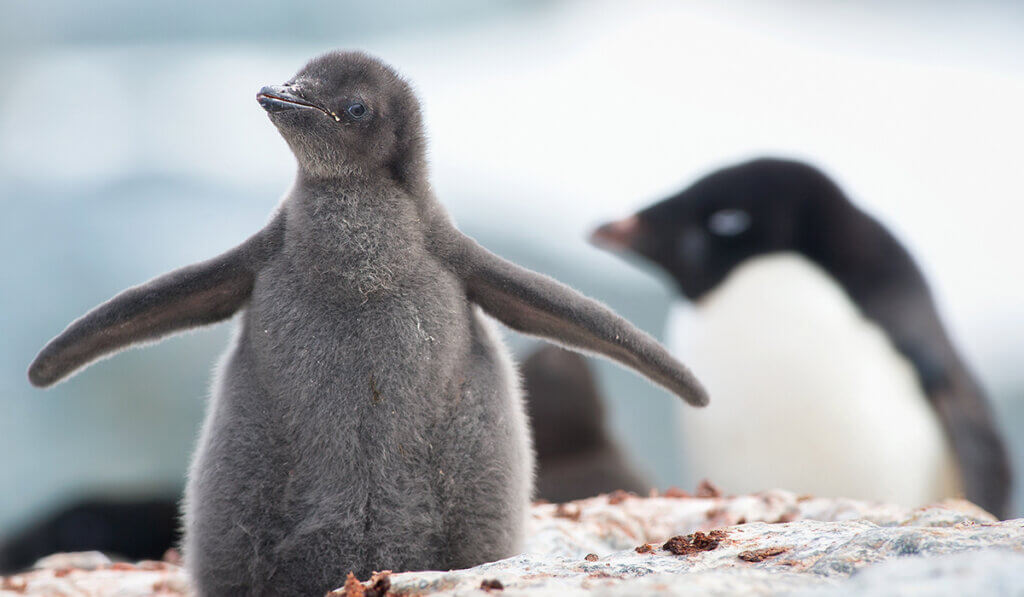 Writer(s): Madeline Brod, communications intern | pvmnews@purdue.edu