2017 Staff Recognition Ceremony Honors Service Anniversaries and Special Efforts
Friday, January 12, 2018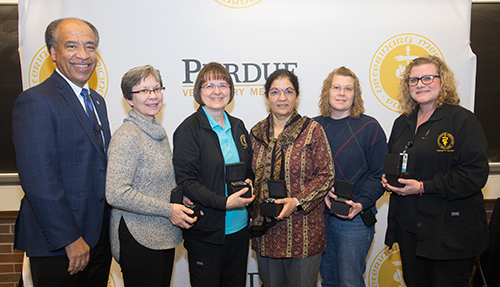 Members of the Purdue Veterinary Medicine family gathered together at the end of 2017 for a ceremony recognizing staff members who reached significant service anniversaries, received Bravo Awards, and completed the Certificate for Diversity and Inclusion program. The ceremony was held in Lynn 1136 and concluded with a reception in the Continuum Café.
"It is tradition at Purdue University to honor staff members for every five years of service to the University," Dean Willie Reed said as he began the ceremony. "Our College, as well as the University as a whole, benefits from the dedication, experience, and expertise of these staff members." The honorees were celebrating service anniversaries that ranged from ten years to as many as 35 years. Dean Reed then introduced the staff members in groupings according to their years of service. Each staff member received a token of appreciation from the dean and then photos were taken of each group. The honorees are as follows:
Ten Years of Service: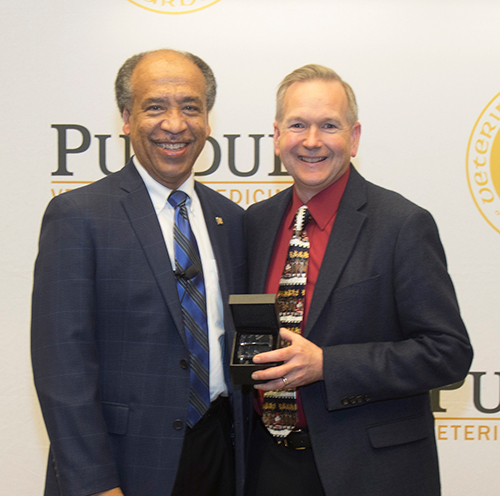 Kevin Doerr (VAD) was recognized for 25 years of service.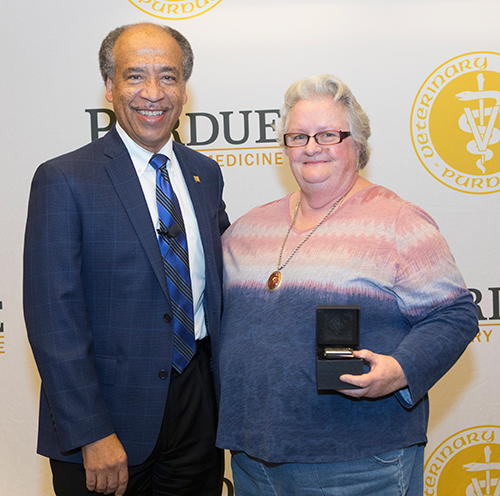 Bonita Vera (ADDL) is congratulated for 30 years of service to Purdue.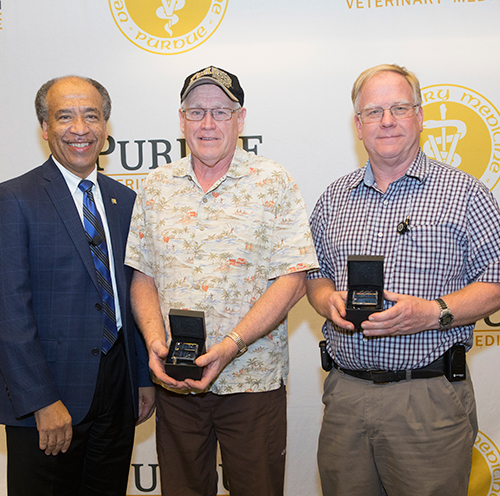 Dean Willie Reed with (center) Robert White (ADDL) and Dave Chasey (VAD), who both were recognized for 35 years of service to Purdue (Not pictured: Donna Schrader, ADDL)
15 Years of Service:
20 Years of Service:
25 Years of Service:
30 Years of Service:
35 Years of Service:
Next Dean Reed presented certificates to faculty and staff members who have completed the Certificate Program for Diversity and Inclusion in Veterinary Medicine. This program was developed in conjunction with the American Veterinary Medical Association and the Association of American Veterinary Medical Colleges through Purdue Veterinary Medicine's Center of Excellence for Diversity and Inclusion in Veterinary Medicine. "Diversity and inclusion are key components of our College's values and culture, and we are proud of these individuals for their dedication in promoting a collegial work and learning environment enhanced by diversity," Dean Reed said. The individuals who received certificates are: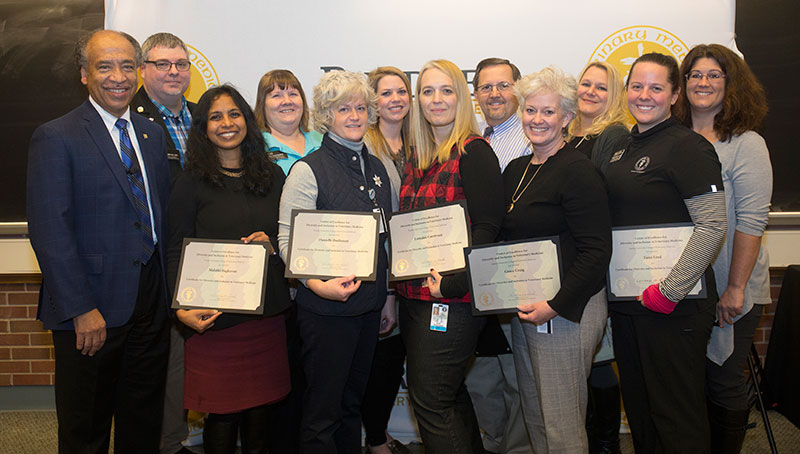 A total of eleven PVM staff members were honored for completing the Certificate Program for Diversity and Inclusion in Veterinary Medicine (left-right): Jeremy Wampler (VTH), Malathi Raghavan (VAD), Cindy Misenheimer (VTH), Danielle Buchanan (VAD), Andrea Brown (VAD), Dr. Lori Corriveau (VTH), Wil Gwin (VTH), Grace Craig (VAD), Tricia Johnson (VAD), Tami Lind (VTH), and Susan Xioufaridou (VAD).
Dean Reed concluded the ceremony by presenting several Bravo Awards, which recognize substantial accomplishments by Purdue employees that extend well beyond regular work responsibilities. "These awards are for concrete or measurable goal achievement or contribution, for which the employee receives no other honor, award, or compensation," Dean Reed said. Awardees receive a certificate and a cash prize. Nominees may be recognized in any of four categories: Moving the University Forward; Innovation and Creativity; Operational Excellence; and Fiscal Stewardship. The PVM Bravo Award recipients honored are: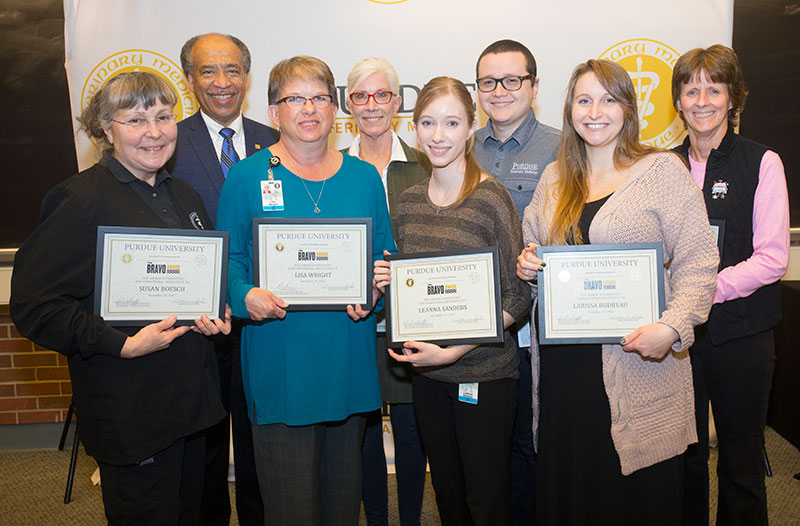 Dean Reed presented seven Bravo Awards (left-right): Sue Boesch (VTH), Lisa Wright (VAD), Dee DuSold (ADDL), LeAnna Sanders (VTH), Eric Zamora-Moran (VTH), Larissa Budreau (VTH), and Kathy Allen (BMS/VCS/IU School of Medicine).
Congratulations to all the honorees!
Writer(s): Purdue Veterinary Medicine News | pvmnews@purdue.edu