Team 1: December 2018 – November 2019 | Team 2: December 2019 - November 2020 | Team 3: December 2020 – November 2021 | Team 4: January – December 2022 I Team 5: January - December 2023 I Team 6: January - December 2024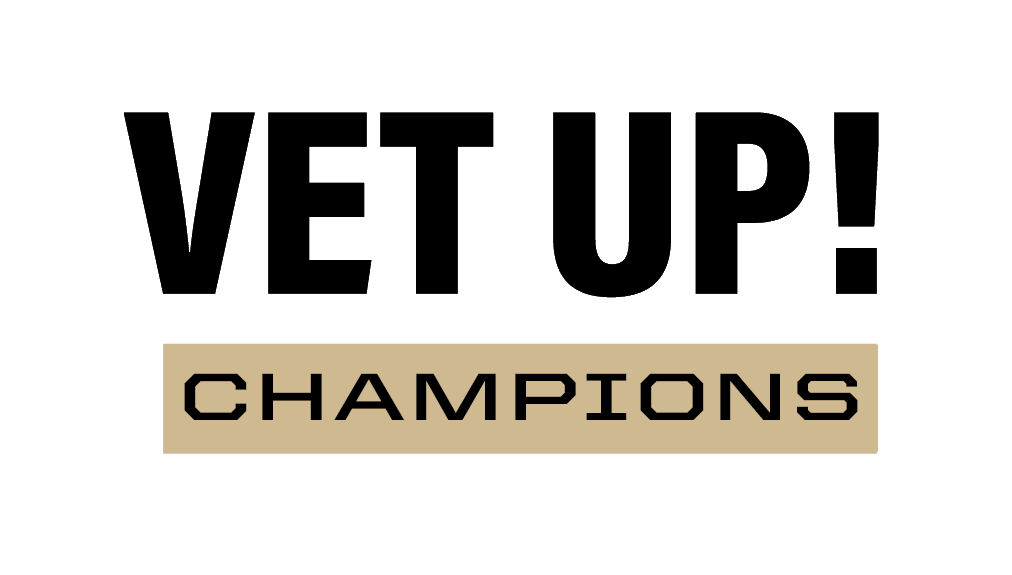 Team 6
The Vet Up!® Champions integrates face-to-face and interactive online learning to provide a 12-month structured curriculum to a cohort of 26 students each year comprised of rising high-school juniors/seniors, adult/nontraditional learners including veterans, and first or second year undergraduate students. Champions will prepare for entry into veterinary college by receiving mentorship, financial and cultural competence training, and gaining exposure to veterinary careers.
Eligibility
Rising high-school junior/senior; or adult/nontraditional learner; or first or second year undergraduate student
Demonstrates career interest in a veterinary shortage area
Demonstrates equity-mindedness
Minimum cumulative grade point average of 2.5/4.0
Requirements
Access to a computer/tablet/device with internet access and an internet connection that supports Webex technology is required.
Students are required to actively participate in all Webex sessions. Webex sessions will be held once or twice each month, on Wednesdays, from 4:00-5:00 pm EDT.
Students are required to travel to West Lafayette, Indiana and attend presentations at Purdue University College of Veterinary Medicine for two days in June (Dates TBA). Financial support towards travel costs will be provided.
Application Process
Please Read Before You Apply: The Vet Up! Champions application is designed to reflect a veterinary college application so you can see the variety of experiences and information that will ultimately be requested when you apply to a DVM program. We fully understand that you might not have had opportunities to gain experience in many areas. You will not be penalized if you write "None" or "NA" in these categories. If these opportunities were plentiful, we would not need programs like Vet Up! As you prepare your application, focus on the essays so that we can learn more about you and your goals. After you submit your completed application, keep a copy and use it as a resource to track your experiences in different categories, as you work towards your goal of becoming a veterinarian. We look forward to seeing your application!
Applications are now being accepted and due November 1, 2023, at 11:59 PM EST
Applications must be typed or handwritten in print (no cursive)
VetUp Champions Applications
Click to download the appropriate Vet Up! Champions application
Evaluation Forms
Program Curriculum
Champions will receive information on career opportunities, experiences to prepare for careers in shortage areas, and social support to guide them to a competitive position at their next educational level. Champions will receive a certificate upon completion of program requirements. 
Learning
Learn about careers in veterinary medicine from Purdue University College of Veterinary Medicine faculty, and veterinarians from the Indiana State Board of Animal Health and Indiana State Department of Health. Information about careers in veterinary shortage areas such as rural/food animal practice, translational research, regulatory medicine, and public health will be provided.
Explore important issues in the veterinary profession such as the  Human-Animal Bond, Animal Welfare, The Opioid Epidemic, and Veterinarian's Role in Food Safety and Security
Become immersed in wellness exams of dogs and horses through VISITOR1® technology, a Web-based telemedicine device.
Take a walking tour of the Purdue University West Lafayette campus and spend time at the Purdue University College of Veterinary Medicine where you will experience handling, wellness exams, and milking a dairy cow
Contribute to a collaborative research project
Support
Develop effective strategies for learning and setting career goals, overcoming obstacles, and sustaining progress towards your goals
Learn approaches to improve communication, self-care, wellness, and stress management
Learn what it takes to prepare a competitive application for veterinary medical school/college by exploring the application and admissions process, transcript review, and interview process
Minimize educational debt by getting current information regarding the costs of a veterinary medical education,  exploring financial support options (scholarships and loans), and developing personal finance strategies
Equity-Mindedness
Complete the Student Certificate for Diversity and Inclusion in Veterinary Medicine to develop multicultural competencies crucial for effective communication and teamwork.
Financial Support
Participants will receive up to $375.00 in travel support for the two-day-long required visit to Purdue University College of Veterinary Medicine 
Participants will receive free lodging during the two-day-long visit, and a stipend of $120 ($60/day) to cover all other expenses including meals. Please note: stipends can only be provided to students not enrolled in a regular course of education leading to their health professions degree; and, for activities with no other Federal financial assistance.
Download a Flyer and Help Advertise Vet Up! Champions