Visiting Senior Veterinary Students
GAIN VALUABLE CLINICAL EXPERIENCE IN OUR VETERINARY HOSPITAL
Visiting Student Experiences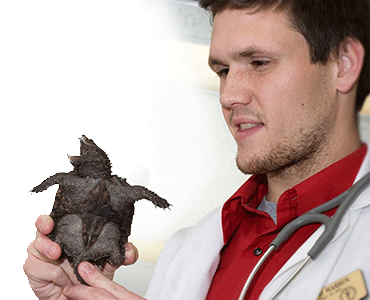 The Purdue University College of Veterinary Medicine offers opportunities for senior veterinary students who would like to have a two-six week experience at the Purdue University Veterinary Hospital. Opportunities are available only on a space-available basis. Everyone who applies and meets the qualifications may not be accepted. Before being considered, the prospective student must have a completed application packet on file. When the completed packet is received, faculty members will be contacted in the area of student interest to secure support to serve as a mentor. The mentor will provide leadership and mentorship during the time the student is at Purdue. An evaluation will be provided to the student's home university upon completion of their program with us. Upon acceptance into the Purdue program, the student will be provided a Letter of Agreement that must be completed regarding personal medical insurance, proof of rabies vaccination and professional liability insurance. If you do not have professional liability insurance, you can purchase it through Purdue for $13. International students who do not have a DVM degree are not eligible for this program. International students with a DVM degree, may apply to other Purdue programs.
The Community
Purdue University is located in West Lafayette, Indiana, 65 miles northwest of Indianapolis, and 126 miles southeast of Chicago. Greater Lafayette is easily accessible, whether traveling by land or air. Indianapolis and Chicago O'Hare International Airports are serviced by most major airlines and their partner airlines. The Purdue University Airport is less than 1 mile from campus and is available for private planes, but does not currently serve commercial airlines. Shuttle service is available directly to campus from these airports. Amtrak trains make stops in Lafayette en route to Chicago and Indianapolis, and major bus lines also serve the area. The population of Greater Lafayette exceeds 95,000, not including Purdue's student population of approximately 36,000. The community contributes to the recreational and cultural life of Purdue students through its daily and weekly newspapers, art museums, historical museums, symphony orchestra, civic chorus, civic theater, nine radio stations, television station, two public libraries and 1,600 acreas of public parks.
Expenses and Housing
All students will be coming to Purdue at their own expense. All housing and any expenses incurred are the student's responsibility. The student will be responsible to arrange for his/her own housing; however, dormitory-style housing may be available at a reasonable rate in the Graduate House. For information regarding single dormitory housing, please contact the Young Graduate House Office at (765) 494-7045. The Graduate House is located within two blocks of the Veterinary School. Private housing is generally available in the Greater Lafayette community in the $350-$600 per month range.
Complete the following checklist to apply for a clinical experience:
Complete the "Visiting 4th Year DVM Student Application for Clincial Rotation Experience"  

Submit the following supporting documents with your application to pvmstudentservices@purdue.edu
Letter of approval for the requested experience (an administrative official such as the college's Associate Dean for Academic Affairs or Director of Student Services)

Student evaluation/grade form to be completed by the Purdue mentor and returned to the student's home institution

Proof of personal medical insurance

Proof of current rabies vaccination

Proof of professional liability insurance

Once all application materials are recieved by Purdue Veterinary Medicine, you will recieve a confirmation email informing you of the status of your application.

If your experience is approved, then you will recieve specific instructions regarding your experience. 
Contact Information
PVM Student Services
Email: pvmstudentservices@purdue.edu
Purdue University College of Veterinary Medicine
Student Services, Lynn 1185
West Lafayette, IN 47907-2026
Phone: (765) 494-7893
FAX: (765) 496-2891