You and Purdue Community Campaign Spotlights Priority 4 Paws Program
Friday, May 20, 2022
The Purdue for Life Foundation has launched the You & Purdue Community Impact campaign to celebrate the benefits of living in the Lafayette-West Lafayette community and to give local community members the opportunity to support key Purdue programs that meet needs in the area. One of the specific giving opportunities involves the Purdue University College of Veterinary Medicine's Priority 4 Paws program.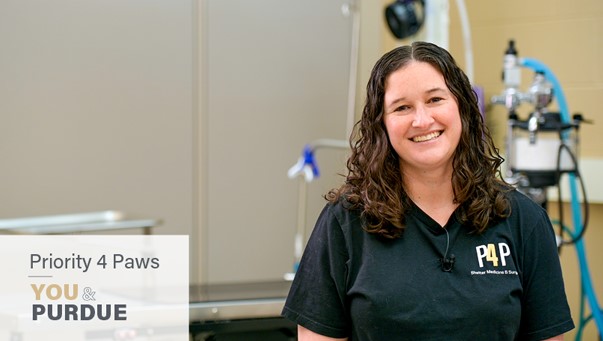 The campaign features a crowdfunding page dedicated to Priority 4 Paws (P4P), which is described as a shelter medicine program that provides high-quality, primary medical and surgical care for shelter animals. P4P also offers veterinary students who choose the elective clinical rotation a unique opportunity to gain medical and surgical experience while working with animals from regional shelters. As part of the crowdfunding campaign effort, Dr. Emily Curry, clinical assistant professor of mobile surgery/shelter medicine in the Department of Veterinary Clinical Sciences, is featured in a video during which she describes how the program works and the ways in which gifts will help the program cover the cost of operations so its services can continue to be provided without charge to the participating shelters. The video also is great for anyone who loves watching adorable animals!
The campaign goal for Priority 4 Paws is $5,000. Donors already are stepping up to give! Click here to view the crowdfunding page. Click here to see the video with Dr. Curry and some of her animal friends. Other areas being supported through the You and Purdue Community Impact Campaign are Purdue Convocations; Speech, Language and Hearing Sciences; the Susan Nierstheimer Memorial Book Fund; and The Big Read.
Celebrate Greater Lafayette as a great place to live by making a gift to the You & Purdue campaign to support these programs that serve our local community and enhance the lives of pets, children and adults! Click here to view the overall campaign crowdfunding page and the overall campaign video.
Writer(s): Kevin Doerr | pvmnews@purdue.edu