Virtual Alumni Panel Highlights Importance of Mental Health
Friday, May 22, 2020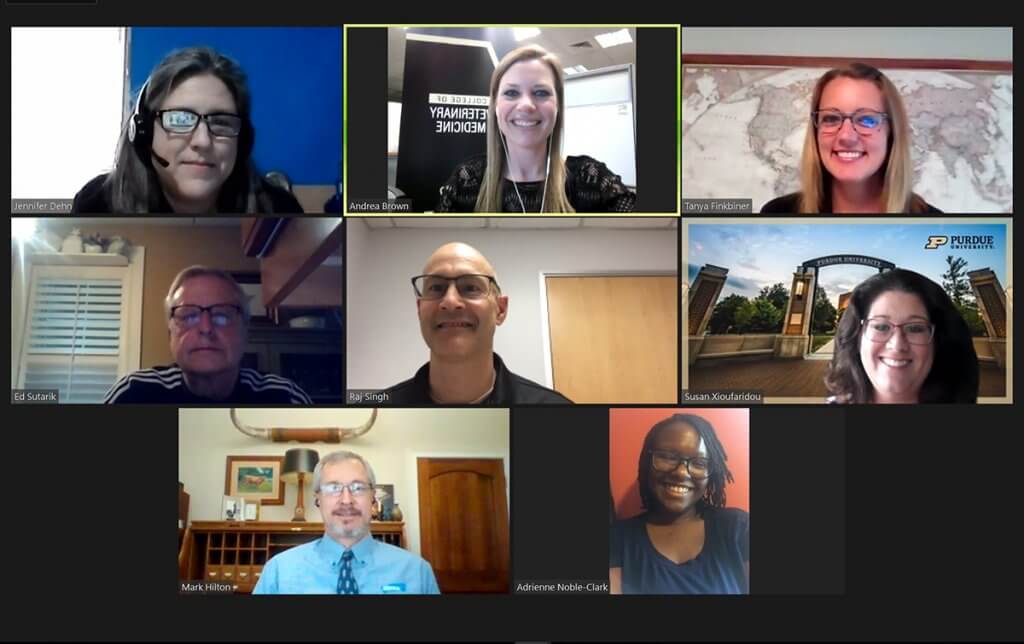 May is Mental Health Awareness Month, which served as an excellent opportunity for Purdue Veterinary Medicine to shed light on an incredibly important, yet difficult topic to address in the veterinary profession.  The college hosted a virtual panel discussion on Tuesday, May 19, to provide an outlet for veterinary professionals to candidly talk about how they are addressing mental health during the COVID-19 pandemic.  The panel featured two PVM alumni practitioners and the Purdue Veterinary Hospital's own social worker, who shared about the importance of mental health during these stressful times.  
The panelists were: Dr. Raj Singh (PU DVM '90), owner of the Sunnyvale Veterinary Clinic in Sunnyvale, Calif.; Dr. Adrienne Noble-Clark (PU DVM 2013), veterinarian at Banfield Pet Hospital in Indianapolis, Ind.; and Jennifer Dehn, LMSW, PVM social worker in the Purdue Veterinary Hospital.  Dr. Mark Hilton (PU DVM '83), a fellow alumnus and PVM Emeritus Professor who now works as Senior Technical Consultant for Elanco Animal Health, Inc., served as moderator for the discussion. 
The panel members discussed how one's own mental and physical health may suffer when so much time is being devoted to caring for patients, clients, and co-workers. Add in the additional stress and changes required to operate during a pandemic, and it's even more difficult. The panelists encouraged attendees to make efforts to stay positive through such methods as shifting their mindset to intentionally find joy and gratitude in the little things, practicing self-care, and creating space to vent or de-stress while in the clinic. According to Jennifer Dehn, self-care should be something that we want to do and enjoy, instead of something we feel we have to. It can be simple things like exercising or reading for 10-20 minutes. The key is that it shouldn't feel like it is another chore, and should be something you can do in a reasonable amount of time so that you can work it into your day. She also explained that self-care can involve saying "no" to something so you can say "yes" to something else.
The panelists also noted that it's crucial to recognize when you or your colleagues need help that may require professional intervention. They encouraged the virtual panel discussion participants not to be afraid to talk about the importance of mental health and to model positive behavior for their colleagues, while also recognizing that listening may be even more important than talking when someone is struggling.
Data suggests that veterinarians have a higher risk of suicide when compared with the general population.  A special guest in the panel discussion, Ed Sutarik, graciously shared how his family was impacted by tragedy when his son, veterinarian Jeffrey Sutarik (PU DVM 2005), became part of those statistics.  Jeffery took his own life in late 2019 after struggling with anxiety and mental illness.  Jeffery's story is one that emphasizes the need to overcome the stigma around mental health and find additional ways to support wellness within the veterinary community.  While a difficult and heavy part of the evening's discussion, it was necessary to shed light on the reality of the situation in the veterinary profession. Besides addressing a critically important topic, the panel discussion also provided a sense of community and support for veterinary professionals during the pandemic.  
In addition, participants received 1.0 continuing education (CE) credit for their attendance.  The event was hosted as a collaboration between PVM's Office of Lifelong Learning, Office of Development, and Alumni Relations & Special Events.
Writer(s): Andrea Brown | pvmnews@purdue.edu