Veterinary Superhero League Adds Practice Teams Manager
Friday, June 10, 2022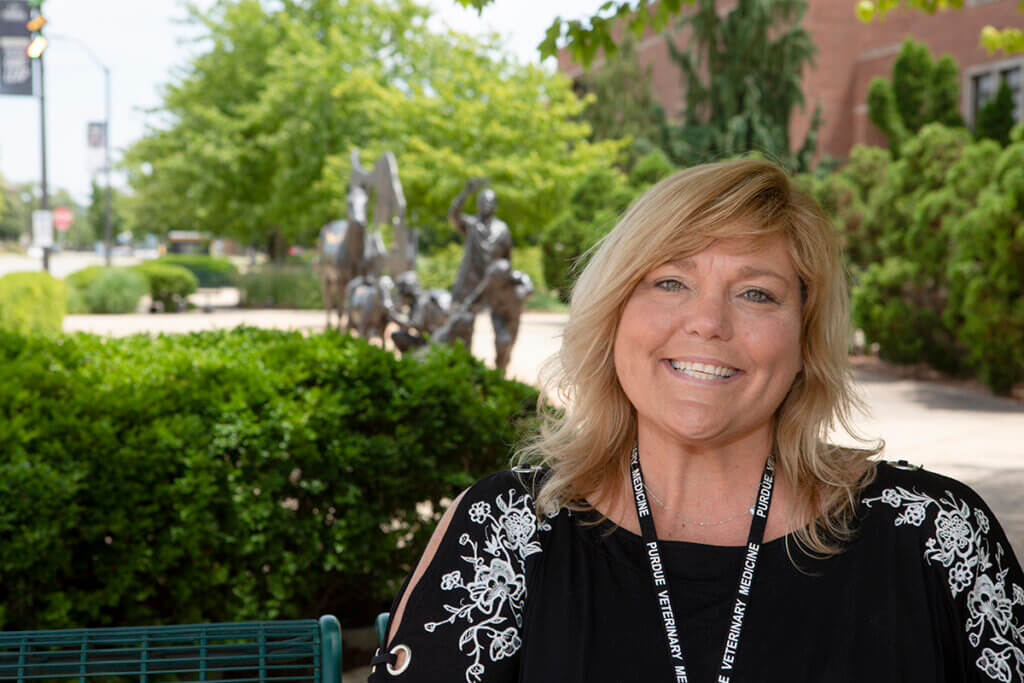 An educator with ties to the Purdue University College of Veterinary Medicine has joined the Office of Engagement staff as practice teams manager for the League of VetaHumanz. Michelle Overman began in the new role Monday, June 6 (her birthday!). She'll be working with new league team partner, Mars Veterinary Health, to launch veterinary practice teams that will partner with their local organizations to bring the League of VetaHumanz curriculum to under-resourced children.
Michelle is an animal lover and native of Frankfort, Indiana. As she was growing up, she loved helping her uncle, Dr. Sam Hiland, a member of the Purdue DVM Class of 1966, in the animal clinic he owned in Frankfort. She went on to earn bachelor's degrees in early childhood education and elementary education followed by a master's degree in educational curriculum and design. Michelle has been an educator for almost 25 years, teaching fourth graders for 18 years and most recently teaching pre-K. She's also had the opportunity to teach college courses and adults.
Michelle shared she is very excited to be part of a team bringing valuable educational moments to students who otherwise may not have those opportunities. "I love being part of a greater organization (Purdue) that highly values education, and exemplifies educational excellence. I look forward to being a pivotal part of an amazing team that works daily to reach the kids who will greatly benefit from what our program offers," Michelle said.
Michelle lives in Lafayette, and has two amazing grown sons and two cats. In her free time, she enjoys traveling, reading, working outside in her yard, baking pies, and crafting.
Please help extend a warm welcome to Michelle as she joins Purdue Veterinary Medicine (and wish her a happy belated birthday)! She can be reached at her office (Lynn 1191) or by email at: maoverma@purdue.edu.
Writer(s): Allison Gardner | pvmnews@purdue.edu