Texas Pet Owners Travel to Purdue Seeking Shockwave Therapy
Friday, February 16, 2018
When "Honey" came to the Small Animal Hospital at the Purdue University Veterinary Teaching Hospital for treatment of a large kidney stone, her owners were relieved to find a minimally invasive treatment option for their pet. The 11-year-old scruffy-haired mixed-breed dog from Plano, Texas, had been suffering from chronic urinary tract infections and kidney stones for some time.
Honey's veterinarian referred her owners first to the Texas A&M College of Veterinary Medicine & Biomedical Sciences. The veterinarians there directed them on to the Purdue University College of Veterinary Medicine for a procedure called shockwave lithotripsy that was adapted for small animals by PVM Professor of Small Animal Internal Medicine Larry Adams.
Before undergoing the shockwave procedure, and despite long-term treatment for the painful UTIs and kidney stones, Honey was withdrawn and uncomfortable. The stones were multiplying and required a procedure that would resolve the problem.
"We've had Honey for 11 years. We call her a rock star because of her wild hair," said owners Gracie Elder and Dr. Howard Ash. "Dr. Adams is very well-known for this procedure, so we drove the distance for her."
Shockwave lithotripsy is the most common treatment for kidney stones in the United States, for humans and animals alike. Doctors use this method of treatment for kidney stones smaller than two centimeters in diameter. The benefits of the shockwave treatment are many. For one, the shockwave machine is operated from outside of the body, which means no surgery is needed, and thus it is usually an outpatient procedure. Also, the shockwave crushes the kidney stones into smaller fragments that can pass in the urine. Dr. Adams says the procedure's reduced risk and high recovery rate makes it ideal for veterinary patients. Dr. Adams and the Small Animal Internal Medicine team have treated dogs from 40 U.S. states, some as small as four pounds.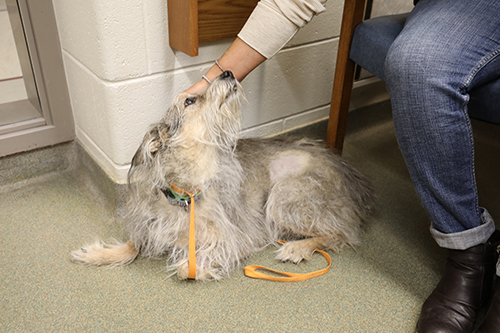 "The Purdue University Veterinary Teaching Hospital is one of two animal hospitals in the country that offer shockwave lithotripsy," says Dr. Adams, who is co-section head of Small Animal Internal Medicine. "Shockwave is an older technology, but its advantage is that it's a focused high-energy shockwave that delivers shockwaves through the body to the kidney stone. Shockwave is the less invasive treatment for kidney stones, compared to laser lithotripsy, which means complications, costs, risks, and recovery time are reduced."
After her procedure, Honey travelled back to Plano, where, thanks to the procedure, she was expected to pass the remainder of her kidney stones over a period of a few weeks, yielding a resolution of her pain and discomfort.
Writer(s): Lauren Bruce | pvmnews@purdue.edu