"Team Workhorses" Represents PVM in Philanthropic Race Across the West
Friday, July 12, 2019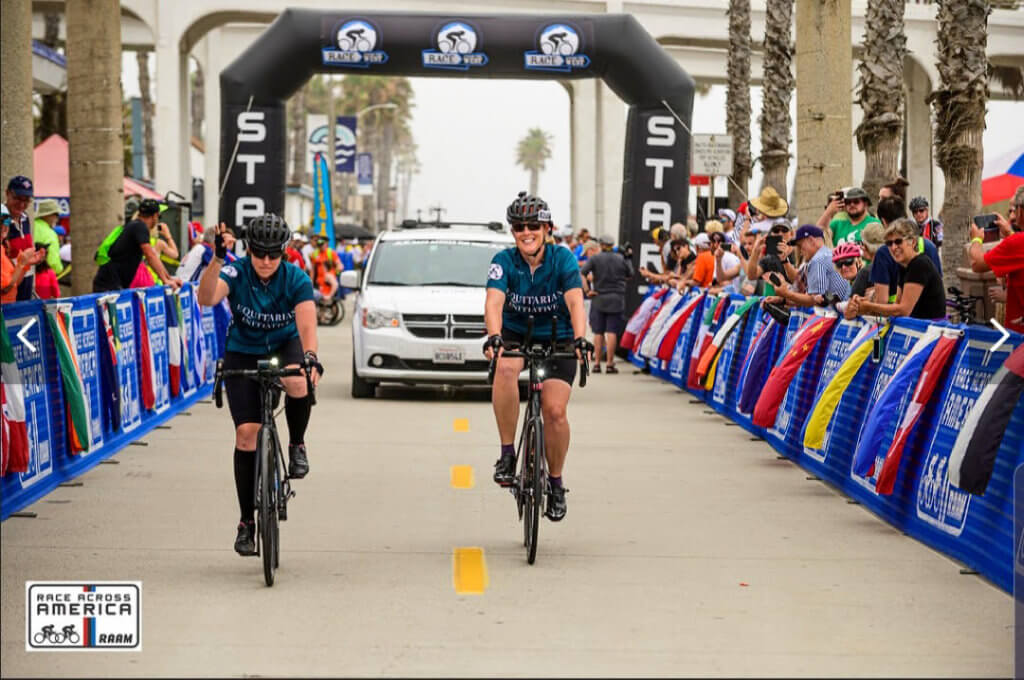 For Dr. Sandy Taylor, associate professor of large animal internal medicine in the Department of Veterinary Clinical Sciences, and Molly Cripe Birt, RVT, VTS-EVN, large animal surgery technician in the Purdue Veterinary Hospital, the summer of 2019 provided a unique chance to bike through spectacular countryside in the Race Across the West, all for a good cause. The 930-mile ultra-cycling event started in Oceanside on the California coast and ended at Durango in southwestern Colorado. Dr. Taylor and Molly formed a team they chose to call Team Workhorses to fulfill their dream of racing their bikes through the southwest to raise money for an organization that helps working equids worldwide.
Held as part of the renowned Race Across America, the Race Across the West is known for covering a wide array of landscapes for which riders must be prepared, including the beaches of California, the high altitude Sierra Nevada mountains, the arid Sonoran and Mojave deserts, and the scenic Monument Valley. Each team was allowed two days and twenty hours to finish the race. Team Workhorses finished with two hours and 16 minutes left on the clock!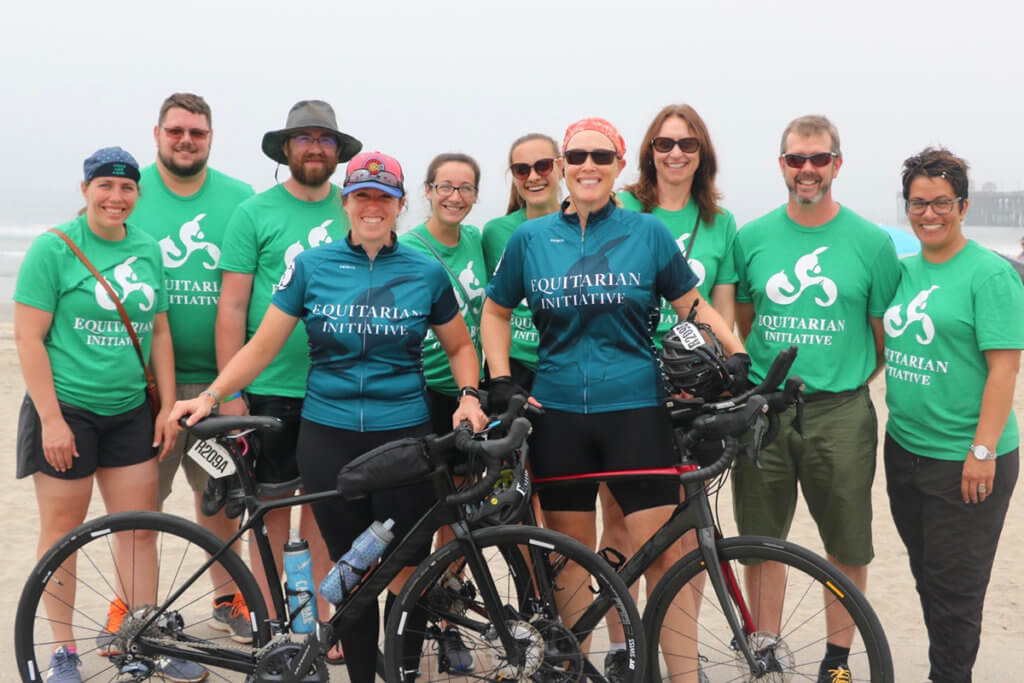 An eight-person crew supported Dr. Taylor and Molly, providing logistical and emotional support by following behind them in a van and offering encouragement, snacks, breaks, safety, and water. The crew consisted of friends and family, including crew chief Dr. Tim Lescun, associate professor of large animal surgery, as well as Purdue veterinary student Emily Hess, of the DVM Class of 2022, and Jordan Keehn, a Class of 2019 Veterinary Nursing student.
Team Workhorses used the race to raise money and awareness in support of the Equitarian Initiative, which is a non-profit corporation established by equine veterinarians to sustainably improve the health of working mules, donkeys, and horses in developing countries, such as Guatemala, Mexico, Peru, and Costa Rica. Both Dr. Taylor and Molly are passionate about the Equitarian Initiative, given their professional knowledge of working equids and their personal and professional ties to Dr. Stacy Tinkler, PVM clinical associate professor of large animal internal medicine, who is a founding board member and volunteer for the organization.
The Equitarian Initiative conducts seasonal trips to areas of need, where volunteer veterinarians and students set up clinics to treat patients and educate owners on animal health. Equids in these areas are essential to trade, commerce, transportation, and agriculture, and are heavily relied upon by families who are often unable to provide medical care for their equid partners due to limited resources and accessibility. The Equitarian Initiative works with these communities to ensure the health and wellness of these hard-working animals and their families.
Dr. Taylor and Molly knew the race would be demanding, both physically and mentally, so they prepared accordingly by strength training in the winter when they could not bike outside, and then riding 50-400 miles a week outdoors, as often as they could, from March onward. They also studied the planned route and were aware that it would be difficult to train in Indiana for the 55,000 foot climb, but used the plentiful headwinds – known as the "Indiana Alps" – to their advantage.
Dr. Sandy Taylor crosses into Utah on the 930-mile ultra-cycling event.

Dr. Sandy Taylor's shadow against the beautiful landscape in Monument Valley, Utah.

Molly Cripe Birt, RVT, VTS-EVN rides through Mexican Hat, Utah during the relay style race.
Dr. Taylor and Molly are avid cyclists and members of the local Wabash River Cycle Club. They initially planned to attempt the Race Across the West in 2018, but Molly was sidelined that spring after being struck by a vehicle while riding her bike in Kentucky. Following a long recovery, and despite many obstacles, Molly and Dr. Taylor persevered, and were first in their class when they crossed the finish line in this year's Race Across the West.
When asked to describe her favorite part of the experience, Dr. Taylor said, "Definitely riding down into Monument Valley, Utah. It was sunny, there was a tailwind, and it was all downhill. It was just pure exhilaration and a reminder of why I love to ride my bike."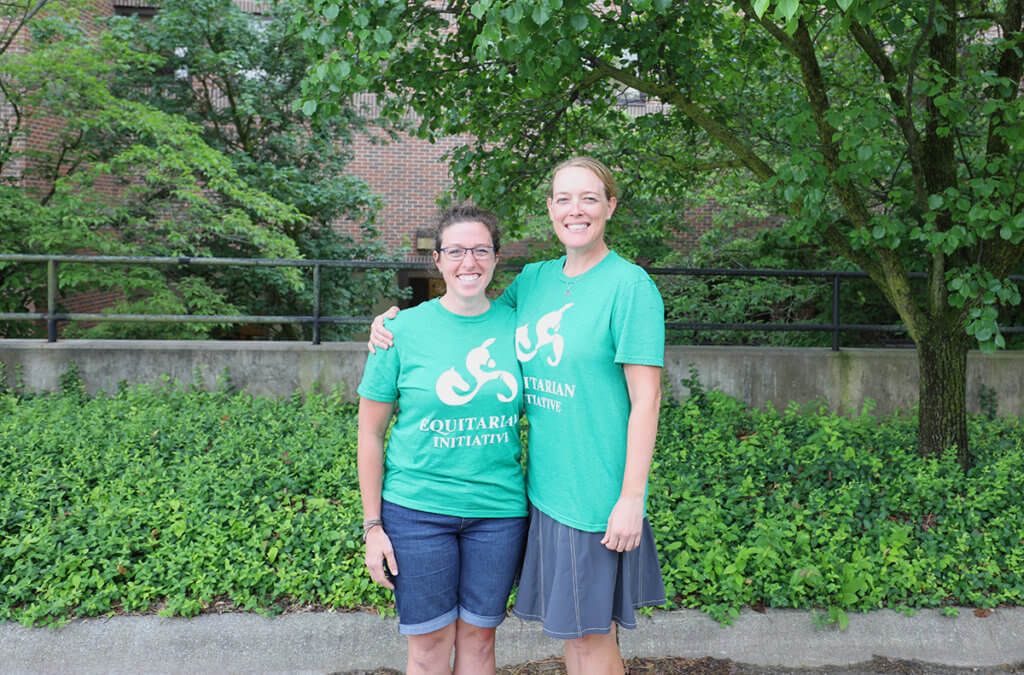 As they finished the race in Durango, Molly remembers when they came upon some wild horses on the side of the road at night. The sight was especially meaningful for them and was a poetic reminder of their careers dedicated to equine health and their support of the Equitarian Initiative. The finish was "perfect," recalled Molly, because they were with friends and loved ones at sunrise, capping off "a truly gratifying experience."
If you would like to learn more about their experiences, Dr. Taylor, Molly, and Dr. Tinkler will give an evening presentation and debut a 30-minute feature film on the Equitarian Initiative, on Thursday, July 25, in Lynn Hall, Room 1136 at 6:00 p.m. Dinner will be provided.
To learn more about Team Workhorses, visit their website and follow them on Facebook.
Writer(s): Maya Sanaba, PVM Communications Intern | pvmnews@purdue.edu