Summer Research Program Opens World of Scientific Discovery to Veterinary and Pre-vet Students
Friday, August 9, 2019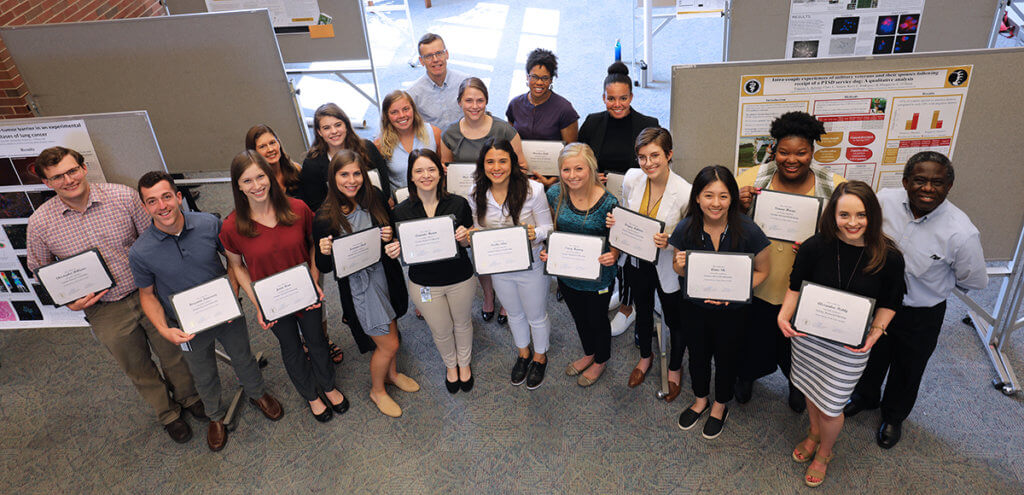 Through the Veterinary Research Scholars Summer Program, Purdue Veterinary Medicine gave undergraduate and DVM students the chance to explore non-traditional veterinary careers involving scientific discovery. While many veterinary graduates enter private practice, there are a variety of other career paths, including those focused on clinical, diagnostic, and biomedical research. Purdue Veterinary Medicine's long-running summer research program introduces students to the research aspect of veterinary medicine in the form of paid, 11-week experiences during which students are matched with faculty mentors based on shared research interests.
A total of 17 students participated this year, including 11 Purdue veterinary students and six pre-veterinary students from Purdue and four other universities. Dr. Harm HogenEsch, associate dean for research, and Dr. Eli Asem, professor of physiology in the Department of Basic Medical Sciences, oversee the program, which includes seminars, field trips, and symposia for the participants as well as the opportunity to gain hands-on research experience. PVM Office of Research staff member, Erin Lane, provides administrative and logistical assistance to the program.
Virginia Behmer, a pre-veterinary student from Case Western Reserve University who worked in the OHAIRE Lab, presented her poster detailing a study entitled, "Intra-couple Experiences of Military Veterans and Their Spouses Following Receipt of a PTSD Service Dog."

Alexandra Reddy, a pre-veterinary student from Liberty University, talks with Comparative Pathobiology Department Head Sanjeev Narayanan (left) and one of her mentors, graduate student Alix Dieterly, about her research poster on "Quantitative Evaluation of the Progression of Lung Cancer Brain Metastases Using Bioluminescence Imaging."
According to the veterinary research scholars, the program is unique because there are not many educational summer research opportunities for undergraduate students studying pre-veterinary medicine. It also provides them with the opportunity to actually be involved in the research, giving them more responsibility and chances to learn.
Alexandra Reddy, a senior majoring in zoology at Liberty University in Virginia, worked with the research team in the Comparative Blood-Brain Barrier Laboratory of Dr. Tiffany Lyle, assistant professor of veterinary anatomic pathology in the Department of Comparative Pathobiology. Alex was mentored by Dr. Alix Dieterly, veterinary pathologist and graduate student, and Dr. Gozde Uzunalli, postdoctoral research associate, assisting them with their research on how lung cancer spreads to the brain. She completed hands-on research, including staining tissues to visualize the components of the blood-brain barrier. "This summer program has given me invaluable research experience," Alex said. "I also really enjoy the weekly seminars we have with veterinarians because it gives me a chance to ask questions and interact with professionals working in the fields I am considering."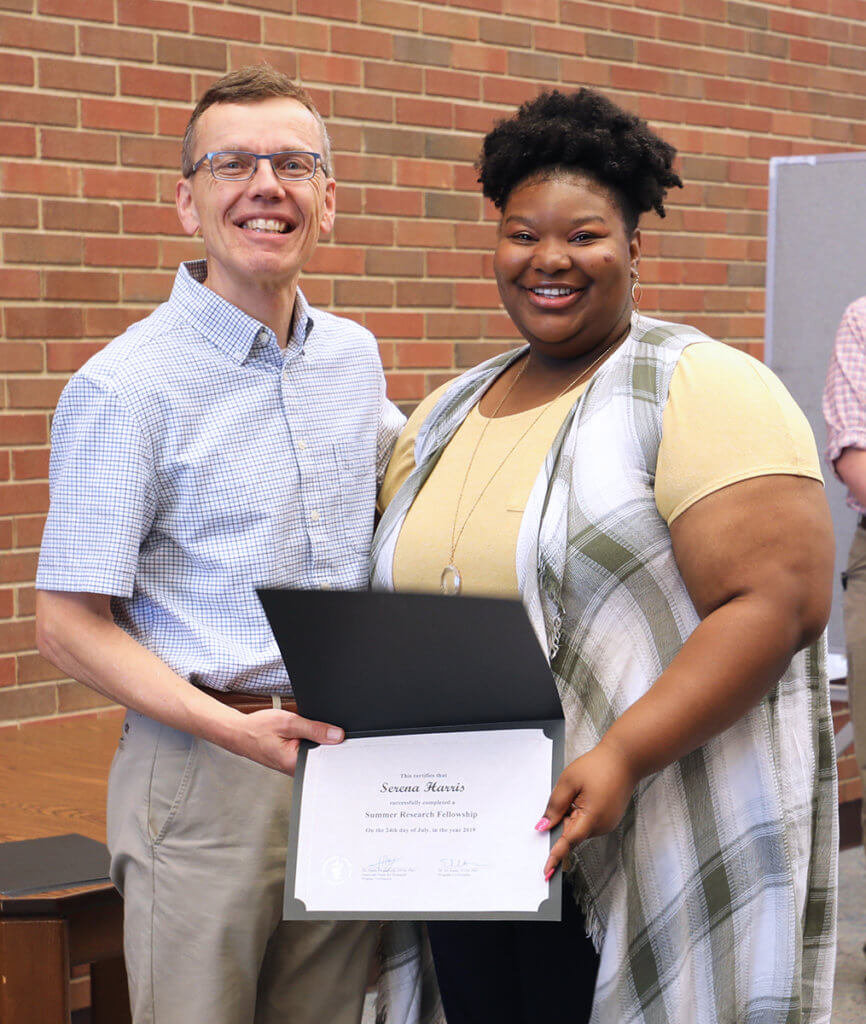 Serena Harris is a senior studying agricultural sciences (pre-veterinary medicine) at Southern University and A&M College in Louisiana, and spent her summer working in the Animal Disease and Diagnostic Laboratory (ADDL) under Dr. Kenitra Hendrix, laboratory director and clinical associate professor of veterinary diagnostic microbiology in the Department of Comparative Pathobiology. Serena found out about the Veterinary Research Scholars Summer Program from Dr. HogenEsch at the Mentoring at Purdue program last summer. Her summer research project was focused on the duration of time during which urine should be cultured. She explained that there is reason to believe that urine should be cultured for less time than it currently is, and her study sought to help determine what that time-period should be.
Virginia Behmer, a junior majoring in biology at Case Western Reserve University in Ohio, worked on research under Dr. Maggie O'Haire, associate professor of human-animal interaction in the Department of Comparative Pathobiology. Ginny's study focused on how veterans with PTSD and their spouses varied in their perceptions of the effects of psychiatric service dogs. Ginny has an interest in human-animal bond studies, so the research that Dr. O'Haire is doing ties in very well with her desired career path.
The Veterinary Research Scholars Summer Program wrapped up July 24 with a research poster session where the participants were able to showcase what they learned through their research projects. Then the Purdue veterinary students participating in the program traveled to Worcester State University in Worcester, Mass., for the annual National Veterinary Scholars Symposium hosted by Tufts University's Cummings School of Veterinary Medicine.
Writer(s): Maya Sanaba, PVM Communications Intern | pvmnews@purdue.edu