Students and Alumni Make a Good Showing in Veterinary History Essay Contest
Thursday, October 3, 2019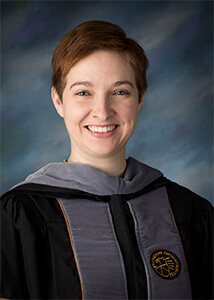 Congratulations are in order for Dr. Brooke Fourthman, of the DVM Class of 2019, for her success in the 2019 J. Fred Smithcors Veterinary History Essay Contest, which she entered while she was a student. Her essay entitled, "A Brief History of Interventional Cardiology," won 4th place in the competition. "Her success reflects well on the school as a whole," said Dr. Jessica Zeiger, a 2018 Purdue DVM graduate who serves as chairperson of the contest.
In addition to Dr. Fourthman's success, another Purdue veterinary graduate and two current veterinary students also deserve commendation for participating in the competition. Dr. Zeiger said Dr. Janna Draper, of the DVM Class of 2019, and Zhane Brown and Christa Cheatham, both of the DVM Class of 2021, all submitted fantastic essays.
"We congratulate Purdue Veterinary Medicine on having multiple entrants from your program," Dr. Zeiger commented. "As a Purdue alum and a former winner in this contest, I want you to know how pleased I am to see such wonderful essays coming from Boilermakers! I can tell Professor of Veterinary History David Williams has continued to instill a love of the history of our field in PVM students."
Professor Williams is a past president of the American Veterinary Medical History Society (AVMHS), which established the annual essay contest in 1991 to promote interest in history by encouraging participation from students enrolled in veterinary medical colleges in the United States, Canada, and West Indies. The contest is named in honor of Dr. J. Fred Smithcors for his many contributions to veterinary history as founder of the AVMHS, author of several books on veterinary history, as well as an educator, publisher, and editor. The winning entries are selected by a panel of AVMHS judges through a blind judging process in which the writers' identities are kept secret. The winners receive cash prizes awarded in memory of Dr. Elizabeth Atwood Lawrence, by the generosity of the Donaldson Charitable Trust, in recognition of her many contributions to scholarship in veterinary history. Dr. Lawrence served twice as AVMHS president and was a contest judge for many years.
Read Dr. Fourthman's essay: A Brief History of Interventional Cardiology (PDF)
Writer(s): Kevin Doerr | pvmnews@purdue.edu